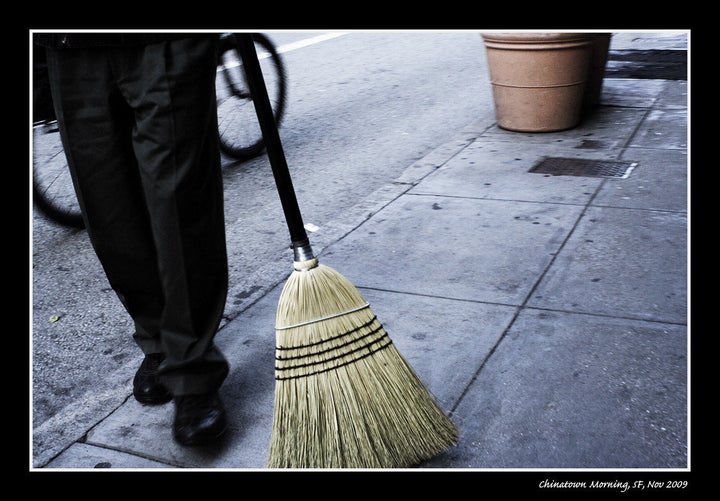 The nearly 300 janitors at the facility are employed by ESCAB Enterprises, a Maryland-based janitorial company that's received more than $44 million in federal contracts since 2008. According to the employees' union, Service Employees International Union 32BJ, the workers were supposed to be paid last Friday. But as of Tuesday morning, ESCAB management still hadn't told workers when they'd be paid, said Julie Karant, spokeswoman for SEIU 32BJ, which represents janitors in many East Coast cities.
Employee Gabriel Rivera, 37, told HuffPost he was called into a brief meeting last week in which an ESCAB manager said the federal government hadn't paid ESCAB, and therefore ESCAB couldn't pay its workers. In addition to Walter Reed, some of the janitors work at buildings for the Internal Revenue Service and the Uniformed Services University of the Health Sciences, which is adjacent to the medical center in Bethesda, Md.
"Many people were really upset," said Rivera, a father of three and resident of Montgomery County who works roughly 27 hours a week, earning $13.95 an hour. "You expect to get paid after you do your job. You've got bills coming, and they don't stop. I wish I could call my bills and say, 'Hey, I can't pay you this time.'"
ESCAB did not return a phone call seeking comment. Regina Adams, a Navy spokeswoman, told HuffPost that ESCAB had submitted an invoice that included "incorrect billing amounts." The company resubmitted the invoice, and Adams said the amount will be paid out Wednesday.
Maryland Lt. Gov. Anthony G. Brown sent a letter to a Walter Reed official Monday seeking "your assistance in ensuring that these workers immediately receive their wages."
According to Rivera, several workers' paychecks from the previous pay period bounced. He said he recently found out that payments to his employee health care had also lapsed.
Rivera said workers were told they might be paid later this week.
"We don't know what's going on," said Tujube Kassa, a 39-year-old ESCAB housekeeper from Ethiopia. "[The manager] said 'maybe Thursday.' That's why we're scared. He said 'maybe.'"
Both Rivera and Kassa said they were informed that ESCAB's contract to clean Walter Reed is coming to an end.
According to federal records, ESCAB has held contracts with the Department of Defense, the Treasury Department and the General Services Administration. The company inked $16 million in contracts for fiscal year 2011.
Even if its contracts with the Defense Department have come to an end, the company would be legally obligated to pay employees for work already performed, Karant said.
"These are low-wage workers, and two weeks' pay is an incredible burden," she said. "They're saying they can't pay their bills."
The union has filed a complaint with the U.S. Department of Labor and asked that Walter Reed, the Uniformed Services University and the IRS all withhold any checks destined for ESCAB.
Many of the workers plan to protest in front of the Medical Center Metro station Tuesday afternoon.
"There may be no chance of me getting my money back," said Rivera. "I have kids, I have car payments to make. And Thanksgiving is right around the corner."
This story has been updated with comment from Regina Adams.
Popular in the Community