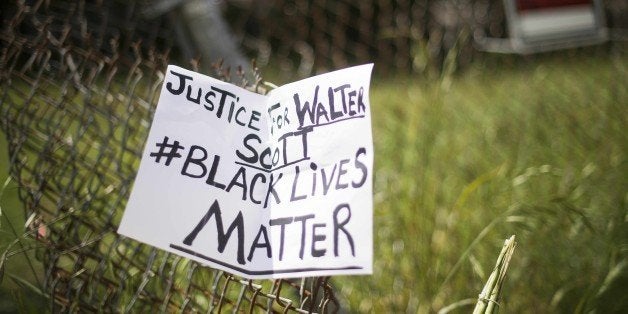 Walter Scott was a 50-year-old father of four.
"He was kind," Scott's brother Anthony, remembered. "He loved his children, he was a great father."
But Scott, who was killed on Saturday by police officer Michael Slager in North Charleston, South Carolina, had also long struggled to pay child support. In 2008, he went to jail for a full six months after falling behind by $6,800 in child support payments, according to The Associated Press. Scott spent one night in jail in both 2011 and 2012, again because he owed thousands in child support. At the time of Scott's death, there was a warrant out for his arrest due to failure to make child support payments. (Scott also had a history of convictions and arrests for other offenses, according to The Post And Courier, a Charleston paper.)
The knowledge of the arrest warrant for failed payments is likely what spurred Scott to run from Slager on Saturday during a traffic stop over a broken taillight.
"He said that's what he would do, he would run, because he's not going to jail for child support," Scott's other brother, Rodney, told MSNBC.
In a video shot by a bystander, Slager can be seen shooting Scott -- who was unarmed -- eight times as he ran away. Scott died, and Slager is now facing murder charges.
Like so many other noncustodial parents in South Carolina, Scott frequently found himself in jail or under the threat of incarceration. That's because the state metes out especially harsh punishments to those who fall behind on paying child support.
Libba Patterson, a law professor at the University of South Carolina and a former director of the South Carolina Department of Social Services, has been a vocal supporter of an ongoing effort to reform the way South Carolina punishes those who owe child support payments -- an effort that has gone all the way to the United States Supreme Court.
In 2009, Patterson conducted a survey of 33 county jails in South Carolina, which found that one out of every eight inmates -- or 13.2 percent of the inmate population -- was behind bars for contempt of civil court after falling behind on child support payments. In Charleston County, where Walter owed his back payments on child support, Patterson's survey found that over 15 percent of inmates had been imprisoned for not paying child support. In a handful of the other counties studied, the figure was as high as 20 percent.
Patterson told The Huffington Post in an interview that most states are more forgiving than South Carolina when it comes to child support payments. In general, there is no set number of days after which the debtor automatically goes to a contempt hearing.
"There's a more flexible process [in other states]," she said. "It's less likely you'll go the contempt route. You may enter a payment agreement, or may determine there's no money. The person may pay up without going through the judicial process."
The professor said she has found only one other jurisdiction in the country -- the 9th Judicial District of New Mexico -- whose rules are as stringent as South Carolina's.
In a separate study in 2010, Patterson surveyed hundreds of cases across South Carolina and found that low-income, noncustodial parents like Scott often ended up in jail without being represented by an attorney in civil court. In fact, the study showed that over 98 percent of parents being held in contempt for non-payment of child support did not have legal counsel. Ninety-five percent of the parents held in contempt ended up being sentenced to jail, with an average sentence of three months.
Seventy-five percent of the parents Patterson examined in her 2010 paper were indigent, meaning they testified that they were presently or previously unemployed or that they were having difficulties finding work. And nearly 70 percent of the noncustodial parent-debtors were black, even though blacks made up less than 28 percent of South Carolina's population that year.
This system, Patterson later wrote in an amicus brief, amounts to "a modern day debtors' prison for poor noncustodial parents who lack the ability to pay support," and creates a "recurring cycle of incarceration that diminishes prospects for employment and deprives children of an opportunity to build a relationship" with their incarcerated parents.
Patterson authored the brief in support of Michael Turner, a noncustodial parent in South Carolina, who in 2008 appealed a court's decision to send him to jail for failing to pay child support. Turner claimed that his constitutional right to due process had been violated because he did not have legal counsel during the civil contempt hearing that resulted in his imprisonment.
Turner's case ended up in front of the Supreme Court, which ruled in a 5-4 decision in 2011 that the right to counsel only applied to criminal cases, not to people in civil or family court proceedings. However, the case did result in new federal guidelines from the Department of Health and Human Services' Office of Child Support Enforcement, which emphasized to state agencies that there is "no evidence that incarceration results [in] more reliable child support payments that families can count on to make ends meet."
The guidelines encouraged states to prevent these types of cases from ending up in court in the first place, through debt counseling or by setting up a payment plan, among other options.
In order to follow the guidelines, the South Carolina Department of Social Services petitioned the state Supreme Court last fall to amend the rule requiring that parent-debtors appear in court after their payments became five days late. Instead, court clerks would have had the option to refer non-payment cases to the Department of Social Services itself. However, the state Supreme Court struck down the amendment in December 2014.
Patterson told HuffPost that South Carolina courts are often suspicious of poorer parents who claim that they aren't able to pay, and send them to jail anyway. "They are not receptive," Patterson said of the courts. "They are skeptical."
It's not known whether Scott had legal representation in any of his previous encounters in court over child support, and it's also unclear whether he had the financial means to make the payments. His family's attorney, Chris Stewart, did not return a request for comment.
There are no national statistics on the rate of incarceration for failure to pay child support. But South Carolina is one of just five states, along with Florida, Maine, Ohio and Georgia, that do not guarantee the right to an attorney during child support contempt hearings, according to a survey conducted by the National Child Support Enforcement Association. A 2009 study found that in one county jail in Georgia, nearly a third of the inmates were behind bars solely for child court contempt.
Asked whether she had seen the video of Scott's death, Patterson said she had, and noted that Scott's "level of desperation" was "not uncommon among persons who in arrears in their child support."

Popular in the Community