For days after Michael Slager fatally shot Walter Scott in April 2015, authorities maintained that the former North Charleston, South Carolina, police officer had done everything by the book. Slager, then 33, pulled over Scott, 50, for a broken tail light. The routine traffic stop spiraled out of control when Scott got out of his car and fled. Slager gave chase on foot, a physical altercation broke out, and Slager used lethal force to defend himself. That was the story police told, at least.
Three days later, news outlets published bystander video of the incident. The truth was out and the evidence was clear: Slager opened fire on Scott at a distance, striking him repeatedly in the back, as the black father of four fled. Scott was unarmed. He did not have possession of the officer's Taser, and in fact, Slager appeared to toss the device on the ground next to Scott moments after shooting him. Within hours of the video's release, Slager was fired, arrested and charged with murder.
Although critics of police brutality had seen officers walk free for killing unarmed black people across the country, many believed this case would be different. The video showed clear proof of criminal misconduct, activists said, and even those who had traditionally sympathized with police found the shocking footage hard to dispute.
On Monday, however, a Charleston jury concluded that it could not come to an agreement on a guilty verdict against Slager. A judge declared a mistrial, proving there is no such thing as a smoking gun when a police officer is on trial.
The jurors, 11 white and one black, were considering both murder and manslaughter charges against Slager. To reach a verdict, all 12 needed to reach a unanimous decision. A lone juror prevented the panel from coming to a consensus, claiming that he could not "with good conscience consider a guilty verdict." Eleven of Slager's peers had watched the video of him killing Scott, listened to his testimony, and decided that his actions were unlawful. But the lone holdout apparently did not see the killing as criminal. That hesitation is all the defense needed to stave off a guilty verdict, at least for now. Prosecutors have announced they'll retry the case.
With the nation deeply divided on issues of race and policing, this development further underscores how hard it is to convict police officers for murder or manslaughter in on-duty shootings. Since 2005, just under 80 officers have been charged with murder or manslaughter resulting from police-involved shootings, according to data compiled by Philip Stinson, an associate professor of criminology at Ohio's Bowling Green State University. Police kill around 1,000 people each year in on-duty shootings, according to Stinson's estimate, meaning the overwhelming majority of these incidents don't make it to trial. When they do, juries and judges have shown a reluctance to rule against police. Fewer than 30 of the charged officers have been convicted ― with only one convicted of murder. A number of other cases are still pending and the rest have ended in non-convictions, either through acquittal or dismissal.
The mistrial in Slager's case is a reminder that it only takes one juror to blow up a case. A single person who is steadfastly biased in favor of police can make it impossible to secure a conviction, no matter the apparent strength of the facts in the case.
And justice for Scott isn't the only thing potentially in peril.
There's plenty of ambiguity and uncertainty in cases of police violence for which no video exists. Officer testimony and eyewitness accounts often fill in the blanks, and jurors must weigh each in determining how to rule. In Slager's case, however, his reports were seemingly disproved by the bystander video. Jurors had everything they needed to make a clear-eyed analysis of whether Slager reasonably feared for his life when he pulled the trigger. Yet still, as in many cases of this nature, the jury couldn't return a guilty verdict.
While police reform advocates and law enforcement officials have called for mandatory body camera programs to hold officers accountable, Slager's trial shows that objective video isn't always enough to convict an officer in the killing of a black person. We now know this is true even in cases when the footage receives near-universal condemnation from experts and civilians alike. No matter how damning the evidence may appear, no matter how many bullets the officer fired, police officers operate with a level of impunity not accessible to the average American.
As with the shootings of Tamir Rice, John Crawford, Alton Sterling and others, the disturbing videos of police shootings have highlighted the vast disconnect between what many civilians view as unreasonable conduct and what the criminal justice system ultimately determines to be unlawful. Now, many are left wondering what sort of behavior truly constitutes a criminal killing in law enforcement.
This sends a dangerous message both to police and the communities they patrol. Black people have shown time and time again that even when they're unarmed, or fleeing, or completely innocent and a danger to no one, the people sworn to serve and protect can still kill them. And even when almost everyone agrees the evidence clearly shows the officer in the wrong, the system may end up disagreeing.
Before You Go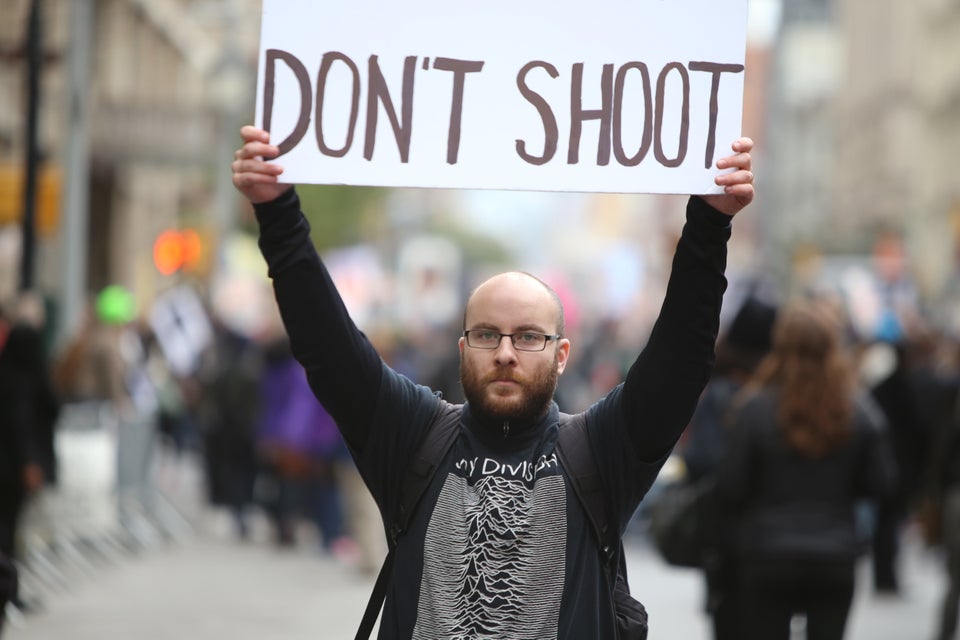 Police Brutality
Popular in the Community