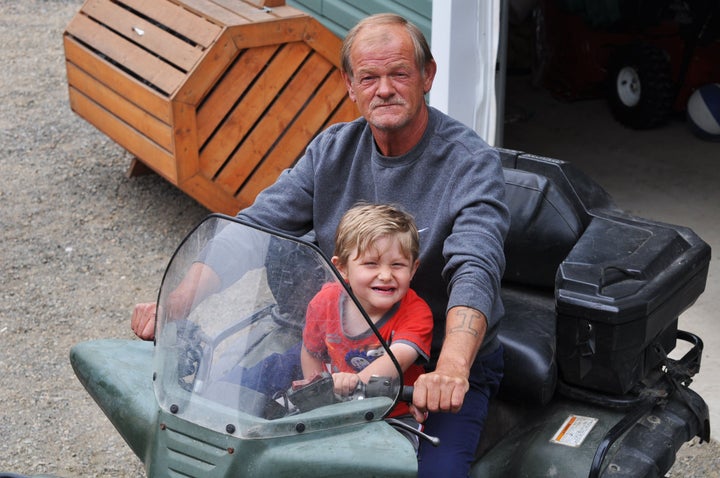 A six-year-old Canadian boy has been credited with saving his grandfather's life after the two were involved in an all-terrain vehicle accident last month that left the older man seriously injured, the Advertiser reports.

Walter Small, 59, and his young grandson, Bradley Reid, had been staying in a cabin in the remote woodlands near Grand Falls-Windsor, Newfoundland, Canada, when the little boy asked his grandpa to take him for a ride on his ATV.
Unevenness in the road, however, soon caused the vehicle to tip over.
Bradley suffered no injuries, but Small's leg got trapped under the ATV.
The pair would end up being stuck in the woods for almost 24 hours.
"It was terrifying. There we were, a mile from my cabin and it would be a long time before anyone came," said Small. "No water, no food, telephone left on the table."
Small said Bradley tried to walk to the main road to get help but it was too far for the little boy to manage. Instead, the kindergartener sat next to his grandfather, keeping the injured man conscious.
"I was passing out in pain," Small said. "Bradley was there keeping me awake, keeping the flies and bugs off me."
Bradley also kept telling his beloved poppy just how much he loved him.
"He kept telling me that 50,000 times in the woods, and that's what kept me going," Small told CBC News.
At one point in the middle of their ordeal, Bradley attempted to flag down a passing pickup truck but the vehicle sped past without stopping, the Advertiser reports.
Enduring the scorching daytime heat without water or food and the nighttime chill without shelter, Small -- whose lips and eyes had become terribly swollen -- said he became so desperate that he considered cutting off his leg to save him and his grandson.
Almost a day after their ordeal began, Bradley heard the approach of a passing truck -- and this time, the two men in the vehicle stopped when they spotted the little boy waving from the side of the road.
The two Good Samaritans, who have not been identified, immediately called an ambulance, and whisked Bradley and Small to the hospital.
Incredibly, Small endured neither broken bones nor serious injury and Bradley, though dehydrated, was given a clean bill of health.
Small, who said he will not be getting back on an ATV again, told the Daily Mail that he owes his grandson his life.
"He never once complained," Small said. "If he hadn't been there, I don't think I'd have made it."
Check out the slideshow below of other hero stories:
Calling all HuffPost superfans!
Sign up for membership to become a founding member and help shape HuffPost's next chapter
BEFORE YOU GO