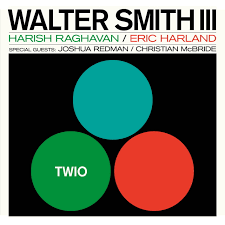 Houston born Walter Smith III is now a West Coast based, no nonsense tenor saxophonist who is amongst the leading voices on his instrument. I have been following his work since I first heard him on his Live in Paris from 2009 and later on Ambrose Akinmusire's When the Heart Emerges Glistening from 2011. At the time he was a strong ensemble player who worked particularly well with trumpet players like Terrence Blanchard, Christian Scott, Sean Jones and Ambrose Akinmusire on a front line.
On his latest effort Twio (think of Elmer Fudd saying trio), soon to be released on February 9, 2018, his playing as a leader has matured and become more confident. He is joined on six of the nine songs on the album, by the plucky bass of Harish Raghavan and the percolating drums of Eric Harland. For the other four songs Harland remains on traps while the bass chair is taken over by the ubiquitous jazz ambassador and uber-bassist Christian McBride. On two of the songs Smith is joined by the second tenor saxophone of Joshua Redman. As the saxophonist has said in his promo materials, the songs were chosen to be more accessible and are about community and having fun. It seems with Twio he has accomplished what he set out to do.
The set starts off with a loping version of Monk's "Ask Me Now." Smith's bold tenor sound starts off with Raghavan's brash bass out front and deliberate in its steadfast march as Harland playfully, dances around the rhythm. It's Smith's smooth, lustrous tone that is front and center here, as he works the melody with a marvelous sense of confident mastery. His explorations, especially when he solos alone, naked with his horn with no background rhythm section for support, are marvelously free and inventive.
On the Jerome Kern standard "Nobody Else But Me" we hear some intuitive interplay between Raghavan and Smith as the freewheeling Harland mixes it up. Smith's sax has a loose limber feel to it both within the melody line and when he delves into some quicker paced harmonic explorations, yet he always seems to maintain the core melodic line of the song when he is playing. He has a knack of keeping the listener always engaged even when he improvises.
The cowboy inspired "On the Trail" finds bassist McBride, his big round bass and his signature stutter step, double-time lines leading the drive. Harland is more in the pocket on this song and we are treated to the dual tenor saxophone line of Smith and Joshua Redman. The song brings back memories of Sonny Rollins venture into cowboy songs with his Way Out West album. While neither saxophonist has quite the same big, biting sound of Rollins, they each have their own identifiable sound and play off the other with great dexterity and purpose. After alternating the melody between them, the two saxophonists offer their own take on the melody before trading licks in a friendly exchange of ideas; a fine addition to the tradition of tenor saxophone sparring matches by the two young titans.
The C. Fischer ballad "We'll Be Together Again" is played as a saxophone and drum duo. We hear an unusual metronomic drum entrance by Harland that has the cadence of a slow strip. Smith's round Dexter Gordon-like tenor rings through the melody with a mellifluous warmth that is quite sensuous as Harland adds percussive accents around the slow tempo beat.
McBride and Harland return for the Sammy Fain classic "I'll Be Seeing You." Smith's languorous saxophone states the melody solo before McBride's buoyant bass and Harland's traps enter. At about the two minutes mark the group picks up the pace and turns it into a medium tempo swinger with McBride's bass leading the charge. A fleet fingered bass solo gets you snapping your fingers before Smith returns and restates the melody with a nuanced sensitivity that is compelling.
On Wayne Shorter's "Adam's Apple" bassist Raghavan returns providing a throbbing backdrop. The trio takes on a more modern feel, with Smith winding his sinewy way through the composition and finding some common ground with Harland who is given an extended solo that crackles with energy.
Perhaps the most moving performance on this album is Smith's poignant portrayal on Jimmy Rowles "The Peacocks." Smith correctly chooses a slow, languorous approach to this brooding song. His saxophone is beautifully nuanced and emotive as Raghavan's bass down holds the bottom and Harland's active traps swirl and shimmer beneath. The song has been in the repertoire of many a jazz great because of its haunting melody and it's potential as a vehicle for expression. Here the thirty-seven-year old Smith makes it his own with a quiet confidence that is mature beyond his age.
Another perennial favorite is Gigi Gryce's "Social Call" which starts off with Smith simply stating the melody line and playing a jaunty duet with a walking bass of McBride. Smith's unadorned saxophone is a joy of fluidity and clarity and with McBride's musical bass the two make wonderful music on this amusing Gryce classic.
The finale reunites the two saxophone voices of Redman and Smith in a unison chorus of Smith's original composition "Contrafact," a song based on "Like Someone in Love" in five meter. The two weave each other's voices into an aural tapestry that is both willowy and colorful. McBride and Harland create a rumbling underbody over which the two saxophonists take turns finding common harmonic ground. It offers the listener a chance to compare the two saxophonists' approach to improvising, which except for tone and attack have more similarities than differences. McBride offers a dazzling display of dexterity on his short but potent solo before the two saxophonists return to unison playing that is quite impressive in its precision.
Related
Popular in the Community