This may be the starkest example of the widening income gap yet.
In order to equal the $145 billion fortune of the six wealthiest Walmart heirs, you'd need to combine the wealth of nearly 1.8 million median-income American households, according to a new analysis by the Economic Policy Institute, a left-leaning think tank.
That's more than enough people to fill the entire city of Detroit. (By at least one estimate, the Walmart family could already buy every single home in Seattle).
Siblings Rob, Jim, Alice and Christy Walton are among the wealthiest Americans alive, behind Charles and David Koch, Oracle chairman Larry Ellison, Warren Buffett and Bill Gates. Though they rank lower on Forbes' list, their cousins Ann Walton Kroenke and Nancy Walton Laurie are also multi-billionaires.
The gap between the Waltons and everyone else used to be smaller. In 2007, the year before the Great Recession kicked off, the number of median-income households needed to equal the Waltons' wealth was just under 600,000.
For its report, EPI looked at the Federal Reserve's triennial Survey of Consumer Finance for 2013 and Forbes magazine's annual list of the 400 wealthiest Americans.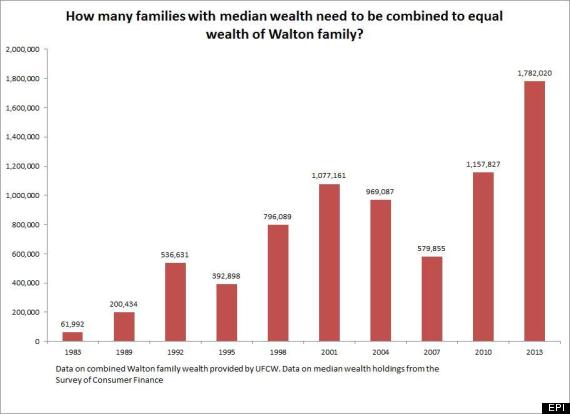 It's not just the Waltons, of course. The gap between the richest and the poorest is widening dramatically, according to EPI's research.
"The falling wealth of the median family (driven largely by the housing bubble burst) and the steadily rising wealth at the very top—including the Walton heirs—have combined to make the gap between them larger and larger over time," Josh Bivens, the research and policy director at EPI, wrote in a blog post on Friday morning.
Rising inequality may not be hurting the Walmart heirs, but it is pinching Walmart itself. The retailer, which relies significantly on customers using food stamps, has struggled as government funding for the program was cut and its customers have less to spend.
Kevin Thornton, a Walton Family Foundation spokesman, did not immediately respond to a request for comment.
CORRECTION: An earlier version of this story misspelled Kevin Thornton's last name. Language was also changed to reconcile the fact that the net wealth of the Walmart heirs is nearly that of 1.8 million median-income U.S. households, and that the total population of Detroit is 1.8 million individuals.
Support HuffPost
The Stakes Have Never Been Higher
Related
Popular in the Community