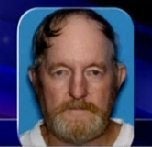 A Florida man expressed indignation after being arrested July 30 for supposedly shooting a black man in the head, explaining to police that he had "only shot a n----r," police said.
Walton Henry Butler, 59, allegedly shot the 32-year-old Everett Gant in the head, who visited his Port Saint Joe apartment to confront him about making racist comments to children in the apartment complex, according to the Broward Palm Beach New Times. The blog reports that Butler proceeded to eat dinner as Gant lay bleeding outside his door and cites an affidavit saying that Butler used the racial slur when questioned by the sheriff.
Butler is charged with attempted murder with a hate crime enhancement.
Police said Butler called 911, and expressed confusion at his arrest. "He was brought to the investigation unit where he was interviewed and basically admitted to shooting the victim and said he shot a, used a racial slur, and said that is what he shot and acted like it was not like a big deal or anything to him," Gulf County Sheriff Joe Nugent told WJHG.
CORRECTION: A previous version of this story linked to a source that incorrectly listed Gant's condition. WJHG reports that Gant is in critical condition.
Related
Popular in the Community