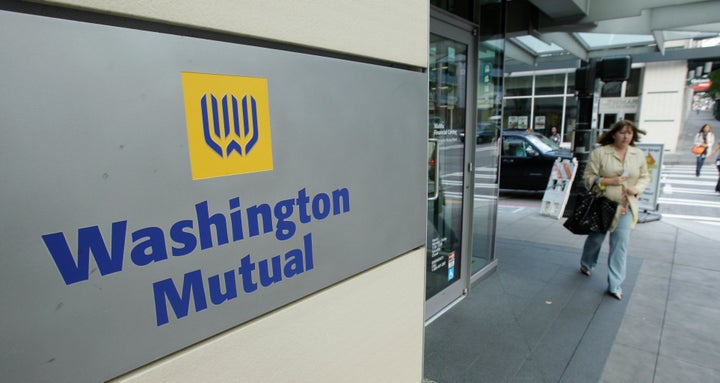 Note: read the full complaint filed by the FDIC below.


WILMINGTON, Del., March 17 (By Tom Hals) - A U.S. government regulator sued three former top executives at Washington Mutual Bank for their role in the biggest bank failure in the nation's history, accusing them of recklessly making billions of dollars in shoddy home loans.
The three "gambled billions of dollars of WaMu's money," the Federal Deposit Insurance Corp said in its lawsuit, accusing the trio of getting rich while betting the savings and loan's future on high-risk home loans.
U.S. banking regulators have authorized lawsuits against 158 bank officials so far as they seek to recover at least $3.6 billion in losses from bank failures related to the 2007-2009 financial crisis.
The FDIC, which sold the failed Washington Mutual Bank in 2008, sued former Chief Executive Kerry Killinger, former Chief Operating Officer Stephen Rotella and David Schneider, former president of the company's home loans division.
Founded in Seattle in 1889, Washington Mutual was the largest U.S. savings and loan, with more than 2,000 branches, $300 billion of assets and $188 billion of deposits when it was seized at the height of the 2008 financial panic. Its parent, Washington Mutual Inc., landed in bankruptcy.
The regulator said the top Washington Mutual executives wagered on the prospect that the bank would manage to avoid losses on risky home loans "despite their own awareness of the inevitable decline in the overheated housing market."
The lawsuit accused the three, who collected $95 million in compensation between 2005 and 2008, of gross negligence and breach of fiduciary duty.
Killinger has accused regulators of jumping the gun in shutting down the bank and quickly selling it to JPMorgan Chase & Co.
"It was with great shock and sadness that I read of the seizure," he told a congressional panel last year.
In the weeks leading up to the seizure, the FDIC said Killinger and Rotella were transferring assets to their wives to avoid creditors.
Killinger transferred his ownership interest in his Palm Desert, California, and Shoreline, Washington, homes to his wife Linda.
The FDIC said Rotella transferred more than $1 million to his wife Esther after the bank failed.
Both women are defendants in the FDIC lawsuit, filed on Wednesday in the U.S. District Court for the Western District of Washington.
Washington Mutual Inc declined to comment. Attorneys for Killinger and Rotella did not immediately return a call seeking comment.
The FDIC said it does not comment on specific litigation.
"The FDIC as receiver will initiate lawsuits against former officers, directors and other professionals of failed institutions when the case has merit and is expected to be cost effective," said FDIC spokesman Andrew Gray.
He said the agency was suing on behalf of creditors of the failed bank.
The case is The Federal Deposit Insurance Corp as receiver of Washington Mutual Bank, v Kerry K Killinger, Stephen J Rotella, David C Schneider, Linda C Killinger and Esther T Rotella, U.S. District Court, Western District of Washington, No. 11-459. (Additional reporting by David Clarke in Washington; editing by John Wallace)
Related
Popular in the Community