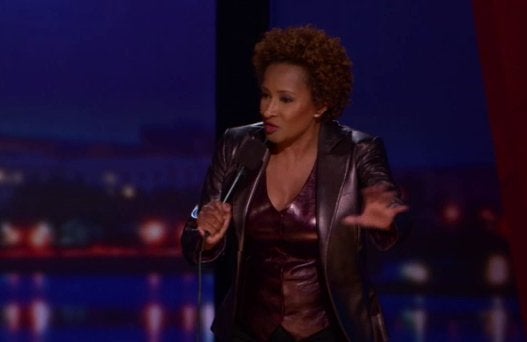 When Wanda Sykes is talking, people listen. Maybe that's because her pointed tone, volume, and no-bullshit attitude make her impossible to ignore. Of course, when it comes to admonishment comedy, Sykes without a doubt ranks among the best. One can only hope that God has a sense of humor and appoints her "Judge Judy" of Judgment Day, allowing her to review the cases of Simon Cowell, George W. Bush, and all those in need of a good punking. Though the comic's sometimes loud, in-your-face persona can be irritating in large doses, at her core is a formidable talent and a nose for irony that is quietly making her famous.
In the midst of a recession, many are looking for reasons to laugh and few are opposed to placing a little blame on those who might be responsible for the current socioeconomic state of the union. Thus, for Sykes, who never backs down from controversial issues, idiocy, or racial commentary, there should be fodder aplenty. Truly, for someone who loves to drop verbal bombs, there hasn't been a better time - the comedian-writer-actress boasts a recent, public exit from the closet and incipient interracial motherhood in her arsenal.
In her second HBO special, "I'ma Be Me," which premieres tonight at 10 p.m. EST, Sykes shows that her swagger hasn't been slowed by maturity or motherhood. She still knows how to dish it out, but unfortunately, for those who are familiar with her work, the special is a bit anticlimactic. Granted, most of her material is topical, as she spends the first third focusing on issues related to the First Family, sprinkling in bits on Somali pirates, Michael Jackson, and the metric system. But too much of it treads on familiar ground--both for her and comics in general.
Sykes has been an under-the-radar success on the comedy scene for years, including her work as part of the Emmy-winning writing team on Chris Rock's eponymous show in the 90's. Since then, she's found recurring roles on "The New Adventures of Old Christine," "Curb Your Enthusiasm," and "Crank Yankers" and offered comedic support in films like "Pootie Tang" and "Evan Almighty."
Most recently, Sykes was chosen as Head Roaster at this year's White House Correspondents Dinner. Her performance was, as per usual, hard hitting and hilarious. Her set even drew criticism from the Right, (so you know it was good) as a result of wishing kidney failure on Rush Limbaugh. She also took a shot at Sarah Palin, saying, "I know Governor Palin. . . . She's not here tonight. She pulled out at the last minute. Somebody should tell her that's not really how you practice abstinence."
In December, she will debut "The Wanda Sykes Show" on Fox, where she will be the first woman (and first gay African-American woman) to have her own late-night show. However, much of her success, I would say, is a result of her stand up work, not her work in film or TV. She belongs on stage, where she is not beholden to - or restricted by - network standards.
That being said, while her impression of Michelle Obama having a metal rod implanted in her neck to prevent her from juking and jiving while getting "sassy" at Barack is hilarious, and there are quite a few bright spots in her second HBO special (particularly in her impressions), I couldn't shake the feeling that I was watching a good deal of recycled material, including jokes from the Correspondents Dinner.
It is also difficult to avoid seeing her as the female Chris Rock, especially considering a few startling similarities in their routines. To be fair, Sykes admits that her time at the "Chris Rock Show" was a big inspiration for her, but the point remains.
In the latter half of her 90-minute set, Sykes veers back into more conventional stand-up terrain, playing on parenthood, aging, bikini waxes, relationship issues, and health care. She is noticeably killing the crowd throughout, and it's hard to ignore the serious laughter echoing through the Warner Theatre in D.C. Her clever delivery and confident energy work in her favor, but "black people drive like this" and "white people drive like that" comedy only goes so far and her routine tends to retreat into this over-played territory. Pointing out true differences, racial and otherwise, is expected of comedians -- but great comics go beyond this, and I'm not sure Sykes gets there in her new special.
Though the new mom is open and unabashed in drawing upon (and making dirty jokes about) her blackness, her homosexuality, and her interracial marriage for her material (there are frequent cathartic bombs and laughs), again, much of it seems too easy. But fear not, there are some gems, especially when Sykes details her experience performing on a week-long gay cruise.
Popular in the Community