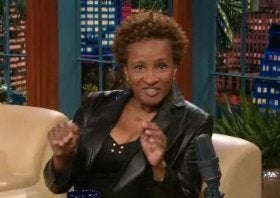 Wanda Sykes made fun of the media skirting the race issue when talking about Michelle Obama during an appearance on Leno Wednesday night.
"She is just so sweet," Sykes said of meeting the First Lady, "Both of them are just very genuine."
But Sykes says the media didn't know how to cover her.
"There are little subtle ways they dance around the race issue," Sykes told Leno. "'When are we going to see the real Michelle Obama?' And you know what they're saying... They're waiting for her to throw all his stuff on the White House lawn... They're waiting for Weezy to jump out."
Popular in the Community