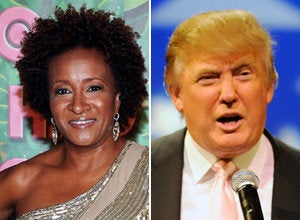 Wanda Sykes has never pulled punches, especially when it comes to controversy and politics. On Thursday night, she delivered a jab to Donald Trump, and a full-on smack down of conservative birthers.
Before her scheduled performance in Vancouver, Sykes spoke to the Vancouver Sun about her take on the right wing attacks on President Obama.
"I feel sorry for 'em, they're just sad," she said of the birthers. "I love that they're hanging it on 'Well, he's not from this country' when they should just face it: You're having issues because a black man is president. That's what it is, and you need to deal with that, to work with that."
Trump's act has not exactly impressed Sykes.
"He's not happy unless he's relevant in some way," she told the paper. "He wants people to be talking about him. I thought he would be happy enough to finally have a decent season of 'Celebrity Apprentice' but, you know, he had to make a little bit more noise than that, I guess."
Calling all HuffPost superfans!
Sign up for membership to become a founding member and help shape HuffPost's next chapter