It is day two of my seven-day walk-and-talk with a group of seven friends. Our purpose: to test new sections of the Abraham Path between Urfa and Harran in southeastern Turkey and then climb up into the mountains north of the mythical Euphrates river. We come across plenty of landmarks not immediately associated with Abraham: we walk past an ancient Yezidi shrine and mysterious Roman ruins, visit the world's oldest religious temple and in a day or two will scout desert rock carvings in devotion to the sun and the moon gods. These places pretty much sum up everything Abraham rebelled against: especially in the Muslim and Jewish traditions, he was the father of monotheism, the belief in One God. But to me they are no lesser part of the story of this region.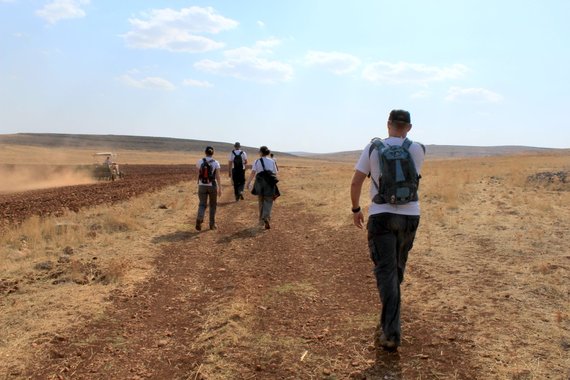 In between sightseeing and walking these places we eat and sleep in villages on the trail. We are the odd strangers walking into a different home and a different world. This idea of cultural exchange is central to the Abraham Path project: hospitality bridges the East-West cultural divide. Not that this is always easy. Nearly all of the facets of conventional travel are absent in the homestay model. Guests need an open mind and an ability to adapt: there is little personal space, few moments alone and less control over events. Everything is shared except a common language. In a curious way that also helps. Perhaps because we speak no Kurdish or Turkish and the families speak very little English, a rigid protocol of any kind is absent. There's one exception: the ankle length skirts the women in our group have to put on in most homestays; a cultural prerequisite that comes with travelling this particular part of the Abraham Path. That's not always convenient or comfortable. And as with so many issues coming one's way on the path, it is best dealt with by humor. And by the daily walking -without skirts- that allows for all the mental and physical space one could possibly desire.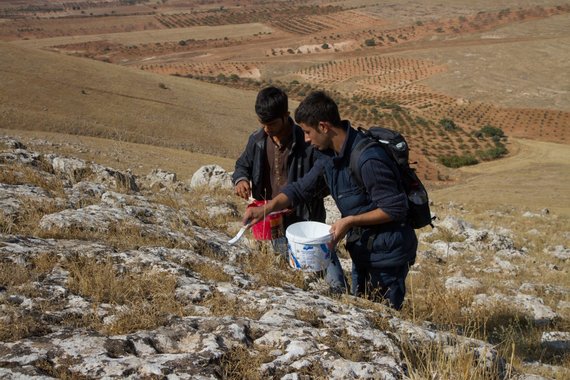 On our second day, we walk between the Kurdish villages of Yuvacali and Golli. A gentle stroll of five hours over mellow hills. It is warm for the time of the year and the land is still dry, waiting for the first winter rains to fall. In a month or so, this landscape will be green and, in some patches, challenge walkers with muddy trails. We find the first red and white Abraham Path trail markers of the Urfa section of the path. This is no easy job: the terrain is mostly agricultural here so finding large stones to mark is not straightforward. At times, the markers venture across a field that has just been harvested. In six months from now, they may well be hidden amidst the wheat or tobacco that is planted here. But all in all, it is a major step forward: no symbol states more clearly that the path is real. In addition, walkers can download maps and GPS data of the route before they set out, but today I keep my GPS switched off as I follow the footsteps of Fatih Salva, our guide, who has been down this route countless times already.
After lunch in the tiniest hamlet of Golli, we are driven 30 km southwards to the mysterious excavations of Göbeklitepe for sunset. In 1996, the discovery of the world's oldest temple -built 11,500 thousand years ago- put conventional theory on the origins of religion on its head.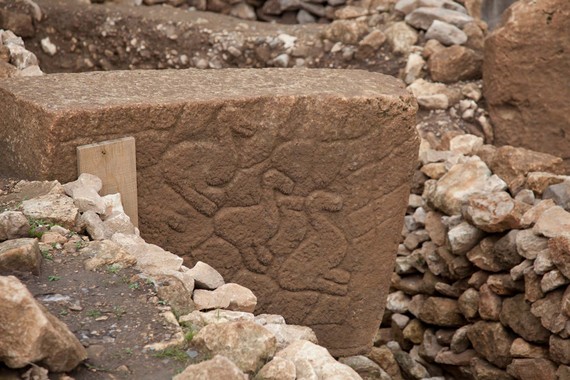 Rings of huge T-shaped pillars up to six meters tall were constructed inside and on top of one another; they feature larger than life carvings of foxes, wild pigs, scorpions, snakes and a dozen other animals. Every few decades the rings of statues would be buried and a new round of temple construction would commence. It is but one of the many mysteries. Humans settling down and starting agriculture was always supposed to have preceded the origin of religion and the construction of places of worship, let alone pilgrimage. But at this place no remnants of human settlement have been found. Does religion predate human settlement?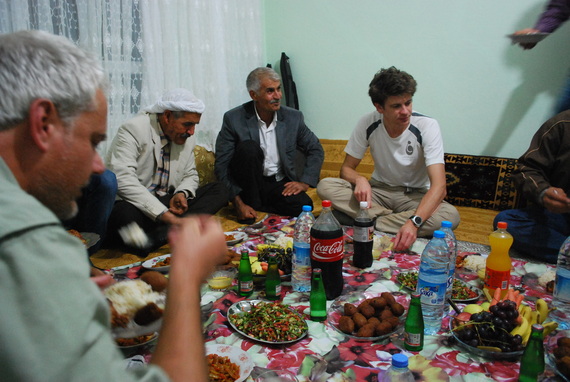 Darkness falls and we arrive for dinner and our third homestay experience in Kisas. It is an Alevi town in the midst of endless cotton plantations irrigated by the abundant water from the Atatürk Dam. We sit on carpets mixed between the extended family of hosts Izzet and Asia. There is abundant food for hungry walkers, plenty of laughter and then Alevi music. Kisas more than any village I've been too on the path takes in each visitor as an imperative to display local culture to both guests and their own community. The Alevi are a group of intensely fascinating yet complex communities spread across Turkey, and making up anywhere between 10 and 40 percent of its population. Estimates have varied so widely because identity, language and religion are part very distinct, part overlapping with Kurdish, Arab, Turkish, Turkmen, Azeri and other communities. Two musicians from the village come into the room. They sit in our midst, but do not speak; instead, they let their instruments talk for them. Without a common language and in a region battered and bruised by definitions of identity, poetry and song are the save ground to get to know one another.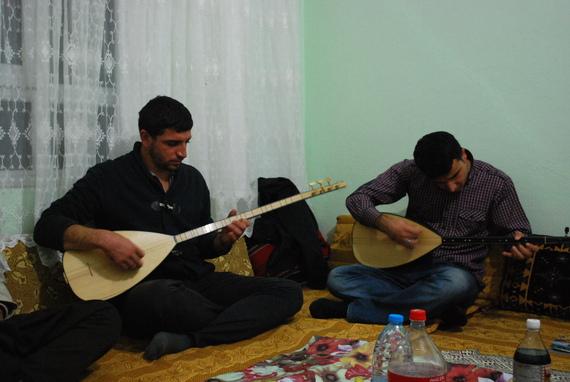 Photography: Stefan Szepesi and David Landis
Related