The distance from Egypt to Israel is a mere 381 miles, yet in the story of Exodus the Jews wandered in the desert for forty years.
It is said that the old generation wasn't ready to enter Israel. Their slave mentality, imprinted from generations in bondage, did not prepare then for the leadership role expected of them in their new home. The forty years allowed a new generation to grow into adulthood untainted by the shackles of slavery.
Exodus describes an experiential journey rather than a geographical one between Egypt (Mitzrayim in Hebrew, meaning 'narrow straits,' or limitations) and Israel (meaning 'who prevails with G-d'). Perhaps the 40 years allowed the travelers to experience the many necessary steps along the way of releasing all that is untrue and limiting, on the journey to personal and spiritual freedom.
Curiously, though the older generation did not merit entrance to the Holy Land, it is said that no generation since has attained their level of spiritual greatness. What is the meaning of this apparent contradiction? If the older generation was limited by their slave mentality, how were they somehow also the best of the bunch?
Moses, the teacher, surely had lessons to share even in his passing.
Moses' demise outside the Promised Land is often received as a story of punishment: he spoke and acted in anger and therefore he was denied the privilege of entering the Holy Land. Yet perhaps his death just on the cusp of the culmination of the story of Exodus points to a different lesson:
The journey itself -- fueled by desire and sustained by devotion -- is the greatest possible human achievement.
Wandering in the desert is the best we can do or be.
The Exodus story hints that our special gift as humans to be engaged in the struggle, to be en route rather than arriving.
Like a mother whose heart sings at her child's first steps, maybe 'the universe' has a special love for us as we are in the throes of grasping what it is we are supposed to learn. While the mother's ultimate goal is to see her child fully independent, nothing is as achingly sweet and dear as those first wobbly steps.
Being on the journey, fully engaged in the lessons of the journey, is to be human at its best.
Arrival at the destination, a kind of 'graduation,' is a lovely marker of completion, but it is just a momentary pause that also marks the start of another chapter, another journey. While we are here, on earth, wandering through the desert, we are students, and it is specifically as students, not graduates, that we are most beloved by our headmaster.
We are loved for our humanness, because of our humanness.
We are loved for our not-knowing-that-is-on-the-journey-towards-knowing. We are learning how to walk, with sometimes very wobbly steps. This is the human condition.
The idea of the Holy Land beckoned like a beacon of light, whereas the reality of entering the Holy Land was the beginning of thousands of years' more lessons. Moses, having perfected his journey, graduated to a true Holy Land and another stage in his journey, and the rest of the people graduated to a holy land still 'in progress,' to another stage in their journey.
We are all on a journey.
We may not have 40 years, and we may not have time to start over. We just have to do what we can, in the time that we have, to learn to release any leftover slave mentality of oppression, shame, limitation and lack as we travel the path to our own higher selves.
Promised LandMay we all, with spirits free and hearts fully healed, journey to the holy land of a new reality, heaven on earth, where we accept ourselves with compassion, speak our truth and share our self-expression - the Promised Land.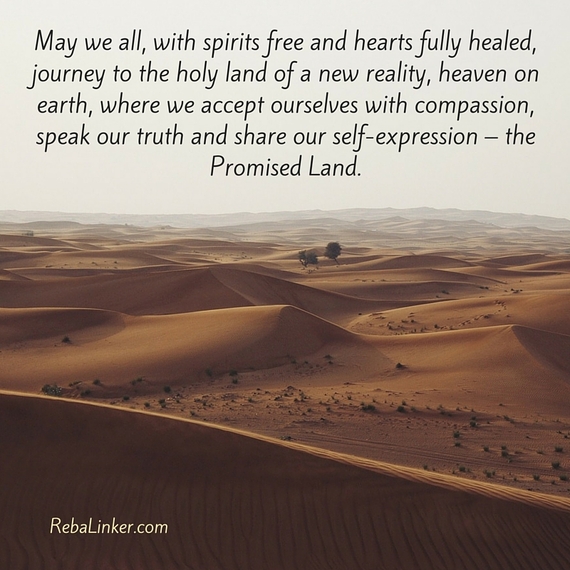 May we train our sights on our destination, and yet also love every step of the way.
May our vision lead us on the journey . . . and may our journey become the vision.
Did you enjoy 'Wandering in the Desert'? I 'd love to read your comments, below.
Click here to pick up my gift to you, 5 self-love Action Steps and 5 self-love Journal prompts.
The e-course, "9 Self-Love Keys to Change Your Life," is now available through the Daily OM on a pay-what-you-wish basis, starting at $10 for all 9 MODULES. What a great opportunity to dip your toes - or dive deeper - into the self-love waters. Click here to register. When you practice self-love in one area, it becomes easier to apply it in all areas. Like a loving friend, this course will help you see yourself with eyes of love. Ahhh!
REAL LIFE. REAL NEWS. REAL VOICES.
Help us tell more of the stories that matter from voices that too often remain unheard.