The second annual Wanderlust festival in the mountains of Squaw Valley, California wrapped up this past weekend with four days and nights of activity designed to feed the mind, body and soul. Based on my experience with yoga workshops and music festivals, I can say Wanderlust is neither one of those things, but something greater. Whether it was the opening of a yoga class, heartwarming sense of community, beat of the live music, incredible beauty of Lake Tahoe, informative speakeasy, personal breakthrough, insightful dialogue, scenic hike or fresh air of the mountains, the combination had magic in it.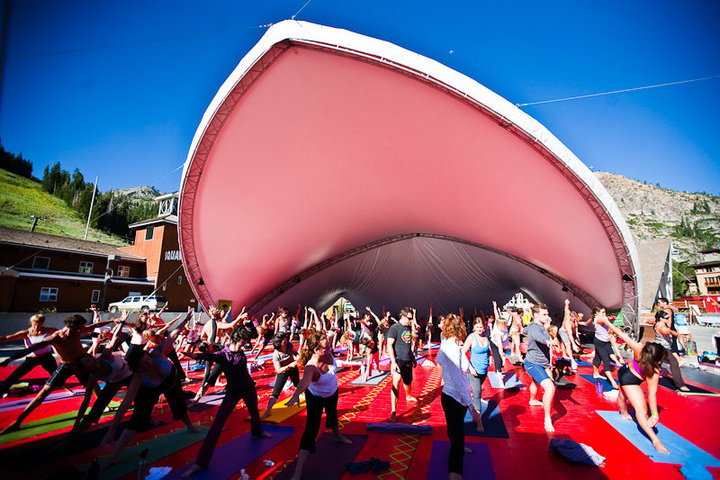 Photo: Tinywater Photography
The daytime at the festival was warm and breezy, filled with yoga, meditation, clear blue skies, gondola rides, swimming pools, trapeze, arial arts, hula hoops, walks through buzzing Squaw Village, folk music, sunshine and bright faces. All of these things together elevated the experience but for Wanderlust 2010, I must admit the yoga lineup with renowned teachers like Baron Baptiste, Seane Corn, and Shiva Rea, and location were the real draw for me.
Two of my best practices were classes with Seane Corn and Baron Baptiste; both are world renowned yogis, inspirational, down-to-earth and amazingly gifted communicators. Their classes were physically demanding, but refreshingly (and contrary to what some might expect from the creator of Baptiste Power Yoga) focused on using connection to the breath to let go of stress and tension, live presently, connect with yourself and those around you, open up, empower, accept, and quiet mental chatter that gets in the way of love and confidence. The messages were strong and well spoken during their respective classes but perhaps most inspiringly, both Baptiste and Corn do incredible work to spread the gifts yoga has brought them through their non-profit organizations Off the Mat, Into the World and The Africa Yoga Project. The information, activism and commitment to service they discussed in class was a revelation on where power of yoga can take you and how to connect the dots from a sacred personal practice to a conduit for world change.
Another favorite class was a Sunday 8am session with Rusty Wells, a San Fran guru and returning teacher from Wanderlust 2009. Fun, dance, tambourine, chanting, laughter, work and positive energy are his yoga and in short, it was a blast, full of good humor, positive reinforcements, and a really tiring series of poses. As everyone prepared for final relaxation, the Fugees crescendoed from the speakers and on our backs, with eyes closed, the whole class proceeded to spontaneously and emphatically belt out the entirety of "Killing Me Softly". As a time set aside where one is usually guided to rest in tranquil silence, it was an unusual interpretation of stillness and meditation. But indeed, during those few minutes I had no thoughts - just a heart filled with gratitude for a transcendent experience and power of a great song.
As for the live music, nighttime delivered black skies, bright stars and rave-like dance parties. This year's lineup was a heavy on the DJ/Electronic acts with large-scale lights and graphic production. Headliners included Moby, Pretty Lights, Bassnectar and Brazilian Girls. Each night I went down to the main stage to survey the scene, grab a few drinks, dance like a crazy person for about an hour and call it a night, which worked out perfectly, because full emersion into my surroundings might have eliminated the chances of making it to yoga at all the next day.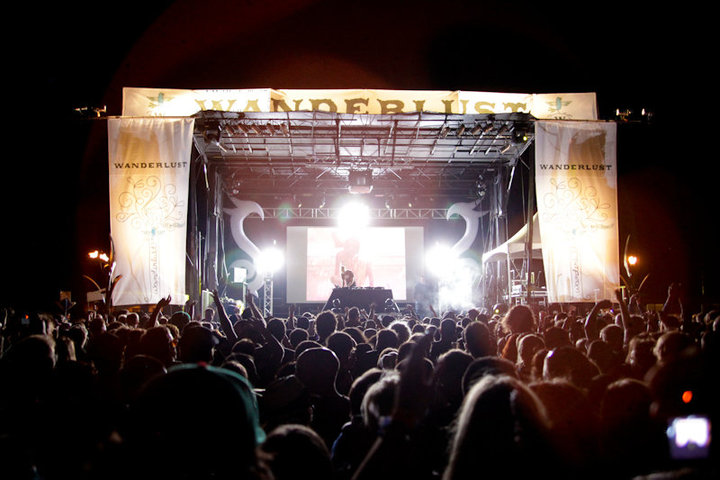 Photo: Tinywater Photography
Although personally I prefer the vein of Andrew Bird and Broken Social Scene, with a dose of Girl Talk like 2009, there was a bigger turnout for the series of Electronic and Trance performances than last year's Indie/Folk centric shows. In terms of direction of the music lineup for the future: "We're still figuring that out a bit," said Jeff Krasno, Co-Founder of the festival. This year was a success from a music ticket sales perspective and everyone likes a dance party, but according to Krasno, Wanderlust will continue to seek a music meeting place right on the edge of the yoga clan interest and local area appeal.
It was clear that this type of music also attracted a whole new party to the festival, mostly consisting of younger people from the surrounding areas, sporting accessories that glowed, and perhaps an interest in heavier drugs than most of the yoga crowd. But mainly, everyone was well behaved and down for a good time and seeing the occasional college kid still dressed in a cape and neon sunglasses on the way to morning yoga was merely an amusing juxtaposition.
My favorite music moment of the weekend was watching Kelli Scarr cover Neil Young's "Helpless" at Moby's acoustic afternoon performance, set against the dramatic mountain landscape and blue skies. Moby also appeared at a Wanderlust "speakeasy", as this year's event grew to include a to include a series of TED-inspired lectures on health, wellness, environment, media, cooking and meditation lead by him and other recognizable names like Mariel Hemmingway, and Adrian Grenier. According to Krasno, the goal is to integrate the artists and teachers into every aspect of the Wanderlust and its surroundings: "We want to continue to connect the experience to the place. The concept for next year would be to approach the musicians and involve them in the whole weekend: A DJ Set, then leading a hike, giving a lecture...and do the same thing with the yoga teachers". Looking more forward still, the Wanderlust crew is hoping to expand the festival to other locations and make this kind of gathering available to people all over the country. Places like Vermont and Colorado are at the top of that list.
As long as it can maintain its integrity of its concept, I say the more the better. Wanderlust has thoughtfully and successfully integrated yoga, music, nature and cultural interest in a way that offers an uplifting, entertaining, transcendent and truly unique getaway. And as it continues to grow and promote progressive ideas, it sets a precedent and raises the bar for the elating, holistic-lifestyle festival experience.