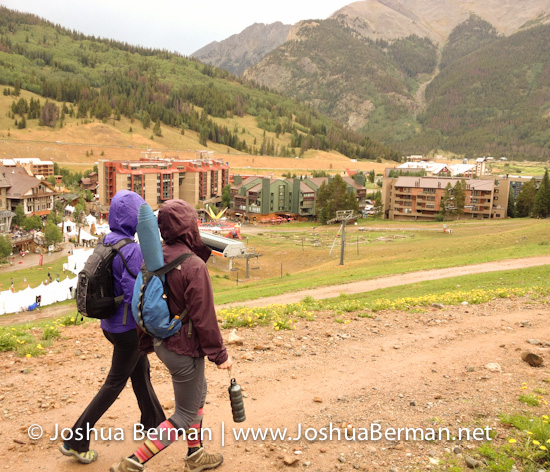 I'm a sucker for anything having to do with travel, especially events with "nomad" or "wander" in their titles. Whether these events are celebrating writing, film, yoga, or Spanish language teaching, if my schedule allows it, I'm there. So when I discovered that Wanderlust Festival was, for the first time in its four-year existence, making a stop in Colorado -- at Copper Mountain, less than a two-hour drive from my home in Boulder -- I was curious.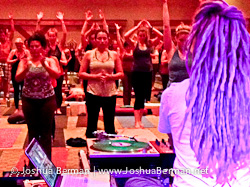 The next thing I knew, DJ Drez was pumping out a soundtrack, just loud enough so that we could still hear the teacher's directions, as I folded, twisted, and stretched my way through the class, trying to figure out just what traveling has to do with yoga.
Wanderlust Festival began near Lake Tahoe, Calif. in 2009, founded by music industry duo Jeff Krasno and Sean Hoess after their lives began intertwining with the yoga community and they realized the potential of a multi-day yoga and music festival. The event has since grown, attracting world-class teachers, building a dedicated following, and establishing a summer tour of some of the continent's most stunning ski resort sites. This year, Wanderlust is spending four days each in Stratton Mountain, Vt.; Copper Mountain, Colo.; Squaw Valley, Calif. (July 26-29, 2012); and Whistler, British Columbia (August 23-26, 2012).
I asked Wanderlust festival co-founder Jeff Krasno about the travel connection. "The yoga community," he said, "is known for its innate desire to travel." He was talking literally -- about practitioners who crisscross the world attending retreats, trainings, and conferences, but he was also waxing metaphorically, and went on to explain that mountain settings help provide the possibility for inward journey.
Kerri Kelly is a yoga teacher and executive director of Off the Mat Into the World, a non-profit organization and leadership training that supports humanitarian initiatives (or projects) around the globe including to Uganda, Haiti, Cambodia, and in 2014, Ecuador. Kelly went further, explaining how travel is as important and transformational as yoga is for her, and how both activities get her out of her normal routine.
"Yoga is about waking up to a new perspective," she said, it's about "confronting new, unfamiliar things, just like travel. Travel can be transformational and visceral ... it's about connecting to other people, throwing yourself into a new environment, and [like yoga], it can also feel unsafe and scary. Yoga practice teaches you to build a capacity around being in the unfamiliar so that you can show up more present, open, and compassionate to all that is around you."
Travel, she said, is also about arriving somewhere new, taking time to acclimate, and noticing all those new sights, smells, and sounds, just like Wanderlust participants have to adjust to the new elevation and scene before they step into a class.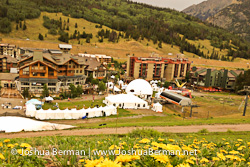 Wanderlust is more participatory than most festivals, offering yoga, meditation, hiking, hula hooping, slack-lining, shopping, and wine tasting -- in addition to the opportunity to stand in front of a stage and listen. Among the speakers and musical acts in Colorado this year: Deepak Chopra, Krishna Das, Gramatik, Quixotic, Beats Antique, Ziggy Marley, Aron Ralston, and Elephant Revival. Among the yoga teachers: Shiva Rea, Seane Corn, Shannon Paige, Shakti Sunfire, and Rod Stryker.
Human beings have always traveled to come together and dance around the campfire -- ever since the very first campfire. Shiva Rea, "yogini firekeeper, sacred activist, global adventurer, and prana flow yoga innovator," compared this desire to that of bees. Colonies of bees, she said, work most of the time in their own territory, but sometimes go out to cross-pollinate other fields. Humans also get this urge to travel, gather, and share.
For me, Wanderlust Festival was a perfect excuse to get out of town, get back on my mat, and spend a few days high in the Rocky Mountains. Plus, I thought, doing sun salutations while the sun was actually cresting the Continental Divide and splashing light and rainbows across Copper Valley seemed more interesting than my local studio.

The Details: Everything you need is on the Wanderlust website.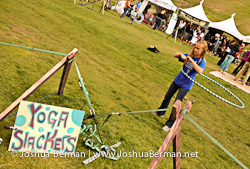 Tickets: There are a variety of ticket packages available, from one-day "pilgrim passes" ($99-$155), to the whole enchilada: four-day "yoga plus" packages ($475). You can also choose cheaper "music only" tickets for specific events.
Family-friendly: Children ages 11-16 get half-price "pilgrim" tickets to do youth yoga classes. For the little ones (ages 4-10), $50 a day allows you to drop your child off in the Wanderkind Kids, featuring the tri-lingual (English, Spanish, Sanksrit) Yogiños children's yoga program, a unique and well-planned assortment of activities, stories, and crafts.
Lodging and Travel: A full range of accommodations are available at each festival site, from campgrounds to cabins, hotels, vacation homes, and luxury condos. Browse the options on each location's Wanderlust site. To get to the event, you can book a seat from nearby cities on the bio-diesel "Wanderbus," featuring a live DJ spinning the whole ride.
Disclosure: I received a pass to the event and lodging in Copper Mountain.
Joshua Berman is a freelance writer who understands the connection between yoga and travel. He married a yoga teacher in Baltimore, attended a silent retreat in Bodhgaya (at the place of enlightenment), and once practiced at an ashram in Rishikesh. Joshua is a Denver Post columnist, Spanish teacher, television production fixer, Returned Peace Corps Volunteer, trip leader, husband, and father. He is the author of four books: Moon Nicaragua, Moon Belize, Living Abroad in Nicaragua, and Maya 2012: A Guide to Celebrations in Mexico, Guatemala, Belize & Honduras.