Girl sets herself objectives and meets them. Girl is still not happy. Girl travels world in the hope to find happiness through #wanderlust. Spoiler alert: it doesn't happen that easily.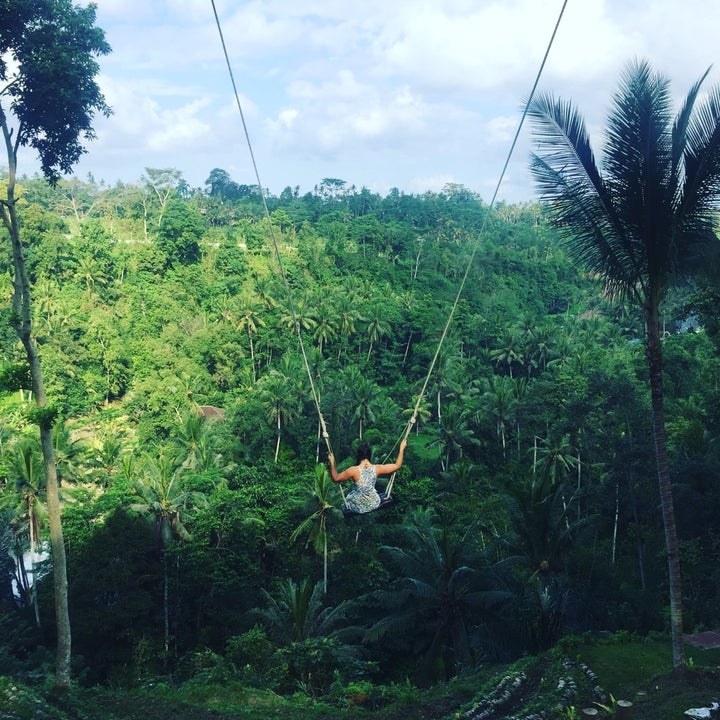 All you need to do is open up your Instagram, read a few travel blogs or travel articles to convince yourself that travel is the cure, the answer to all our ailments, the number one problem-solver in our miserable, busy lives.
Millennials like me have way more opportunities to travel, see the world and keep in touch with loved ones all over the globe than our parents did. Yet, Gen Y has been dubbed by the papers as 'generation anxiety', with one in five millennials reporting to suffer from mental illness in 2015.
It dawned on me that I wandered through most of the world's continents, looking for answers, peace and happiness and finding none. Nothing in the graffiti-painted streets of Spitalfields where I briefly rented a bachelor pad, up on the San Fran hills where Janis Joplin used to sing, or in the jazzy New Orleans streets where live music came with rivers of Bourbon; naught in the San Diego sun or in between decadent Havana buildings; nothing on Melbourne rooftop bars or while surfing the Byron Bay waves; nada studying and working in Sydney or taking part in Balinese rites; niet inside Singaporean temples or cruising the Hong Kong harbour. And yet, only now, in the hometown that I've always rejected, I have found peace.
I spent most of my first 18 years before moving to London in Olbia, Sardinia, a place where tourists from all over Europe go on holiday but that I never felt was quite mine. Growing up, it felt tight, old-fashioned, small and unable to cope with my restlessness. So I ran away: I enrolled in a journalism BA in London and thought I'd hit jackpot.
Although I wasn't your typical small town girl, moving to London was like taking cultural LSD: a world of colours, weirdness, opportunities and challenges opened itself up to me. I wanted to do everything I could, be everything – whether that was a burlesque dancer and a journalist, or a business chick and a blogger, I didn't know. I just wanted it all.
Before long, FOMO and FONBE (I've just made that up, it's 'fear of not being enough') kicked in: I wasn't proud of myself anymore. There was always something I could and should be doing to better myself. I had lost my peace: I had become a slashie, trying to do everything to make a small mark somewhere, even if that mark was just on my CV that now had to be cut and summarised because I had done way too many things to sound coherent in my career choices.
Then came the need to be liked, worshipped and to fill my own void brought to you by FONBE and loads of self-loathing that came from nowhere – maybe just teenage angst manifesting itself too late. Over-eating, loss of pleasure in food (my favourite thing) and forced exercising (by me) came next, followed unhealthy attendance of ALL London events because I thought that put me right in the centre of what mattered; bad relationship choices and ill-fit professional ones were the cherry on top.
By the age of 21, I was burnt out, depressed, had suffered a bunch of panic attacks, been in a toxic relationship, felt ashamed of myself multiple times. I had become the cliché millennial with mental health problems. So I thought I'd save myself through travel. I set up a travel blog to keep my friends and family updated (and reassure them I was still alive) as I couchsurfed on my own in the United States of America. There, I felt great. I taught myself that no matter how anxious I was, no matter how many panic attacks I had, I could do everything: if I survived two months by myself, sudden changes in accommodation, different cultures, I could survive everyday life. It was at home, back in London, that I could not sit still. I overate again. Craved unhealthy relationships. Chose a job which wasn't a good match with my anxiety. It must have been London's fault, right?
So I left it. I applied for a Criminology MA at the University of Sydney, Australia, and got in. I published a very public post on this platform titled: 'It's not me, it's you: Why I'm breaking Up With London' and made the big move, figuring that sun, sea and a new city would help me heal in no time. They didn't – or maybe they did, but not the way I thought they would.
After over a year abroad where I graduated from my MA with distinction, visited Asia and Australia for the first time, took up a sport which became my life, became really senior in my job and learnt a lot about myself, I am moving back to London for a PhD and to dive deep into the academic life.
Now, as I wait to move back relaxing in the gorgeous scenarios of my homeland, Sardinia, I have finally found peace exactly where I thought I'd never find it. I have always thought happiness was a place or an achievement that would allow me to feel at peace with myself. Yet, years of travelling, counselling and disappointments finally kicked in to tell me I was the only thing that was wrong with me: no matter where I was or what I had achieved, I wasn't enjoying myself, I wasn't happy.
In the words of my counsellor, don't do something with eternal happiness as a goal, but do it because, at that point in time, it makes you feel good. If happiness is your goal, you're setting yourself up for failure because you will always confuse it with your next goal. The same goes for travel.
So if you think that going on a solo trip in India to do yoga will solve your problems, think again: travel and a change of scenery do help, but you have to do the groundwork yourself. At the end of my Couchsurfing trip in the United States, I bought GQ America to read something as I waited to board my flight from LAX to San Francisco. In what felt like an epiphany, on the cover story, Matthew McConaughey told the mag that he usually travels alone while he's not happy with himself:
"I go off on my own. I'll go take a trip alone. Just to get to the point where I know that, like it or not, I'm stuck with myself. That I have to go through this and figure out what the fuck it is that's bugging me."
At the time, I interpreted this as an excuse to find myself through travel, but now I understand it as: "Yes, go travel, but do it to understand what's wrong and then work on it when you come back."
Anxiety and depression don't go away on a plane, but through travelling I've learnt to question them instead of running away, because travel has been, if not a solution, a starting point to give myself answers.