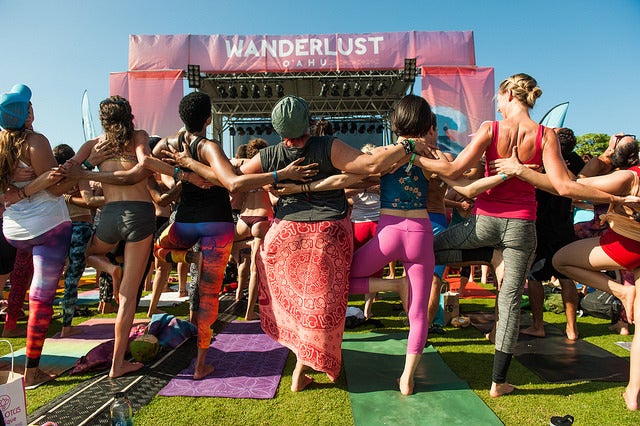 You're attending a mindfulness focused event. Having completely filled up your schedule, you have to run between the events to make it there on time. You want to do it all - attend your favorites and try new things. Taking a class, you're trying to meditate but it is challenging - your thoughts are already on what's happening next. You are wondering about the location of the next class. You decide to leave the meditation earlier. You didn't like it anyway - it was too slow and you couldn't focus...
Stop. Breathe. Stay where you are. You came here to slow down and be in the moment so be in it or you may completely miss the point of coming here.
Welcome to Wanderlust - Disneyland for everyone who is into mindfulness, yoga, creativity, music and body. The festival is taking place on Oahu starting this Thursday, February 23rd and will go on throughout the weekend tempting us to attend it all. I'm looking at the program anxiously. There are so many new classes and my last year favorites, which I'd love to attend. The fear of missing out is making me uncomfortable. I'm getting a hold of it and starting to plan my Thursday, then Friday, Saturday and Sunday. Yes, I'm doing it all - immersing myself in the whole Wanderlust experience. I'm planning my festival schedule mindfully, leaving time in between classes to walk, journal and enjoy the beautiful surroundings of the Turtle Bay Resort where Wanderlust is taking place.
Here are the classes I'll be attending from February 23rd to the 26th:
FitFlow basics - MacKenzie Miller leads a brand new class at Wanderlust combining yoga with high intensity interval training to increase mobility in your joints.
Slackasana - short and sweet introduction to slack line yoga by Yogaslackers.
Acroyoga - the Alchemy of Play by Kadri Kurgun and Daniel Scott. A class that has "transforming every moment into pure FUN" in the description always gets my immediate attention.
Breaking the rules of Meditation - Davidji will introduce us to a 16 second meditation practice, which will help to communicate and interact more mindfully.
Beauty that Transforms - Slow Flow Hoop Fundamentals - Jinju Dasalla will be guiding us through hula-hooping with yoga, dance and meditation.
Believe in Your Gut Yoga - this new class at Wanderlust will be hosted by Tropicana Probiotics and it'll be yoga focused on boosting our gut health and detoxify our system. The interest in yoga focused on organ health was sparked in many by the best-selling book Gut: the Inside story of our Body's Most Underrated Organ by Giulia Enders.
There is more. Photography walks, hikes exploring the surroundings and inspiring talks at the Surfer Bar such as the one led by Katie Wilcox on ditching beauty ideals to embody healthiest self. Come for a day or two or four and taste the difference how your life will feel after this pill of transformation. Attend the night performances and get some positive vibes from Griz, Allen Stone, Eric Krasno, Mike Love, Ron Artis II, Son Little, DJ Drez, DJ Taz Rashid, Jesse Blake, Paul Izak, DJ Melody Jay and Tavana. To get an a la carte taste of the event or attend the whole experience please check out the Wanderlust schedule and ticket info. 

Anna Sabino is a co-active certified business growth and life coach. She is writing a book on running a successful creative business on your own terms. You can find out more at AnnaSabino.com and check out her videos on creativity, entrepreneurship and mindfulness.
Calling all HuffPost superfans!
Sign up for membership to become a founding member and help shape HuffPost's next chapter
This post was published on the now-closed HuffPost Contributor platform. Contributors control their own work and posted freely to our site. If you need to flag this entry as abusive,
send us an email
.