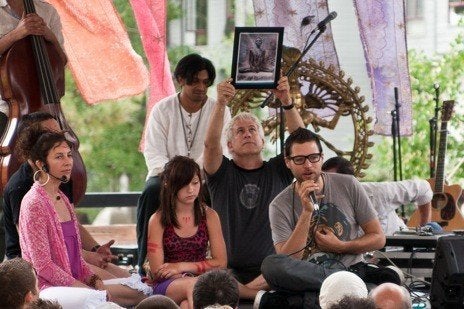 The last weekend of July, I participated in Wanderlust Yoga and Music Festival's "Grand Finale Fun" extravaganza, featuring Anusara founder John Friend and what he calls his "Merry Band of Artists." Friend and friends' performance at Temple of the Heart in the center of Village Anusara had the vibe of a straight up religious revival, Hollywood red carpet event or rockin' political rally -- hundreds of people lined up on brightly colored yoga mats, all bestowing highest praise upon Friend and his community of the heart. Wanderlust, held in three locations this year, is emerging as Anusara Yoga's annual pies de resistance. This year, John Friend was the dominant force at all three festivals. He even held pre-Wanderlust events with meet-ups -- called the Grand Circle and Grand Gathering -- in Vermont and California, respectively.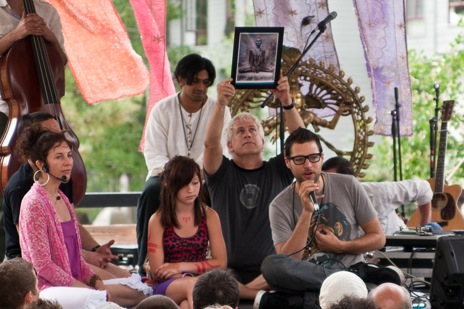 Photo credit: Kelly Simonsen
It's no surprise. John is charming -- a consummate performer and tireless crusader. Anusara yoga is a simple but very smart form of physical practice, focusing on five universal principles of alignment, "as means to dance with the divine." The method is accessible; the message is aspirational. The community is inclusive, super smiley and, dare I say, friendly? Most Anusara classes feature a little storytelling, partner work and lovely yoga demos (always followed by applause). Anusara yoga teacher training requires more rigor -- more time and greater depth of study -- for certification than most other American yoga schools. And in Anusara, it's even okay for practitioners to eat meat!
No wonder, then, that Anusara is one of the fastest growing yoga systems in the U.S. Indeed, Friend's reach is global. Anusara's "Dancing with the Divine 2011 World Tour" takes Friend to nearly a dozen U.S cities, including Rapid City, New Orleans, Miami, Scottsdale and Montclair, New Jersey. Internationally, John is presenting workshops and trainings in Hong Kong, Greece, Spain, Australia, Switzerland and Japan.
At the July 31 Grande Finale (so much in Anusara-land is "grand"), Friend welcomed us with the Anusara invocation chant, repeated three times by Friend, his most celebrated Anusara-certified teachers and the Merry Band (including yoga inspired hip hop artist MC Yogi) seated on the stage -- while students followed in call and response style from the floor. As described in video and text posted by Yoganoymous the following day, John "showered his treasured student Sianna Sherman [Anusara's best-known teacher other than Friend himself, of course] with love and respect for her contributions to the Anusara kula" while also honoring the event as particularly "auspicious," because it fell on the 50-year anniversary "to the day" of the death of Bhagavan Nityananda, one of the most influential modern siddhis. The suggestion to those gathered is that Friend, originally from Ohio, by way of Texas, is tracing his lineage to Nityananda, born in India in the late 1890s (precise date disputed) and died (undisputedly) on August 8, 1961. (So it wasn't really 50 years "to the day," but what's a few days in a 5,000 year-old discipline like yoga?)
This Nityananda lineage extends to the current day Swami Shantananda, who is associated with the Siddha Ashram of Oakland and author of a little known Siddha Yoga-published 2003 yogic text, "The Splendor of Recognition," which, according to several Anusara-certified teachers (the highest level of ascension of Anusara yoga's hierarchy), is required reading by Friend. Described by Amazon, "The Splendor" is "unique in its combination of scriptural erudition and experiential wisdom." Lots of yoga books do that, to be sure. So, the text is less interesting to me than the title itself.
As his own bio reads, "John Friend, the founder of Anusara yoga, is widely recognized as one of the most charismatic and highly respected hatha yoga teachers in the world." Last year was my first Wanderlust experience; no doubt John was a big presence there. But during this year's festival, John was omnipresent: Wanderlusters stopped him every few steps, shaking hands, giving hugs, asking him to sign yoga mats and taking their pictures and video with him on iPhones. And all weekend long, I sensed a spiritual shifting away from the five alignment principles toward something more transcendent. This year, it was all about the Shri. In Sanskrit, Shri has the root meaning of radiance, or diffusing light, much like the English word "illustrious." The word "shine" (and its many variations) was used wantonly by John and his Merry Band all weekend. So ubiquitous was Anusara -- not only in yoga classes, but throughout the festival's other offerings too, including yoga wear and gear, multi-media products, health and wellness information, film, art installations and even acrobatics and hula-hooping -- that John Friend seemed to outshine the other big-name festival headliners, even yoga luminaries Shiva Rea and Seane Corn, both goddesses in their own right.
As the sun set on Squaw Valley on Sunday and the festival came to its close, Anusara was in all of its splendor -- and John Friend was the yogi of recognition.