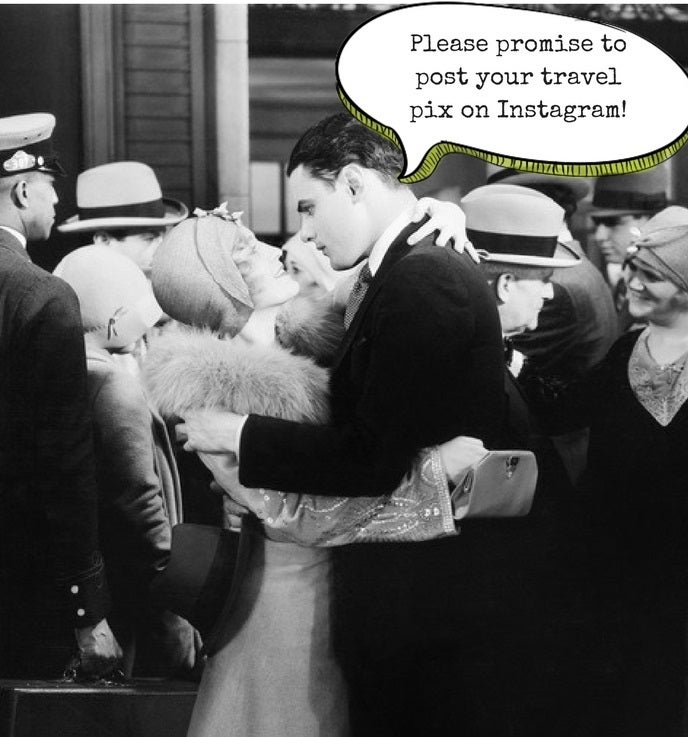 Hit the road, Jill!
I'm getting ready to start my autumn adventures. Last year, I took a solo trip to Vail over Labor Day wekeend, where I went on a 20-mile bike trip through the mountains, went to a food festival, and hiked. This year, I'm embarking on a two-week circuit — starting with a short trip to the city of Brotherly (and Sisterly) love...then out to the Midwest to meet up with some new business contacts...then to a speaking gig in Las Vegas, where I'll also get to test-ride some new bicycles and meet-up with an old high school friend. It will be the perfect combination of business and pleasure, familiar and new, and inspiration and education. I'm sure I'll return a bit exhausted, but also exhiliarated and inspired.
Always been something of a road warrioress. I chose a university halfway across the country (which was like visiting a new planet) and my first jobs involved lots of travel to trade shows. Although escaping ones comfort zone and time zone can be anxiety-provoking and packing (and unpacking) is a drag, no amount of web surfing or app downloading can equal the thrill of hopping on a train, plane, or automobile and visiting a new place. Especially as we age, experiencing new environments, meeting new people, and seeing (and eating) new things can give us a fresh perspective.
Here are a few reasons why you should hit the road:
1. Wanderlust is backed by scientific evidence. Dr. Margaret J. King, the director of the Center for Cultural Studies & Analysis asserts in this article, "With a short list of activities each day, freed up from the complexities of ongoing projects and relationships, the mind can reset, as does the body, with stress relief the main outcome. Humans thrive on novelty, and travel offers the complete package with new faces, sounds and sights."
2. Travel awakens our inner child. It "stokes our curiosity" by providing new experiences.
3. You become more independent. Solo travel is scary for many single women (and men too), but if we want to stay powerful and vibrant as we age, we need to learn how to take risks and become comfortable in our own skin (and new beds). Here are some other reasons why travel is enlightening.
4. You can bond with other people when you travel. Travel with family and/or friends can help you bond over shared experiences. And travel for singles can help you forge new buddies with common interests. I just recommended this site to a widowed friend who wants to meet people but is sick of the dating sites.
5. Traveling can help you become better organized. As I've embarked on the speaking circuit (which has always been one of my dreams), I've perfected the art of packing. I have become clearer on what I really need when I'm on the road and what I can leave behind. These are the secrets of people who don't get stressed-out when they travel. Making a list is critically important, as is learning to pack light. Once you've arrived at your destination, you can use downtime in airports or hotel rooms to catch up on those projects you've been putting off. Keep that list on your phone with an app like this one, so you always have something to fill that idle time. (I always pack a knitting or needlepoint project too...a great way to stay productive during flight delays!)
Can't afford to travel? Consider a local road trip. Visit a new neighborhood or simply look for a great deal on a hotel 100 miles away from your home. Although joining AARP was a big step for me, I discovered that they really do offer lots of travel benefits and tips. Combining business and personal travel is a great way to overcome financial and psychological obstacles to getting way.
Afraid to travel alone? Plan a trip to visit an old friend or relative you haven't seen in a while. This site can pair you up with a new travel buddy.
Like the concept of travel but really don't want to venture out? Here are some ways you can travel from the comfort of your own home.
I'm planning the next step on my own journey — looking for a way to become a travel writer (the fantasy of many people) or booking enough speaking gigs that I can be on the road at least one week a month, preferably in cool venues. In the meantime, watch for my blogs from the road and join me vicariously in my travel adventures!