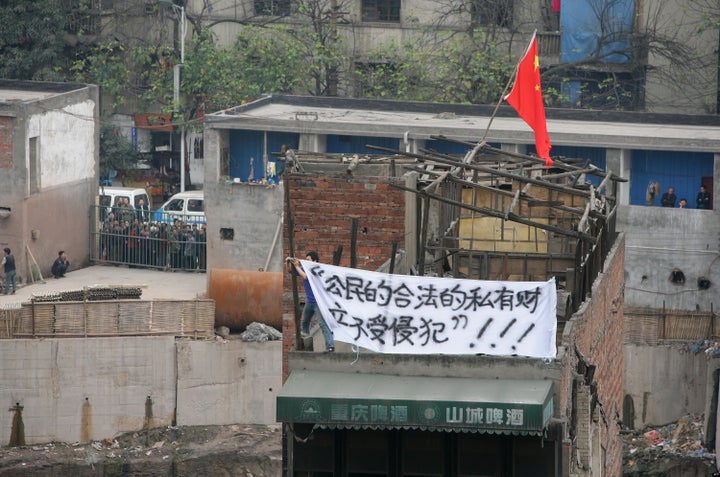 Wang Cuyun, a grandmother in Hubei, China, was beaten and buried alive by property developers after trying to protect her home, according to reports.
In an incident last Wednesday, Wang was allegedly beaten, pushed into a ditch, then covered with earth by a bulldozer. Witnesses say three policemen watched the crime but did nothing to help the 70 year old. One witness told Chinese state television that the policemen had "stood around acting like it was none of their business."
Bystanders, including Wang's son, dug her out of the ground, but Wang was already dead.
The case is the latest in a series of events critics say show the callous and violent tactics used by some Chinese property developers hoping to make money. Evictions are mandatory in China, as the government technically owns the land.
"Evictions are often carried out in the middle of the night and without prior notice," a spokesman for Chinese Human Rights Defenders (CHRD) told The Daily Telegraph. "Evictees are rarely, if ever, given any legal aid and some sink into poverty after being evicted from their homes."
Authorities have begun investigating the case, according to China Daily. Li, a director at the local community office, told the paper that during their protests, Wang's family members "laid the woman's body on a street twice, blocked the traffic and gathered crowds for two days."
Sky News reports that news on the death in China has been censored since Friday.
Popular in the Community