It is no secret that the new music community has found a vital home in New York City in recent years. The creative minds behind what is known as "contemporary classical music" are innumerable, and gaining prespective can be an overwhelming task for audiences.
Beginning on October 14, however, the SONiC Festival (Sounds of a New Century) will venture to make sense of the scene -- particularly as it pertains to composers under the age of 40 -- with a 9-day festival in New York featuring a staggering 100-plus composers and more than 17 word premiere performances of newly commissioned works.
I spoke with composer Wang Lu, whose Flowing Water Study II for orchestra and video will be premiered by the American Composers Orchestra at the SONiC Festival's opening concert at Zankel Hall on Friday, October 14.
Daniel J. Kushner: Can you talk about the origins of this new composition?
Wang Lu: I have been studying this Guqin piece. [It's] a very ancient piece which had a lot of different interpretations over the history. The earliest one is more than 2,000 years old, but the version I was interested in -- I listened to it many times -- was from the late 19th century, and I studied this solo piece called Flowing Water... I found it very interesting because it's kind of improvised in notation, it doesn't show any pitch names or rhythm. The noises are created by nails and sliding pitch after the regular attack, so it's kind of unique. So I studied this piece, I analyzed this piece, I listened to it many times, and decided to write an orchestra piece that's related to this. It's also about flowing water...
DK: So the notation is not like Western notation at all in that there aren't any specific notes?
WL: Right. The notation [Jian Zi Pu] basically looks like Chinese characters, one after another, but it's not Chinese characters. It's made of part of some regular characters that mean where on the string you use which hand, which finger, if you use nail or complete flesh, or switch from the flesh to the nail... when you think of this poetic image... basically you know the positions and you have to find the pitch on the string and there's no rhythmic indication at all. I find that very interesting.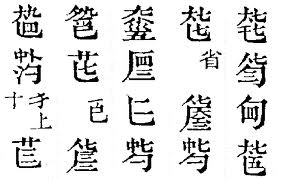 The traditional notation of Guqin, Jian Zi Pu; courtesy of Wang Lu.
DK: What do you view as the video's primary role in the piece?
WL: [I came up with] the piece first, and then I gave the score to Dan Iglesia, who made the video. He's also a regular composer himself, my colleague from school. I gave him the score... [the video means to] in an abstract way to show the poetic images behind the story, behind the score, and also just to indicate the notation, but not by showing the characters one by one. So there will be some brushstrokes moving along the music in the piece, and there's a lot of images.... The strokes will be moving but you actually don't see a complete character [that shows] you recognize how to play this specific note, but it looks like the process of drawing the characters.
Also the important thing is that the video will be played live, which means he will follow the conductor and the score and trigger different images. For example, if there's a texture of running notes fast, he might trigger this image he composed for this particular moment, and it will happen when this passage is over, when the music is quieter and the notes get more sparkly,and then he will trigger a different image.
DK: Were there any particular obstacles to combining music and video in this way?
WL: Not really. This music, Flowing Water -- that I chose to study and to write about -- gives enough very clear descriptions on what kind of images the music is about. It depicts different conditions of water already. So there will be like very small rivers, and small rivers running into each other and going down, and then running against the stones.
DK: At times your music can be rather bombastic. Did that affect how you approached achieving the balance between music and video?
WL: This piece is different from the other pieces I wrote, a lot of them, because this is a very different aesthetic. This music about playing very few notes, but to really emphasize the subtlety between notes other than the orchestra piece maybe you heard.
Calling all HuffPost superfans!
Sign up for membership to become a founding member and help shape HuffPost's next chapter