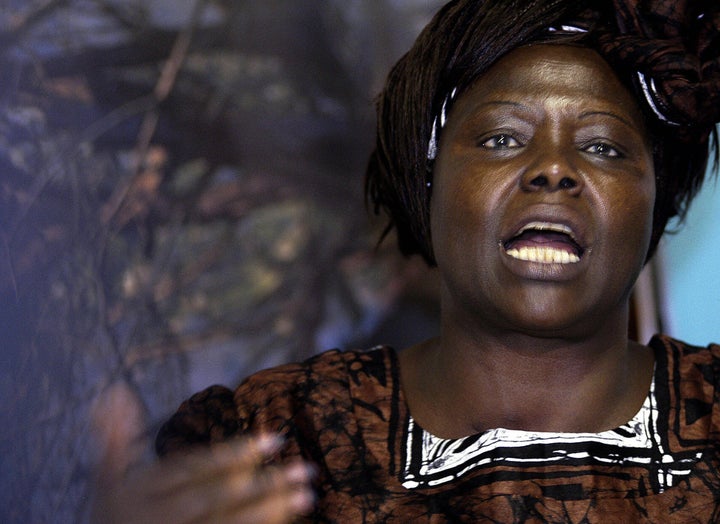 Wangari Maathai knew her country's wilderness was priceless. Still, the Nobel Peace Prize laureate -- who died of cancer on Sunday at the age of 71 -- dedicated much of her life to the idea that putting a price tag on nature's goods and services can pay huge dividends for human health, the environment and local economies.
A reforestation project that paid poor women to plant trees is just one example of how Maathai, a Kenyan, empowered and educated local African people, particularly women.
"She was a fearless champion of nature and women," Mark Tercek, president and CEO of the Nature Conservancy, told The Huffington Post.
On a panel last Thursday at the Clinton Global Initiative annual meeting in New York City, Tercek described the key role that forests play in flood control and water quality -- a lesson that has been learned the hard way, repeatedly, around the world. It took a major flood that ravaged homes, topsoil and fish stocks throughout the Yangtze region two decades ago for China to recognize that a standing forest was worth three times its mere value in timber.
Overall, forests, watersheds and other ecosystems provide an estimated $33 trillion in essentially free goods and services for communities around the world. But because these services are typically excluded from market calculations, widespread environmental degradation continues more or less unabated.
"Many people think nature is nice because of its spiritual value, or they like hiking, or they want to preserve it to hand it off to their descendants," said Tercek. "These are all good reasons, but there are some really practical reasons to value nature too."
Tercek is overflowing with practical examples. In an effort to thwart poaching in Kenya, his organization helped persuade villages to appoint local men to work as rangers. As poaching rates then dropped and the wildlife returned, tourism revenue rose. With less threat of violence from poachers, the village women also felt safer. In fact, one told Tercek that she was sleeping without her shoes on for the first time in her life.
He also tells a story about Quito, Ecuador, where a few years ago local business leaders were contemplating a major investment in a water filtration plant. He and his colleagues persuaded the city to invest instead in conservation efforts to secure clean water, such as changes in farming methods in the villages upstream. Sewing machines were one of the early purchases. They allowed women to stop grazing sheep -- a common practice that leads to deforestation -- and start making clothes to sell at local markets. The village people continue to work together with city leaders to determine how to spend the upstream conservation fees, imposed in lieu of filtration taxes.
Today, not only does nature keep Quito's water clean, but it does so at a lower cost than so-called grey infrastructure.
"This was beautiful habitat that we would want to protect anyway. But now the argument was different. It was an economic one," Tercek told HuffPost in an interview after the meeting. "And it worked."
"People are getting it," he added. "Conservation pays for itself. No philanthropy needed."

The Nature Conservancy plans to replicate the water conservation initiative within 30 other watersheds around Latin America.
"The potential is enormous," said Marta Echavarria, founding director of EcoDecision, an environmental business promotion firm that worked with Tercek's team in Ecuador, and another member of last Thursday's panel. "Any mechanisms where we could link livelihoods and the conservation through water can really bring people together."
The island of Dominica offers another case in point of how investing in natural infrastructure can benefit economic development. On one side, the Dominican Republic is home to vast stands of forest. While it is still a poor country, its economy is growing thanks in large part to a strong tourism industry. The other side of the island, however, tells a starkly different story.
"Haiti is a disaster," said Tercek. The biggest difference, he noted, is that Haiti didn't take care of its natural capital, including forests, topsoil, reefs and fish stocks. Or, as he put it simply, "They screwed themselves."
Meanwhile, efforts started by Maathai in Africa are helping to fend off a similar disaster. Her Green Belt Movement has now planted more than 30 million trees and helped nearly 900,000 women.
"Maathai understood the value of nature -- in particular, the value of trees -- and she understood the role of the common people, especially women," said Tercek. "The conservation movement doesn't have enough heroes like her."

REAL LIFE. REAL NEWS. REAL VOICES.
Help us tell more of the stories that matter from voices that too often remain unheard.