Originally published on Turnstylenews.com, a digital information service surfacing emerging stories in news, entertainment, art and culture; powered by award-winning journalists.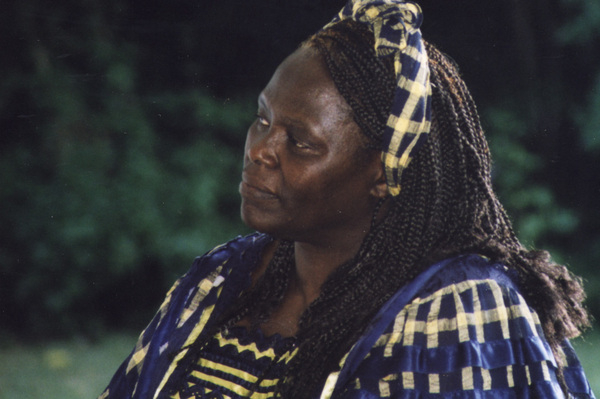 Photo Credit: Mary Davidson/Turnstyle News
In 2002, I decided I wanted to start a community garden in college, but such a thing requires a certain degree of know-how and planning. So I attended that year's winter conference of the Northeast Organic Farming Association, where  farmers, researchers and other agricultural experts held workshops on all sorts of practical issues one might face when farming in Connecticut. There was a lecture on how to deal with local plant pathology; I saw a demonstration of how to douse for underground water sources. And then there was a talk by a woman from Kenya about the success of something she called the Green Belt Movement.
Her subject may have been out of place, geographically. But in that room in suburban Connecticut, I was riveted.
The woman presented photographs and maps of the Kenyan landscape, and talked about how she had organized impoverished women to plant thousands of trees and transform that landscape, one hill at a time. She spoke in the manner one might use to tell someone what they cooked for dinner last night, but her argument was compelling: the struggle for equality and the fight for environmental stewardship are not separate, they are one and the same. She said all this with confidence, humility and optimism.
After the talk, I approached her, completely enamored. I asked her then and there whether it would be possible for me to come do my thesis in Kenya with her movement.
"Of course, we have had wonderful students come work with us," she told me without hesitation. "Of course you can, too."
This is what I remember so clearly about hearing Wangari Maathai speak in person: She said yes unequivocally.  Yes, I have never met you but you can work with us.  Yes, rural African women have the strength and the power to reverse the damage of decades of deforestation.  Yes we can bring peace to the world by planting trees. It's that easy.
When the time came to research my thesis proposal, I began by contacting the organizers of the Green Belt Movement in Kenya.  As my plans came together, however, I decided I needed to work closer to home. I had become a cultural anthropology major and I wanted to use the lens of that field to reveal the intricacies of my own world rather than travel across the globe.  So I studied the power of community gardens to transform an urban neighborhood in Connecticut, only blocks from my university.
When the Nobel committee awarded Wangari Maathai the Nobel Peace Prize in 2004 I was thrilled, but also slightly remorseful for having passed up the opportunity to work with such a successful movement.   Over the years, each time I came across a reference to her and her work - honored by Forbes Magazine as one of the world's 100 most powerful women, by Times Magazine as one of the 100 most influential people in the world, launching the Billion Tree Campaign, founding the Nobel Women's Initiative and receiving countless awards - I was reminded of the desire I had to go and learn from her.
But I moved forward, too. My work with community gardening led me to organic farming, and my passion for social justice led me to learn Spanish and move to Nicaragua.  Now I work with rural Nicaraguan families, coordinating a sustainable agriculture extension program and a reforestation project.  Together, we plant trees in deforested cattle land, one hillside at a time.
Only now, as I read her obituary nearly ten years later, it occurs to me that maybe I didn't pass up that opportunity at all.
Rachel Lindsay, a 2005 graduate of Wesleyan University, is the sustainable development coordinator for SosteNica: the Sustainable Development Fund of Nicaragua. She blogs about her work at sustainablenicafarming.wordpress.com
Calling all HuffPost superfans!
Sign up for membership to become a founding member and help shape HuffPost's next chapter