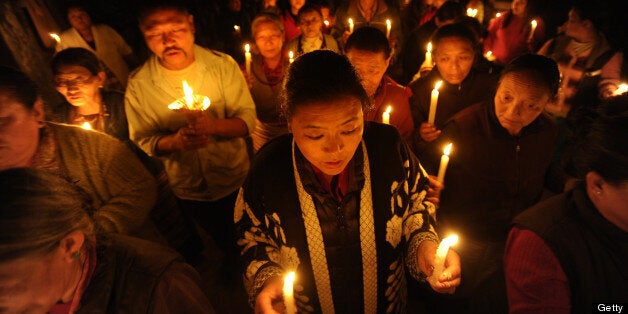 A Tibetan nun who last week set fire to herself in protest at Chinese rule has died, a US-based broadcaster and rights group said.
The woman set herself ablaze on June 11 near Nyitso monastery, the scene of similar protests, in Daofu country of southwest China's Sichuan province, Washington-based Radio Free Asia (RFA) reported on its website.
Wangchen Dolma, aged 31, died on Friday in hospital and was "secretly cremated", RFA said, citing the Central Tibetan Administration (CTA) -- the India-based government-in-exile -- in confirming the death.
The US-based International Campaign for Tibet (ICT) rights group said she was "taken away by police" after setting herself ablaze during a "gathering of several thousand monks". The ICT on Thursday confirmed the death.
RFA said "Chinese authorities have moved to block demonstrations of support" for the nun.
The ICT said "communications were restricted in the area and surveillance of monks at Nyitso monastery was intensified" following the self-immolation attempt.
Rights groups often raise concerns over surveillance issues in restive Tibetan areas.
Meanwhile, a report in China's state-run Global Times newspaper Thursday said that all Internet, landline and mobile phone users in the Tibet region have provided service operators with their real names as part of government efforts which local officials claim will help curb "the spread of detrimental information".
The local regulation was passed in November 2011 to "help resolve problems, including the rampant circulation of online rumours, pornography and spam messages" local official Dai Jianguo was quoted as saying.
RFA said the nun was the 120th person to set themselves alight since Febrary 2009 in a wave of protests by Tibetans against what they view as Chinese oppression. Many of them have died.
Self-immolations peaked in the run up the ruling Communist Party's pivotal Party Congress last November.
They have become less common in recent months, but two monks died after setting themselves on fire in Sichuan province's Aba prefecture in April.
Soldiers and police blockaded Nyitso monastery in 2011, after Tsewang Norbu, a 29-year-old monk, set himself on fire.
Beijing condemns the acts and blames them on exiled Tibetan leader the Dalai Lama, saying he uses them to further a separatist agenda.
The Dalai Lama, a Nobel Peace laureate who has lived in India since 1959 after a failed uprising in Tibet, has described the protests as acts of desperation that he is powerless to stop.
Copyright (2013) AFP. All rights reserved.
Related
Before You Go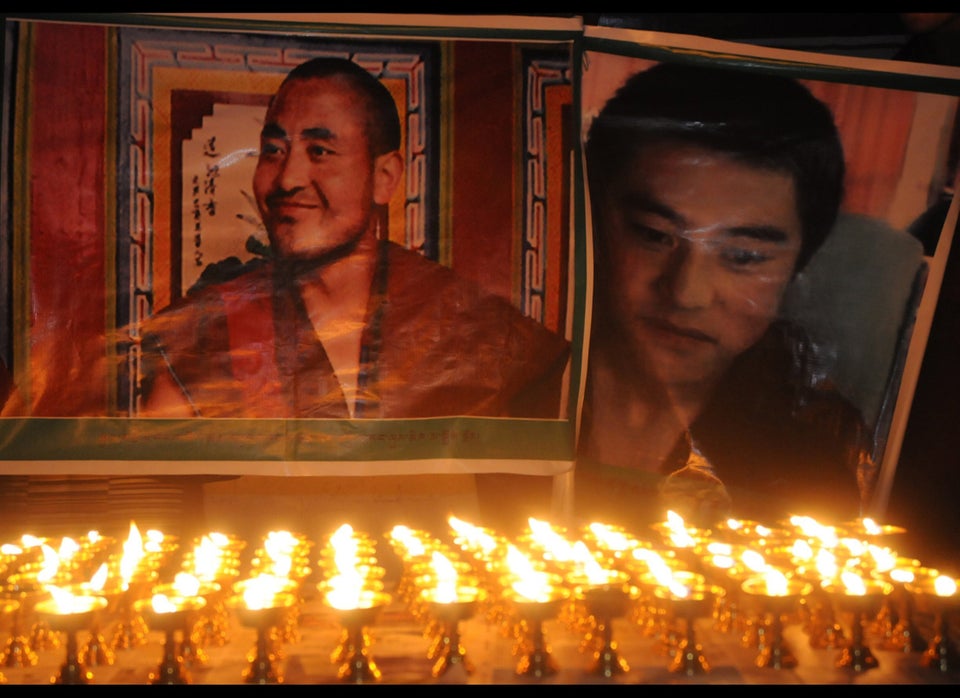 Tibetan Self-Immolations
Popular in the Community