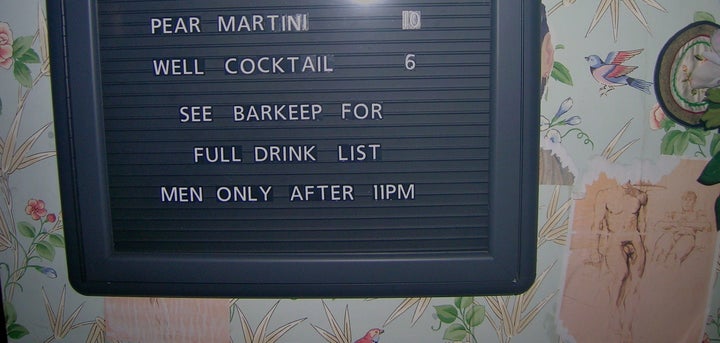 A gay bar in Chicago's LGBT-centric Boystown neighborhood is under investigation by the state's Department of Human Rights based on reports that it bans female customers during its busiest hours.
The bar, named Wang's, is the latest of several establishments in the area under fire as a result of allegations that it is not welcoming to women. This, despite the fact that the East Lakeview neighborhood is heralded, in a way made very clear by the slightly phallic giant rainbow pylons that line the streets, as a place where all can eat, meet and mingle.
Just off the main Halsted Street strip of Boystown at 3317 N. Broadway, Wang's is attached to a well-liked sushi restaurant. The relatively intimate space is candlelit and shrouded in plumes of fog and soft red light obscuring its shabby-chic, Asian-themed decor -- paper lanterns, lavishly patterned wallpaper and a giant, ornate peacock mirror.
But one piece of "art" adorning the walls -- a drink menu denoting "Men Only After 11 p.m." -- has been a source of frustration and anger for many area residents.
And though the controversial policy appears to date back nearly two years, it wasn't until an inquiry from The Huffington Post that it came under scrutiny beyond about a dozen disgruntled Yelp reviews. Those reviews report women being denied service, treated poorly and outright being asked to leave during the bar's busiest hours.
Chicago Alderman Tom Tunney, whose 44th Ward encapsulates the Boystown commercial district, reached out to the Illinois Department of Human Rights (IDHR) after The Huffington Post informed him of the policy.
"Businesses within our neighborhood should be accommodating and respectful towards all patrons," Tunney said in a statement.
Beyond being disappointing to women who want to drink at the bar, such a policy is illegal. Mike Claffey, a spokesman for the IDHR, confirmed that the state Human Rights Act prohibits discrimination on the basis of one's sex or other protected categories in places of public accommodation -- including bars. The IDHR is looking into the matter.
"Anyone who believes they were denied or refused the full and equal enjoyment of the services of any bar or restaurant because of their sex or other protected category under the Act should contact the Illinois Department of Human Rights," Claffey said in a statement.
'THERE IS NO DISCRIMINATION HERE'
A man who identified himself as Henry and a manager of Wang's denied in a phone interview that the bar refuses to serve female customers after 11 p.m. He would not give his last name. The owner of Wang's and Wakamono, the sushi restaurant next door, is Henry Chang.
"If women want to come in, they are welcome at all hours. There is no discrimination here," he continued. "There had better not be any policy like this."
As for the Yelp complaints and other reports of the policy being enforced over the past year and a half, Henry said it was possible that either the bar had closed early because it was not busy or that customers were turned away because they had clearly been overserved.
Henry declined to comment further Wednesday on the policy or the state investigation.
A number of community leaders were disappointed -- though not surprised -- at the policy.
"It seems utterly counterproductive to equality, ironically in the heart of a neighborhood that still fights for that exactly, and the whole while still 'prides' it self on... equality," said one promoter.
But Wang's is not alone in Boystown Chicago when it comes to allegations of sexism.
"It's been like this for as long as I can remember," a female promoter who works in East Lakeview said of her experiences with sexism in area bars. "It's something I never thought to question because so much of Boystown is like that already that you come to expect it.
"It's obvious that the bar owners, managers and staff just don't care, but they're biting themselves in the ass because all money is green," she added.