Warning: This post contains nude drawings and may not be suitable for work environments.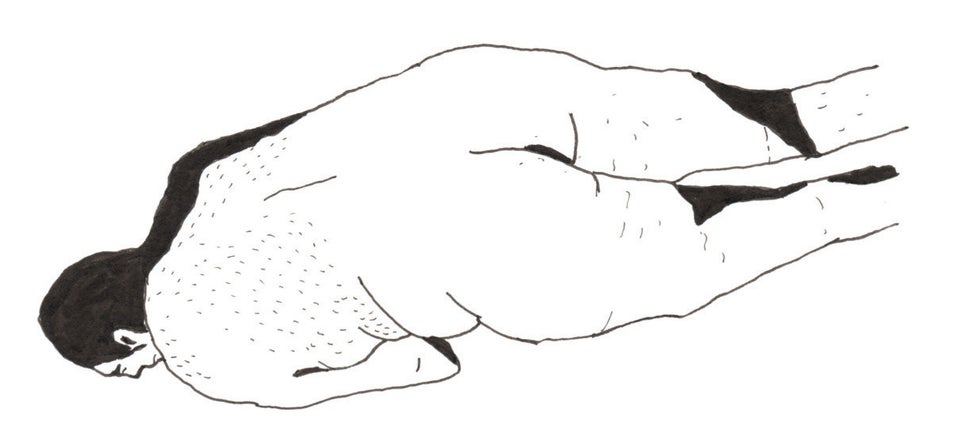 If early 20th-century artist Egon Schiele had come along a hundred years later and started moonlighting as a masseur to get the creative juices flowing, we can only imagine the resulting works would resemble those of Australian artist Adam Seymour, also known as "Ned Jackaroo."
Seymour's story begins in New York, where he was working around the clock in visitor services at the Museum of Modern Art with a goal to eventually show there himself. Like most emerging artists, he yearned for the time and money necessary to create his own art. 
Seymour eventually devised a plan to both fund his art habit and feed his inspiration by working as a happy ending masseur in private homes throughout New York. "Instead of relying on Kickstarter or platforms like that," the artist told The Huffington Post, "I took matters into my own hands ... literally."
"Robert Mapplethorpe had to hustle for his art and I felt like this was my story," Seymour added. "I've always been fascinated by human behavior and the way we present ourselves. New York is full of interesting people, so it was the perfect place."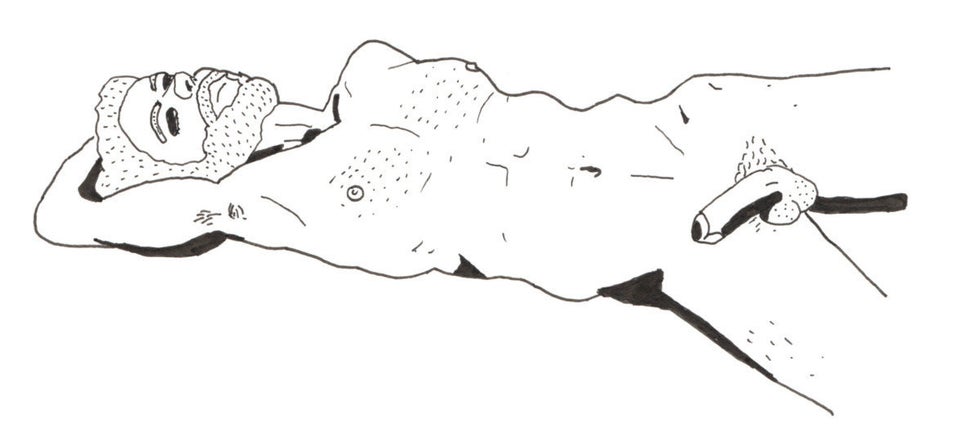 After advertising his massage skills on websites like MasseurFinder and Manworks, Seymour travelled to various abodes throughout New York, performing full tension release massages to a diverse variety of men. Charging $150 for 60 minutes, Seymour discreetly entered into the private lives and private spaces of around three strangers a day, using the encounter to later fuel a drawing from memory. 
"During the massage I would take mental notes about the person and the surroundings," Seymour explained of his process. "Then on the subway back to Brooklyn I would write down my notes and usually do a small sketch. I would then do a drawing at home with my inks. I couldn't afford a studio so it was on the floor of my room which was located above an after-hours gay club in Williamsburg; sometimes it was hard to concentrate with the noise."
Seymour completed around 30 drawings during the experiment, 16 of which he incorporated into a book titled Wank Bank. "The book you hold has been 100 percent made and financed by the flicks of my wrist," it reads upon opening. Flip through the black-and-white pages and you'll see sinuous renderings of nude men contorted in various states of pleasure and relaxation, accompanied by Seymour's jotted notes. 
"6th Ave and 15th. Anesthesiologist. Sweet guy. Complete gym junkie. Played Enya. I was scared that I would spill massage oil on his Hermes sheets and pillowcases. He had an Italian greyhound that would jump on the bed every time he got an erection while I was massaging him."
Seymour credits Patti Smith's Just Kids and Miranda July's It Chooses You as inspiration for his project. Specifically July's work, in which she interviews PennySaver sellers, exploring just "how bizarre, sexual and beautiful we can be," Seymour noted. "She has always celebrated the odd little worlds we live in, rejoicing our humble existence. I rarely carry shame, and love to speak freely about my own lived experiences, so her work inspired me to take some risks and do this project. Everyday people are interesting, and I have always been drawn to artists who communicate this."
These days, Seymour is back in Melbourne, promoting his book and venturing on to new projects. Though his former alias Ned Jackaroo is officially out of commission, his legacy lives on, turning the often stigmatized aspects of sexuality into sensual and playful images of peculiar beauty.  
In the words of Mr. Jackaroo himself: "Anything can inspire art, and it felt natural and organic to produce. It gave me models without even having to source them and I think if you are gagging to make art you can always find funds, inspiration and ideas. I would hope that audiences get fired up to communicate their own experiences honestly through art, rather than staging and curating a body of work that inaccurately represents them and their surroundings."
PHOTO GALLERY
Art History's Most Erotic Artworks
Calling all HuffPost superfans!
Sign up for membership to become a founding member and help shape HuffPost's next chapter