Before the New York Red Bulls and NYCFC match kicked off at Yankee Stadium on Saturday, two incidents between rival fans sparked police involvement. First, seen in the video above captured by Bleacher Report UK's Garry Hayes, an NYCFC fan and a Red Bulls fan exchanged missing punches while the two sides taunted each other.
Elsewhere outside of Yankee Stadium, in a separate incident, the tension between fan groups continued. When Red Bulls supporters arrived en masse to Yankee Stadium before kickoff, they had a standoff against NYCFC fans, hurling insults and bottles. They made a scene, and frankly, the whole thing looked pretty lame.
As it stands, the rivalry is based on where the two teams play more than anything. Despite having "New York" in their name, the New York Red Bulls actually play in the Red Bull Arena in Harrison, New Jersey. NYCFC, on the other hand, make a point to display their pride in making New York City their home, temporarily playing in Yankee Stadium as they mine New York City's boroughs for land to build a soccer stadium on. It's not dissimilar to how the NFL's New York Jets and Giants share MetLife stadium in the swamps of New Jersey's Meadowlands.
Geographically, that's set up the "Hudson Derby" beef between fan bases: NYCFC actually plays in New York City and its fans don't let Red Bulls fans forget that. Red Bulls fans give NYCFC fans hell for playing their soccer on top of a baseball field and for signing aging European stars — a transfer tactic MLS fans want to see less of.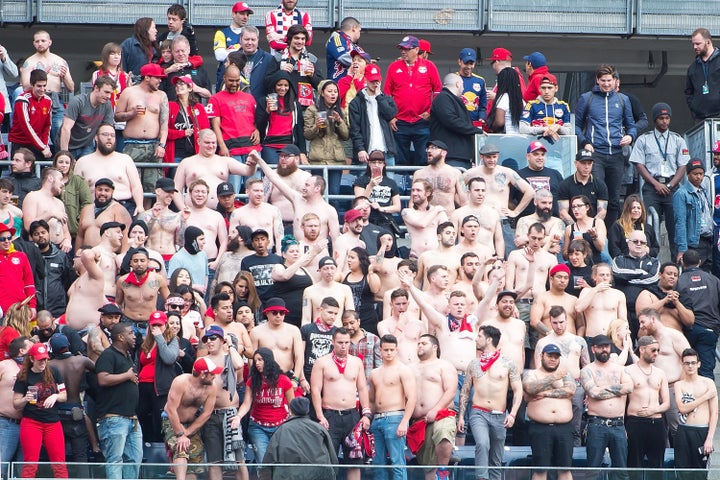 None of these gripes, however, are authentic or deeply rooted in any way. They're all superficial, stemming from how the two clubs market the supposed "rivalry." Saturday's match followed a week of MLS and club marketing efforts known as "Rivalry Week." Inadvertently, MLS may have unintentionally incited these incidents by playing up a non-rivalry rivalry. Essentially, the two divisions of New York soccer fans have been fed a narrative to get them psyched up for the match. And with NYCFC still developing their own fan culture in their second season of play, it's easy bait for fans to take.
And they've bit hard. Saturday's events aren't the first time the two sides have gone after each other. In August 2015, AP soccer writer Rob Harris captured footage of NYCFC fans and Red Bulls fans fighting and throwing signs at each other outside of a Red Bulls' supporters bar in Newark, New Jersey. The pre-game altercation was eventually broken up by a few police sirens.
All of this is to say: There is no New York soccer rivalry. The two teams' wannabe hooligans or "Ultras" are misguided, lame, dangerous and, most of all, seriously unoriginal.
The way the fans have gone about expressing their hostilities is ripped straight from European soccer's hooligan fan culture, specifically England's. In Harris' video, fans can be heard chanting "WHO ARE YA?" at each other in English accents. In Hayes' tweet, he drew a parallel between England's deadly hooligans in the '80s and what happened on Saturday. These aren't good looks for either team, and should the violence persist, MLS as a whole, either.
But do NYCFC and Red Bulls supporter groups want to go down that path? Their behavior looks especially bad compared to how fans act during MLS' premier rivalry between the Portland Timber and Seattle Sounders. Those two cities have a longstanding rivalry dating back to the '70s, giving each fan base's culture a historical anchor point and authenticity. Moreover, each team's supporters are simply spirited, not violent. And because of that, MLS loves to point to their derby match as their best overall product.
Although I didn't personally see either of Saturday's brawls, I attended the match and came away impressed with the in-game atmosphere. When I spoke to an NYCFC rep during the match, they noted that although the turned-up atmosphere gave it that rivalry feel, the matchup couldn't possibly be a rivalry, yet — NYCFC is 0-4 against the Red Bulls, scoring an aggregate of four goals to Red Bulls' 17. Especially in the wake of NYCFC's 7-0 home defeat on Saturday, they probably need to beat the Red Bulls first before their fans can stake a fierce, competitive claim as their rivals. Just as it is with the New York Knicks and Brooklyn Nets, there's no real competitive rivalry if the teams aren't good.
Standing outside of the stadium post-match, an NYCFC fan and a Red Bulls supporter began bantering at each other. The NYCFC fan only had curses to hurl. The Red Bulls fan had the last word: "You lost 7-0 and we're up 17-4 on you guys, a**hole."
Given the passion and excitement these fans have invested into their clubs, a true rivalry is indeed brewing in New York professional soccer. But to get there, fans need to kick-out wannabe English hooliganism, take in a few decently competitive matches and organically let the rivalry unfold.
Related
Before You Go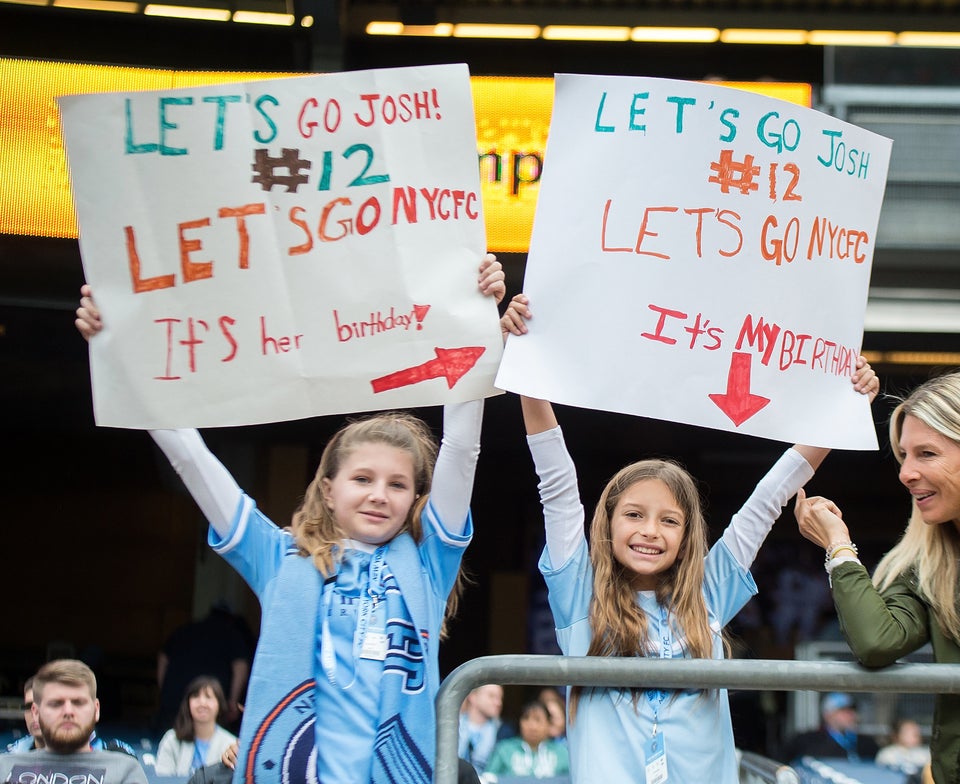 NYCFC-NY Red Bulls "Rivalry"
Popular in the Community