If you're anything like me, you might have a website for your small business that was once state-of-the-art but is now tired and looking a bit frayed around the edges. My own website was really slick and ahead of its time when I first unveiled it in 1995; I had it done by a professional web developer at great expense.
As the years went by ... 1999 ... 2002 ... all the way to 2005, I procrastinated my website redesign. "Ughhh," I thought, "do I really need this headache right now?" And that's what I kept thinking until it became a drag on my reputation with prospective clients and it became critical to update it.
So in 2005, I undertook my "little" (subtext: gigantic and time consuming) project. This time it was Dreamweaver I used to do it and while it involved a massive allocation of my time and a real immersion process--lots of learning--into the Dreamweaver world, my site turned out well and ahead of the curve again for 2005.
Now again, nine years later, it's looking a little green around the gills. So, I've been bracing myself for the next-generation website and dreading what it's going to take this time.
Enter Strikingly. This online website development platform/app makes the excruciating headache of creating your new website easy and most importantly, fun.
There are four central things that are ... well ... striking about Strikingly:
1) It's user interface is really smooth, clean and sharp-looking. This makes it easy on the eyes of the entrepreneur/developer and adds to the feeling of accomplishment. The ease with which a site comes alive, truly makes the process fun, keeps the user moving forward and that's what differentiates Strikingly.
2) It's self-contained, meaning that there are not a lot of clicks necessary or page-shifts to distract and confuse the novice website developer. Like Amazon's patented 'one-click buy' button, Strikingly's web development environment is easy to navigate with an on-screen editor sidebar that slides out smoothly and doesn't annoyingly refresh, taking you somewhere else or hanging up your browser. It's upload capability for images and video is streamlined and you can edit the images in-screen which is very convenient. And, you put in your own 'content' like graphics, photos, videos so there's not the constant need to go to and quiz a graphic design expert.
3) The "Preview" function is state-of-the-art and another thing that sets Strikingly apart. An editor button quickly opens up a new browser tab and takes you to a clean, fresh view of where you are on Desktop, Tablet and Phone format previews. For the busy entrepreneur, this is worth its weight in gold because you can literally check and double-check each small change you make and see immediately how it affects your overall website. This empowers the novice, non-HTML programmer and, it's not just previewing it that's great but also that Strikingly builds the websites simultaneously in all three formats.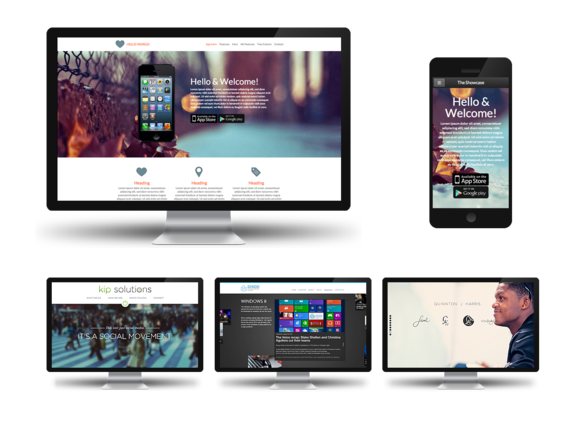 4) And fascinatingly, for any career-oriented job searchers out there, Strikingly has a super new app which automatically, and I mean automatically, converts your LinkedIn profile into a great job search-enhancing website in seconds. From 'piece of paper' to website; I didn't think such a snap-transformation was possible. David Chen, Strikingly CEO and co-founder said, "I created this (his own website resume directly from his LinkedIn account) in literally one second with one click." (Try this new idea by clicking here--it's free. For those creative-types less interested in career, there's also a link here to turn your Facebook profile right into a website.)
Like the vast preponderance of web services, Strikingly is offered "free" or to be real, in a "freemium" pricing model which involves the user/customer prospect trying the service for free to develop their website and then, if they like what they've created, pay Strikingly to host it or pay to just allow the user to publish it to their own domain. A free user can also build and publish their website entirely for free on Strikingly's domain on a "www.strikingly.com/yourbusinessname here" basis.
There are a multitude of established tech giants and legions of start-ups in the Strikingly world. Though Web.com is nothing to underestimate, perhaps Strikingly's strongest competitor is Wix. Wix alludes to having more than "43,000,000 users," in a tip of the hat to McDonald's. I tried Wix and found it clunky and hard to navigate. Strikingly is nothing of the sort.
If you think like I do, you might want to zero in on the customer service infrastructure upstart companies like Strikingly can provide--must provide. Customer service and response times are an important competitive advantage. Microsoft is famous for terrible customer service; yet they made it to the top of the heap. Google, Facebook, Oracle, SAP, IBM and so on, ditto. Yet companies with extraordinary service like Amazon also made it to the top, so why go to all that extra trouble and expense to provide great rather than mediocre or non-existent customer help? Answer: Because it's not enough anymore to have a great technology; you need both sides of the customer equation and the service side seals the deal. The customer service and support function of any high-tech service company is crucial. Get it right, and it is the 'secret sauce' which grows the company exponentially. Strikingly is off to a great start.
At the top, CEO Chen sends a "Meet for Coffee?" email to all new customers (once they've had a chance to begin setting up their new sites) and he means it; he will meet them to hear their feedback. When asked, Chen tells me of one of his first employees, Angela Ognev who's based in Singapore created her own title, "Chief Happiness Officer" which made Chen visibly proud.
To test out this higher-level of commitment of service, I asked long, complicated questions via email which were always responded to promptly by Ms. Ognev or one of her colleagues and though Striking has tutorial videos covering virtually every aspect a user could be unclear about, they always answered my questions directly without reflexively referring me to their video catalog. I loathe when in that moment, your vendors refer you to get rid of you and your questions about their technology, to an automated service area. So far, so good, Strikingly does not do this, while their bigger competitors surely do.
For several years now, clients of expensive web development shops have had a terrible decision to make: develop a 'desktop' type website and then pay to have it 'ported' over to a mobile phone format (which is fundamentally different in how it is coded and displayed through the browser) or develop in the phone form-factor first and then backtrack to see what the desktop browsers would see. This has not only created a real productivity and risk problem on the client side but also conveniently, a strong revenue opportunity for web developers. Software that allows 'normal' people to develop their own website (and update their site themselves without incurring third-party expense on a regular ongoing basis) is not only liberating and empowering for us 'do-it-yourself-ers' but also represent a real threat to the little club of geeks that has been keeping the golden keys to web development to themselves and using it as a bludgeon against us clients for decades.
Strikingly's website development platform is entirely HTML5 and CSS3 in order to satisfy the mobile website creation first. This is key, in my estimation, for Strikingly to compete against the entrenched competitors it faces. None of them that I could determine have taken this 'mobile first' approach.
And it's not inconceivable that our current economic woes could evaporate with the help of technologies like Strikingly. As a strong supporter of Entrepreneurship as the economic engine of the American economy, it's crucially important that government not overtax nor over-regulate small businesses but make it easy to start, incorporate and grow a small enterprise. Our government is not doing a good job of this now and without this, our economy will not improve. With website technologies like Strikingly, budding entrepreneurs who have just been laid off; perhaps been unemployed for an extended period; or just quit their mundane jobs to pursue their dreams, can have an easy way to focus themselves and start building their business online with a website and see where it takes them from there. Think of this first website as an online business plan for a new enterprise. Getting started is the most important thing. Just like writing the great American novel, entrepreneurs need to sit right down and just do it ... just start typing ... just start 'imagineering.'
Started by David Chen and co-founders Teng Bao and Dafeng Gou, Strikingly has offices in Shanghai, San Francisco and Singapore. Chen was a Chinese national coming to the US alone and Strikingly quickly became a Y Combinator company. Russian billionaire Yuri Milner started this incubator/accelerator/institute and Y Combinator only picks the highest-potential tech start-ups to invest seed money in and put through its residency program. Chen is in many ways a prime example of the 'Great American Success Story,' having come to the USA all alone to start an American high school; this couldn't have been easy.
"I grew up in Guangzhou and my parents are still there," Chen said wistfully, missing home. "I grew up in a traditional Chinese family and went to the public primary and middle school. Like other Chinese students, I studied very hard and was fortunate to be one of the best students in my city. I came to the U.S. for a trip during my middle school and for the first time, I realized that the world was different than what I thought it was and it is so much bigger and more diverse. That's when I developed the strong urge to leave home and go study abroad to really see the world. Also, ever since I was very young, I learned that Harvard was the best university in the world and I always wanted to study there one day. With all of those wishes, I came to the U.S by myself."
Making the big move, Chen said, "I came over to the U.S at 15 to start high school, near Buffalo, for my sophomore year. Then I transferred to another high school in Massachusetts for my junior and senior year. After that I went to the University of Chicago for college."
"How strong was your English when you first arrived?" I asked. "My English was good compared to other people of my age in China; we started our English education in 4th grade," Chen told me. "However, it was far from communication level. So it took me quite some time--3 months-ish--to pick up English; in the U.S. I stayed with a host family when I first got to the U.S and that helped me a lot in improving my English communication skills."
"With Strikingly, we wanted to create a place to develop a website that would be easy-to-use and then our customers could have fun quicker," Chen observed. "The perceived notion that it's so complicated to make your own website is wrong. It's not. The whole experience should be fun and we tried to create a 'habit-change' for people. We get a lot of feedback from users on Twitter and have heard a lot that the average time, we call it the 'magic time,' for our users to make a functional website is 10 minutes. Of course, to really fine-tune their content takes about one hour, we've heard, but the format and basic structure of their website is done very quickly."
Then, Chen tells me something I thought magical about strikingly's development, "Strikingly' users can use it for free, forever if you don't mind the 'strikingly.com-backslash' domain and 'Powered by Strikingly' at the bottom." In fact Chen tells me, many people use his site for one-off pitches, presentations or to simply wish their girlfriend Happy Valentine's Day ... could these utilitarian usages be the early power of Strikingly and its graphical communications platform?
I tested Strikingly, just as I've dug deep on Intuit's Web.com, Wix and a number of other technologies which empower website creation. I made two sites, one my own firm's which as stated before badly needed updating and also a client's website which sells a consumer product. At first, my heart was filled with dread. But then and interesting transformation occurred. The more I built and the more I uploaded images; the more fun I started to have. This would seem to me to be the 'Holy Grail' of personal website creation. It's the 'having fun' part that can make it so productive.
From the very first screen the Strikingly user sees, the process is simple. To "Get Started" doesn't mean the headache is about to start, but that it is about to end.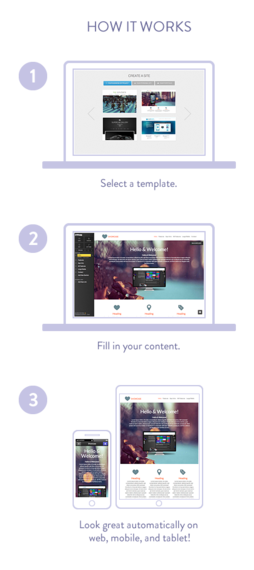 There's a convenient "dashboard" where you can manage your development of multiple websites simultaneously.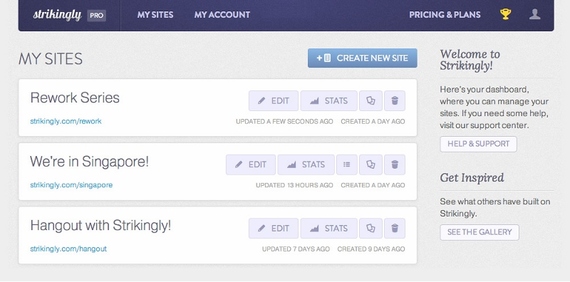 The Editor sidebar is straightforward and easy to figure out. Why in the world most technology is so complicated and hard to use for the novice has long been a subject of my wonderment. Tech companies who make it less so are undoubtedly on a fast-track to success.
The desktop/tablet/smartphone "preview" function loads quickly, while you're in mid-edit and loads the preview image in a different tab from your website in development. This is a strong advancement from the clunky previous options where the user has to wait and wait for the preview to load or experiences 'browser-lock' as a result.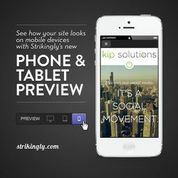 With respect to the pricing of Strikingly, it's simple. As mentioned above, a Strikingly user can use the service for as long as they like for free and have it online through Strikingly's website, provided they don't mind being limited to one website at a time and the Strikingly branding. The"Limited" service plan is $12/month (or $8/month if you pay one year up front) and the "Pro" service is $20/month ($16/month for a yearly payment) and both eliminate the Strikingly branding and allow you to move your website to your own domain but also offer an increased level of functionality.
Add-ons include buying your own 'shopping cart' for your site which calculates shipping and taxes automatically; access to an 'app store' where you can embed apps such as Wufoo (online forms, surveys and needs analyses for prospective customers), SoundCloud (important for musicians especially) and Google Maps, which is vitally important for customers beating a path to your door. The grand finale is helping Strikingly' users integrate payment systems and the ability to take credit cards and PayPal on their sites. Chen told me, "We are working on a partner for and presence in the payment systems area. Right now, we get you online with a beautiful presence that you develop yourself and nobody else has done that."
A prime example of a real, differentiating, super-convenient development for Strikingly users is that when you disconnect from the Internet and go offline, you don't have to sign-in all over again when you reconnect. You just carry on your editing where you left off. This nasty sign-off/resign-in process has been a dreadful byproduct of similar systems which don't consider their user as they should.
To cap off my long, hard look at Strikingly, I'd say that because of the way it empowers and emboldens small businesses, entrepreneurs and start-ups to trumpet themselves with a new web/mobile presence, I believe it's one of a coming crop of high-tech start-ups that will lead the way to the new, fully e-commerce enabled Internet.
Calling all HuffPost superfans!
Sign up for membership to become a founding member and help shape HuffPost's next chapter