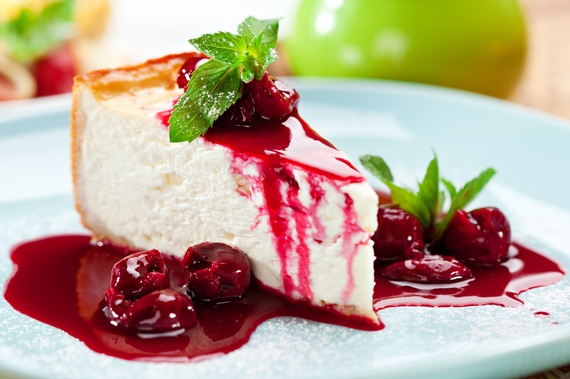 By Paul Sisolak, Contributor
Baked, unbaked, flavored, topped, drizzled or layered -- cheesecake can come in many different forms and flavors. But one thing is for sure: It's tasty and worth indulging in.
With this dessert costing as much as some entrées, however, a slice or two might expand your waistline but make your wallet slimmer. Thankfully, National Cheesecake Day 2015 is Thursday, July 30, and various restaurants and cafés are offering several free and discounted slices.
Eating at The Cheesecake Factory without trying a slice of cheesecake is only half the experience. So this year, enjoy half-priced cheesecake on National Cheesecake Day at The Cheesecake Factory.
On July 29 and July 30, the restaurant is offering any slice for half the price for dine-in customers. Anyone who's visited the famous chain knows it hard not to be tempted by the sprawling dessert case upon entering. The Cheesecake Factory has more than 30 flavors to choose from, like white chocolate caramel macadamia nut, tiramisu, pineapple upside-down, ultimate red velvet cake, Godiva chocolate and the restaurant's original, legendary cheesecake.
If you want to try something new, The Cheesecake Factory will debut its new salted caramel cheesecake on Wednesday -- which you can also get for half the price.
These five cafés, bakeries and retail locations across the U.S. are offering National Cheesecake Day deals of their own. So grab a fork and save money on your favorite dessert:
Cheesecake Bistro by Copeland's: All day on July 30, buy one slice of cheesecake and receive a free slice of equal or lesser value. You can also get $10 off the purchase of any whole cheesecake on this day.
Chompie's: At any Chompie's restaurant in the Phoenix area, purchase one slice of cheesecake at regular price ($6.95) and get another slice free at the bakery counter. Guests can choose from several varieties, including Oreo, chocolate, classic and red velvet.
Corner Bakery Cafe: Customers who visit participating locations in Pennsylvania and New Jersey will receive a free piece of cheesecake with the purchase of any entrée on National Cheesecake Day, reports Bucks Local News.
Festival Foods: The Wisconsin grocer's cheesecakes are on sale all week for $6.98 in honor of National Cheesecake Day.
Peteet's Famous Cheesecake: The Michigan-based cheesecake hot spot is giving the first 100 customers a free slice of cheesecake on July 30 at both locations in Oak Park and West Bloomfield. You can also get 20 percent off the rest of the day.
More from GOBankingRates:
Popular in the Community