Hurry! Any fan of Disney musicals (along with their children) need to get to the Segerstrom Center for the Performing Arts in Costa Mesa TONIGHT, Friday, Sept. 30 where 19 time Oscar Nominee Alan Menken will be premiering "A Whole New World of Alan Menken" in the Renee and Harry Sergerstrom Concert Hall. Anyone that has paid attention to popular culture over the last few decades will know hit after hit from this powerhouse composer / writer who has won 11 Grammys, seven Golden Globes and a Tony to boot.
His credits include box office hits as Beauty and the Beast, The Little Mermaid, Aladdin, Pocahontas, The Hunchback of Notre Dame, Enchanted and Tangled as well as the Broadway shows Little Shop of Horrors, Sister Act, Newsies and television's Galavant.
This one man show will allow Menken to share the behind-the-scenes stories that made the music; and the music as well. It's a journey through his impressive career which will end up being a chronicling of the reemergence and dominance of Disney films and productions in the late 20th and early 21st Centuries like never before. DIsney animated, live action and theatrical productions, particularly animated musicals, have dominated the box office of late like never before.
Tickets to A Whole New World of Alan Menken start at $49 and are now available online at SCFTA.org, by calling (714) 556-2787 and at the Box Office.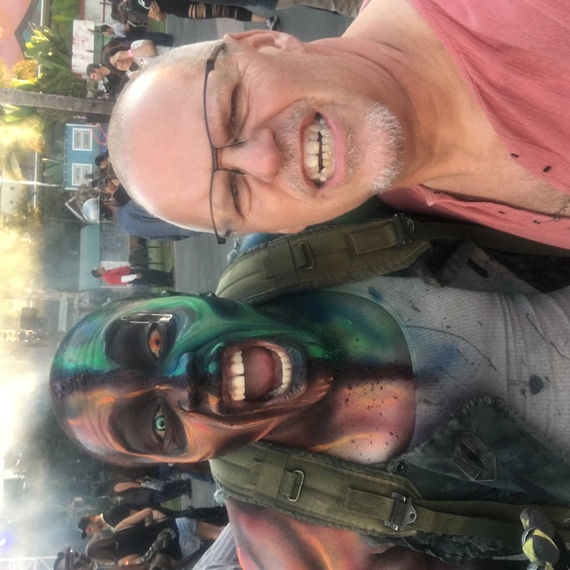 Karel and Friend at Dark Harbor. Photo Steve Cabral
On the opposite end of the spectrum the Queen Mary, Long Beach's Historic and ever-changing attraction, has just opened Dark Harbor and each year this creep-a-thon has expanded in to a world class fright affair. So much so that they now offer a Fast Fright pass for extra $ to cut the often LONG lines to get in to the mazes.
There are mazes both on board and off, as well as a real carnival sideshow feeling ship side thanks in large part to the talented cast of characters roaming around to offer a fright. Each stays in character, many are intricately adorned and the makeup is stunning. It truly is the people, the working actors, characters, stunt people, that make the entire Dark Harbor experience so special.
That and the hand dipped ice cream bars, or the VIP lounge that overlooks it all from the ship, or the freak show where a dead clown eats a two foot balloon inflated, then swallows razor blades and dental floss and pulls it all back out, balloon deflated. It's my roommate Steven Cabral being scared 1,234,432 times in two hours.
And then there's Michael Jackson swing ride from Neverland, scary for so many of the wrong reasons.
There are discounts online for Dark Harbor and it runs all through October including a Halloween show with the diva of Long Beach herself, Jewels.
So whether it's the magic of Disney or the scares of the walking dead, Long Beach and OC have you covered this weekend.
Watch Karel: Life In Segments weekly on Free Speech TV on ReallyKarelTube. To hear this or other interviews get the FREE Karel Cast App, subscribe in Spreaker to the Podcast or simply go to the most incredible website on all the planet, save this one, ReallyKarel
Calling all HuffPost superfans!
Sign up for membership to become a founding member and help shape HuffPost's next chapter