 Google has several applications available to users looking to be inspired by Adolf Hitler. Available on Google Play, the app store for Android products, is one app that goes by the name Infamous Adolf Hitler Quotes. The app description opens with this description: "Looking for Adolf Hitler Quotes?? Then this is the App for you!"
In the user review section, the free English-language app is described as a "great moral booster," by one of the 1,060 reviewers who downloaded the app. Another user writes in a review dated August 2012 that the "app is so great and useful," and explains that he wanted to learn how Hitler was able to "kill all the yahudi people."
The app contains countless Hitler quotes including a special Quote of the Day feature. The Jerusalem Post reports that, "according to Google Play Store, in the last 30 days there have been 10,000 -- 50,000 downloads of the app," which calls on users to "enjoy the inspiration of Adolf Hitler on your phone!"
Other popular Hitler apps available on Google Play Store includes the Arab-language app called Hitler's Sayings, which allows users to read and share what it describes as Hitler's "beautiful sayings that we could benefit from in our lives," according to the Anti-Defamation League's (ADL) website. The ADL states that hateful Hitler quotes in Arabic are made available to users and include such quotes as, "Jews are like mosquitoes that suck our blood."
More than 10,000 Google Play users have installed the Arabic language application since December.
This is not the first time that Google Play Store is offering anti-Jewish apps. Back in September 2012, Google removed an app called the Protocols of Elders of Zion, which included 24 chapters that made up The Protocols, a conspiracy theory of hateful fiction published in 1903 by Russian police to demonize Russian Jewry. The book became an instant hit then and was used to target vulnerable Jewish communities across Russia through bloody pogroms that killed hundreds of Jewish men, women and children. The Protocols were also instituted as required reading in German classrooms during the Nazi reign in Germany.
Thanks to activists including Jewish leaders and average consumers, Google eventually removed The Protocols app from its website. In August 2012, consumers, rabbis and Israeli politicians also called on Apple iTunes to remove a similar version of the anti-Semitic app from its store.
According to a recent NPR article about apps targeting ethnic groups, a Google spokeswoman stated that the company removes apps that violate its policies against hate speech. According to the Google Play Store website, users are asked to "promot[e]... hatred toward groups of people based on their race or ethnic origin [or] religion." When Google is notified of potential policy violation, it "may" review and take on action by removing or restricting content, according to the company's website.
Although Google has removed pro-Hitler and Nazi Androids apps in the past, particularly in 2010, new anti-Semitic apps continue to plague its app market and seem to have grown even more inflammatory in their content.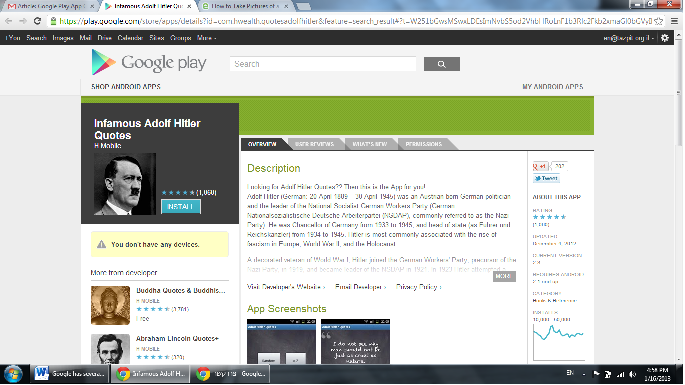 Photo description: 'Hitler Quotes' app availabe on Google Player store.
REAL LIFE. REAL NEWS. REAL VOICES.
Help us tell more of the stories that matter from voices that too often remain unheard.