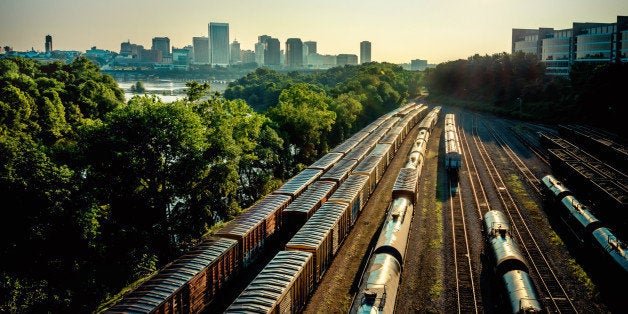 A small number of high-profile crude by rail accidents has recently brought the question "Can railroads safely move crude oil?" to the public forefront.
The freight rail industry shares the public's concern regarding the safe movement of crude oil by rail, and it's important to know all that is currently being done to safely move crude oil trains. Railroads follow the most stringent safety measures when transporting crude and other hazardous commodities. This is why freight railroads have a stellar record for crude rail safety -- 99.995 percent of all rail crude oil shipments reach their destination without a release caused by a train accident. What's more, 2014 looks to be the safest year in railroad history, with accident rates registering at record lows.
But the reality is even one accident is one accident too many.
Communities, rightly so, are eager to understand the breadth of the safety measures in place and those in the works when it comes to crude oil rail transportation.
What will, undoubtedly, make moving crude by rail safer is tougher tank cars. There's no way around this fact. Regardless of recent upgrades to some tank cars, freight railroads are seeking to replace or upgrade the entire fleet of tank cars tasked with transporting crude oil.
The freight rail industry doesn't own tank cars, but has long advocated for increasing the federal design and construction standards for tank cars that carry oil because they are such a critical safety element. The railroads want the government to direct that cars should have new safety features such as increased shell thickness, jacket protection, thermal protection, full-height head shields, higher-capacity pressure relief valves and more. These can help mitigate the potential for rupture of a tank car and limit the severity of an incident if an accident occurs.

In the next few weeks, the U.S. government is expected to finalize its own regulations on the issue. The rail industry is urging the Obama administration to align with Canada and direct tough, new oil tank car standards.
Safely moving crude by rail is a shared responsibility, one the rail industry takes exceedingly serious. The railroads have done top-to-bottom reviews of their operations and voluntarily taken steps to further improve the safety of moving crude oil by rail. Specifically, the rail industry has taken these actions:
Increased track inspections and defect detectors: Railroads are performing more track inspections than required by the federal government on lines where trains travel with at least 20 carloads of crude oil. Comprehensive track geometry vehicles, which measure track alignment and assess track conditions, are conducted on crude oil routes. Specialized track-side "hot box" detectors alongside crude oil routes measure the condition of tank car wheel bearings and help identify potential problems before an incident occurs.
Secure routing, speed restrictions, improved braking: Railroads and federal agencies have jointly developed the Rail Corridor Risk Management System, a sophisticated statistical routing tool designed to help railroads identify safe and secure routes for transporting highly hazardous materials. Major U.S. railroads use this routing tool today for trains carrying crude oil. Meanwhile, railroads adhere to a self-imposed 50-mph speed limit for trains carrying 20 or more carloads of crude oil. Speeds are reduced to 40 mph through federally designated high-threat urban areas. Trains operating on main line tracks carrying at least 20 carloads of crude oil are also equipped with enhanced braking systems.
Improved safety coordination: Freight railroads are providing emergency responders and firefighters with details on the hazardous materials transported through a given community. The idea here is to be highly transparent with local safety officials and to ensure that safety remains top of mind for all who are responsible for the safe transport of hazardous materials. At the same time, the industry provides training and education to first responders across the nation.
Investments to reduce accidents: One of the most effective ways railroads have reduced accidents is through the continuous upgrading, maintenance and modernization of the 140,000-mile rail network. Since 1980, the industry has spent $575 billion on the nation's rail system. In 2015, that number is projected to be $29 billion, or approximately $80 million a day.
The aggregate effect of these actions is that the U.S. rail industry has one of the best safety records of any large industry. Just last week, the head of the Federal Railroad Administration allowed that railroads have gone to great lengths to prevent crude oil accidents. But if crude oil from American oil fields is to be transported with even greater levels of safety, it's time for a major upgrade to the crude tank car fleet.
Hamberger is CEO and president of the Association of American Railroads.
Calling all HuffPost superfans!
Sign up for membership to become a founding member and help shape HuffPost's next chapter