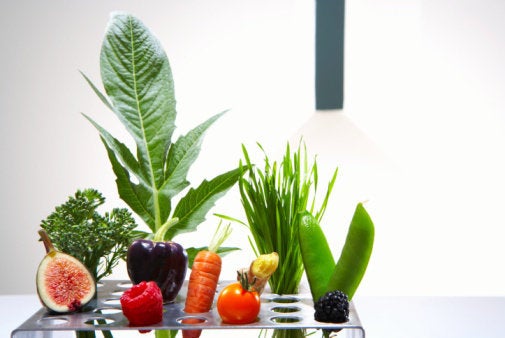 If you like your fruits and vegetables with pesticides, then you'll be glad to know the conventional produce industry is boasting of a big win with the Obama administration.
An October 20 story in the online version of The Produce News -- we read it so you don't have to -- reports that on October 19, executives with the United Fresh Produce Association met with "high-level officials" of the U.S. Department of Agriculture, the Environmental Protection Agency and the Food and Drug Administration and elicited a promise to "look into" how the administration "packages the release of annual pesticide data."
The reason? According to The Produce News, "United Fresh is concerned that the Environmental Working Group has 'mischaracterized' [government] pesticide residue data in its Dirty Dozen list, an annual ranking of the top 12 fruits and vegetables with the highest pesticide residues."
The Packer, a publication for the food packing industry, reported Friday that the attendees included Larry Elworth, chief agricultural counselor to the administrator at EPA; Steven Bradbury, deputy director of the Office of Pesticide Programs for the EPA; Don Kraemer, deputy director for the office of food safety for FDA; and Sarah Bittleman, senior advisor to the secretary at USDA.
Thank you for the free, favorable publicity, United Fresh
Yes, indeed, EWG crunches numbers from the FDA and USDA Pesticide Data Program to make them more accessible to busy consumers. Our popular (about 1 million unique viewers over the past year) Shopper's Guide to Pesticide in produce is for people who routinely buy conventional, not organic, produce, don't have weeks to root around in spreadsheets and want to avoid those fruits and vegetables found by government laboratories to carry especially high pesticide loads. We always urge readers who aren't okay with pesticide residues not to forgo fruits and vegetables if they can't find or afford organics. Instead, we try to help them make smart choices among conventional items so they can eat healthy and minimize their families' pesticide intake.

But United Fresh knew all that. Which must be why its execs didn't bother badgering us but took their gripes straight to USDA, FDA and EPA. The Produce News quotes Ray Gilmer, vice president of communications for United Fresh, as saying that federal officials "agreed to take a look at how data are compiled to make sure the messaging is 'clear and concise so it can't be misconstrued'."
According to The Packer, Gilmer added, "We're trying to make sure that anyone who reads that [USDA] report sees -- as do all the people in the room -- that there is no risk associated with the consumption of fresh produce due to pesticide residues."
What does the public have a right to know about pesticides on food?
We take "clear and concise" to mean less information. And spun.
Just because taxpayers have been paying for all that testing doesn't mean they get the facts, just the facts, nothing but the facts, about what government scientists have actually found.
If the conventional produce lobby gets its way, government web pages will be altered to reflect the industry line that eating pesticide won't hurt you.
Back in August, United Fresh attacked a Chicago Tribune investigation headlined "Pesticides in your peaches" on grounds that, as senior vice president David Gombas put it, "just the fact that pesticides are detectable doesn't mean they have any impact on public health."
"U.S. consumers should trust that the produce is safe from pesticides," Gombas added.
Trust? Who? Big business? The government? We don't know what planet United Fresh likes to call home, but judging by everything we're seeing in the news and blogosphere, there are a whole lot of folks who don't trust either.
Anyway, Mr. Gombas' position isn't easy to process. Is he saying -- yes, pesticides are on food, but they're safe? Or that pesticides are, yes, dangerous, but somebody -- who? -- has kept produce "safe from pesticides"?
We all know this: pesticides are built to kill. There's ample scientific evidence that they present health risks to people -- some chemicals more than others, some people more than others, some helpful animals, like honey bees, more than others.
There is also plenty of research that shows that pesticides make their way into our diets.
Children's diets test positive for pesticides
Most recently, a study by a prestigious team of public health researchers from Harvard and Emory universities and the FDA, highlighted in last week's Environmental Health News, documented 14 types of pesticides in the daily diets of 46 Georgia and Washington state children; about one-fifth of the food prepared by the kids' parents contained at least one pesticide.
The sample was too small to make assumptions about nationwide dietary pesticide loads. The scientists acknowledged that the amounts of pesticide detected did not exceed EPA legal maximums. That's not saying much -- many scientists and health professionals believe EPA's bars are set too high.

The Harvard-Emory-FDA team suggested that tighter pesticide restrictions are in order. They concluded that "the frequent consumption of certain food commodities with episodic presence of pesticides that are known to cause developmental and neurological effects in young children underlies the need for further mitigation and should be monitored routinely" by USDA.
Scientists back EWG Shopper's Guide
The team cited EWG's pesticide residue analysis and recommended that the EWG Shopper's Guide, as well as the study's findings and other data, "could be used by parents and caregivers who want to keep nutritional foods in their children's diets but avoid the intake of pesticide residues in the high pesticide-risk items."
Calling all HuffPost superfans!
Sign up for membership to become a founding member and help shape HuffPost's next chapter