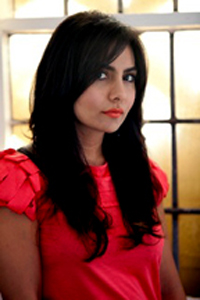 Today in every entertainment medium it seems to be less about the "show" and more about the "business." This is, of course, true of movies, where rising production costs and changing technology appear to have impacted the number of movies made in the US, the type of film made and how those that are made are viewed.
With an already tough business getting tougher each year for those who want to break in, there may be some help at hand. The help will come from a panel called "Breaking Through & Being Heard In Hollywood" and is made up of producers, attorneys, screenwriters and a music producer. The discussion -- followed by a question-and-answer session -- will be one of the features of the Bel-Air FIlm Festival this Saturday, October 16, 7:30 pm at the James Bridge Theater at UCLA.
The panel was assembled and will be moderated by Mitra Ahouraian (pictured), an attorney specializing in entertainment, film finance production legal and music issues and intellectual property. She is a member of the Bel-Air Film Festival Board.
An attorney with the LA firm of Linzer & Associates, Ahouraian says she decided to put on the panel "because I am inspired by people who are young and accomplished. Young people come to me for advice and guidance. In fact, so do more experienced people. I find that, in this era of fast-changing technology and changing audience expectations, that their questions are often the same."
The questions range from those that deal strictly with business -- finance and options, for example -- to questions about how to start a career in any facet of movie making. One of her goals in doing the panel, Ahouraian says, is to help people who wish to work in the industry attain and maintain balance. "Entertainment is a world of excess. You have to be able to handle extremes and maintain who you are. The excess is glorified so it's always a struggle," she believes.
Ahouraian adds, "Today there are three major shifts in the industry from just a few years ago. First, because of distribution channels, there is more money to be made internationally than domestically. Distribution is key to success. Second, even the creative team has to know the business plan so you have to assemble the right team. You have to think about all this before you think about optioning a script.
"Finally, you have to be aware that today it's much more difficult than ever before to get theatrical distribution so you have to consider other possibilities -- the internet, online distribution, TV and, perhaps, distribution abroad first.
"What sets some people apart and gets them attention and a long career?" she asks. "It is business sense and ability to change with the market."
With the panel's focus on the business side of film making, Ahouraian says she assembled the best people she could find to respond to the needs and questions of those who attend.
The panel includes music producer Salaam Remi; Palak Patel, production president of Roth Films; Mills Goodloe, a producer, screenwriter, director and actor; attorney Bianca Bezdek-Goodloe, an attorney specializing in film finance, intellectual property, entertainment and corporate law, Michael Becker of Imprint Entertainment and Peter Trinh of International Creative Management's (ICM) International Distribution department.
Tickets to the panel discussion are $35, but the use of promotion code "filmmaker" will get you in for $20 instead of $35. Those who arrive early will have to opportunity to indulge in some services from Bliss Spa and, after the panel, may attend the screening of the documentary I Am Comic with Jeff Foxworthy, Kathy Griffin, Sarah Silverman, Carrot Top, Margaret Cho, the late Greg Grialdo and a host of others.
Tickets are available here.
REAL LIFE. REAL NEWS. REAL VOICES.
Help us tell more of the stories that matter from voices that too often remain unheard.