Get to know Kiyanna and Jannah, the creatives behind BLK MKT Vintage who are catalyzing a unique space for those who love Black collectibles and heirlooms.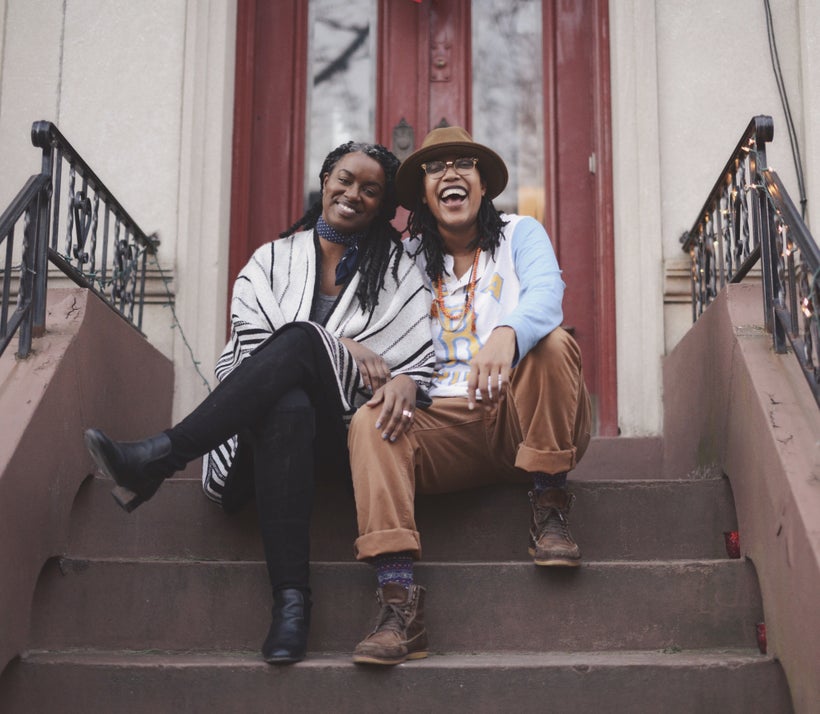 When I was a child, one of my favorite past-times was going to my great-Uncle's antique store. Being able to rummage through old black-and-white films and photos, eclectic jewelry, and vinyl records (I mean, I found Roy Ayer's "Everybody Loves the Sunshine" album there!), I felt I was able to transcend time into another space that only my great-grandparents, grandparents, and my parents knew about. Moreover, it was the feeling of being engulfed in the beauty and wonder of the multifarious, Black cultural experience — and the extraordinary creativity and genius that comes along with it — that kept me coming back for more and more.
This is the very same feeling I had when I stumbled upon BLK MKT Vintage's Instagram page.
With the tag line being "curators of a collection of super-black curiosities, heirlooms, and collectibles", BLK MKT Vintage was birthed out of the critical need to showcase the power of Blackness and more importantly, the power of Black artifacts. Created by Brooklyn natives, Jannah C. Handy, 30, and Kiyanna Stewart, 28, both co-founders are cultural and creative connoisseurs on everything Black antiques — from furniture, books, clothes, magazines and more. Handy, who is a co-adjunct professor and Stewart, an educator and cultural worker, have cultivated a space that not only showcases the diversity in the African Diaspora but how our ancestors were able to still be artistic generators of style and cool — even in spite of racism and adversity. Here, Handy and Stewart are doing more than just finding amazing artifacts; they are forging a cultural movement that is inspiring others to recognize that Black historical contributions and antiques matter, too.
I spoke with Handy and Stewart about why they started BLK MKT Vintage; how they are overcoming white supremacy's efforts to erase the importance of Black antiques and artifacts; and asked them about their favorite cultural finds.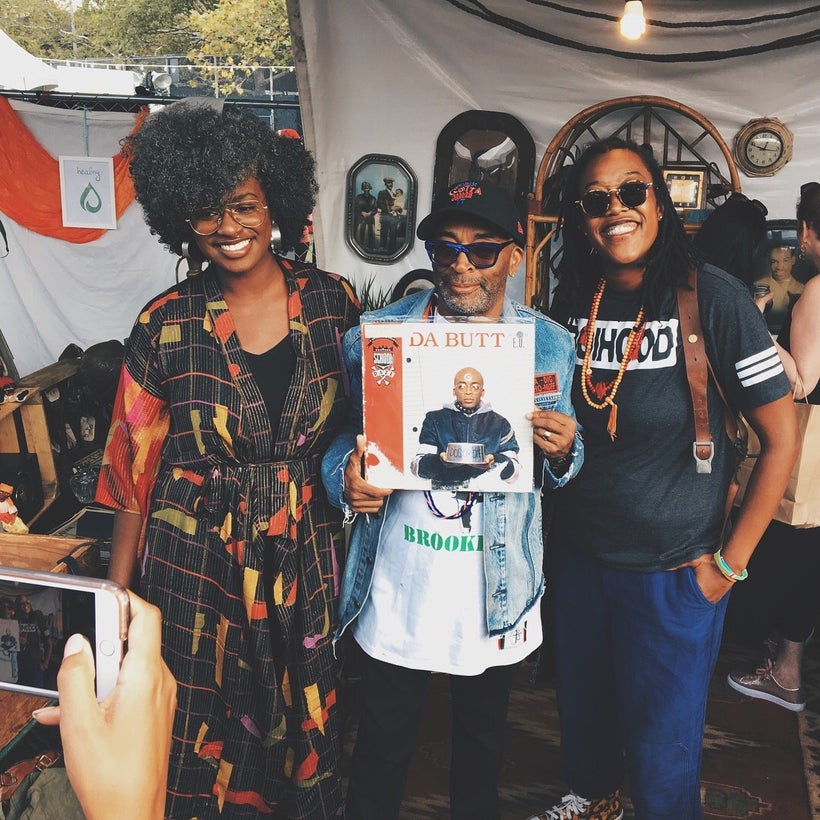 What was the artistic and creative motivation to create BLK MKT Vintage?
BLK MKT Vintage is a curated love story. Our artistic and creative motivation is inextricably rooted in our love for black people, black culture and our own lived experiences. We've both been collecting vintage goods for quite some time and when thrifting, we rarely saw folks who looked like us — shopping alongside us, in the antique photographs and acrylic paintings, in the vinyl record section or on the book shelves. Whiteness as default is a ubiquitous concept but it's such an odd experience going into spaces that are devoted to antiquity, to our past and you're not expressly represented in any of it. It's nostalgic dissonance, if you will.
Our vision for BLK MKT Vintage is to thoughtfully curate the best of black vintage curiosities and collectibles in order to inspire folks to see that our historical contributions are valuable. We see this business as a hub of blackness – where folks can come to find everything from antique hot combs and first edition black arts poetry to hip varsity jackets. A repository of black cool, we suppose – but accessible and tangible.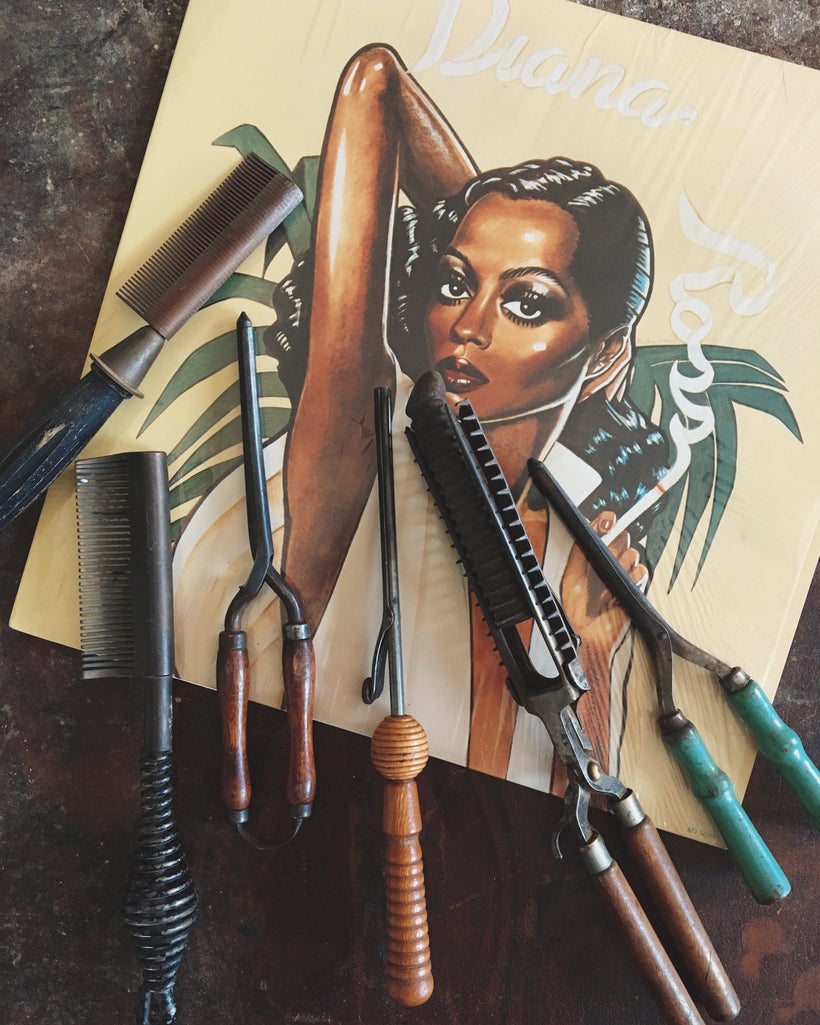 When the term "vintage" is used, sometimes Black artifacts may not always be the first thing to come to mind. Why is it important to have a cultural space where heirlooms and collectibles that reflect the Black experience are included?
Black people are responsible for civilization as we know and understand it, so we've always struggled with the way that black cultural production is invisibilized in conversations/spaces dedicated to "vintage". For us, it's seemingly impossible to envision a selection of vintage/antique offerings and to not see black folks or our history. To what have we not contributed, even tangentially? It's been one of our goals to reframe of how folks – specifically, black folks – connect to items of the past and envision them as useful, valuable, sustainable/sustaining, inspiring and relevant.
It means something that our collection of Dick Gregory's presidential campaign posters from 1968 are relevant, particularly on the heels of President Obama's tenure in office. It means something that our collection of colon (colonial) statues from the Ivory Coast are relevant in the United States; as we're having a larger conversation about statues and monuments as physical representations of imperialism. It means something that folks are buying up every first pressing Lil Kim, Foxy Brown and Queen Latifah vinyl we find, when at the same time, Cardi B is on every major pop/hip-hop radio rotation day-in and out. Black folks' cultural production has never existed in a vacuum, so it makes sense that decades later, these items still speak to our experience and sense of shared historical memory. Black vintage is laden with sensory memories and each item takes us back to a particular moment, person, space, feeling, while also moving us forward. This is why having a cultural space like BLK MKT Vintage is important and we saw a void in the "vintage/antique market" that needed to be filled, intentionally.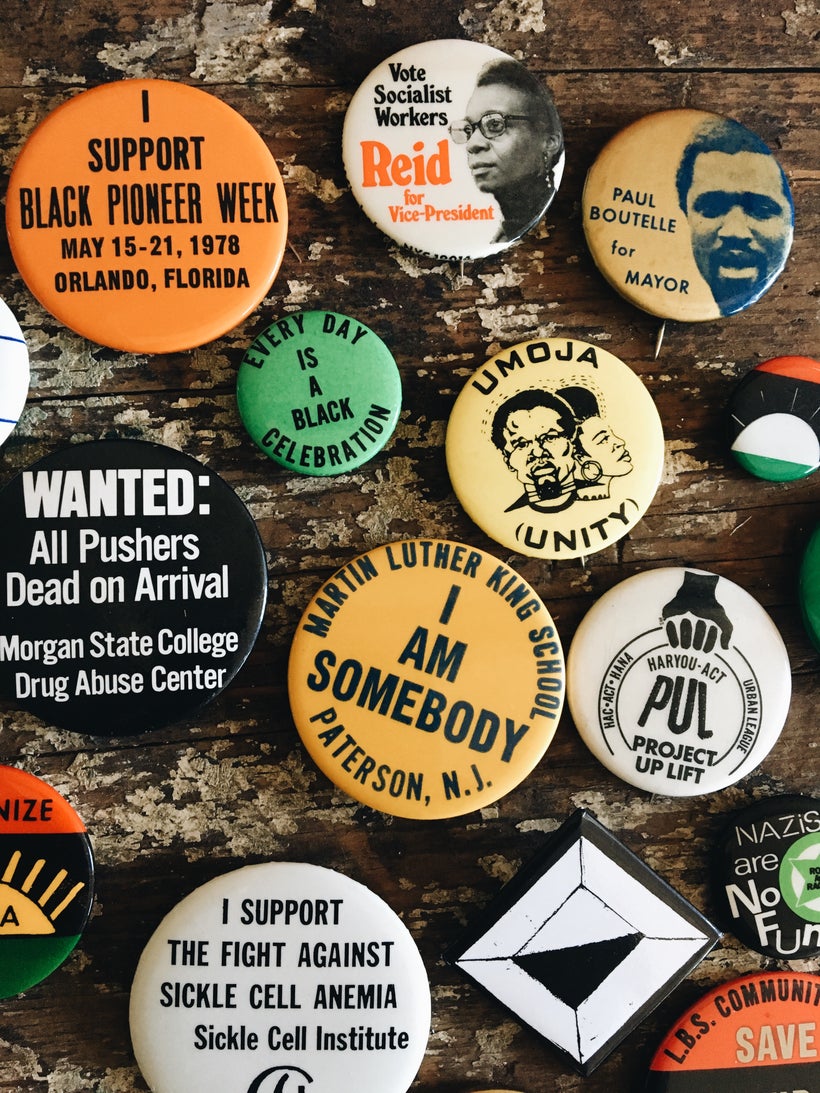 In wake of contentious political times where racist rhetoric and violence abounds, how is BLK MKT Vintage ensuring the Black past – and even the Black present and future – is not forgotten?
Both of our Nana's used to say that "…there ain't nothing new under the sun." The issues plaguing black folks in 2017 mirror the state-sanctioned violence of the 1960's -1970's civil rights movement and the plight of activist-athletes like Paul Robeson, Juan Carlos and Tommie Smith. History is not linear but cyclical; dates on the calendar, elected officials, and sartorial expression have changed (kind of), but the roots of white supremacy and capitalism are still prevalent.
The items we collect have demonstrated that black folks have always had a sense of radical creativity, despite the circumstances. That we've created publications, accessories, textiles and art that continue to show us to ourselves. Black people have always done this. The preservation of our heirlooms is a radical mission, in and of itself, and part of this work means looking to the black past, present and future to inform our vision. We think about the concept of memory all the time. BLK MKT Vintage facilitates remembering. Uncovering. Discovering. Each of those is an important part of self-actualization and ultimately, articulating who we are as individuals and as a community.
By shifting our cultural artifacts from margin to center through visibility and thoughtful curation, we're communicating very explicitly to black folks that "not only do we see you, but we love you as well. You're worthy. What you've created is worthy. You are important here."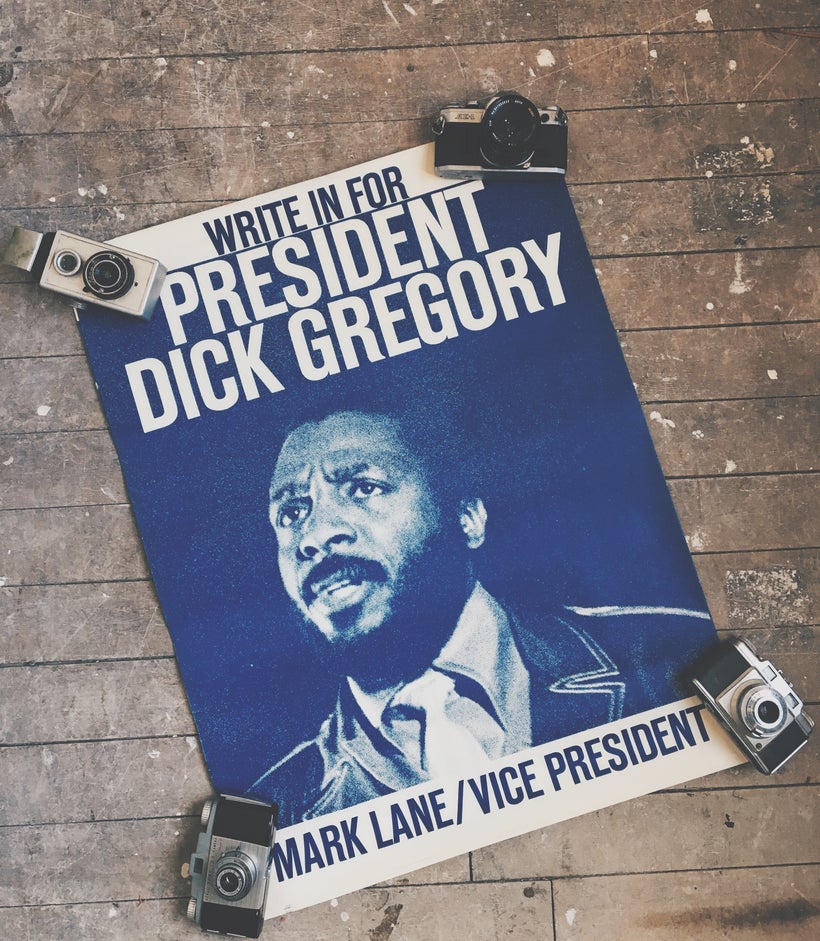 Jannah's BLK MKT mantra is you can't find what you're not looking for and for us, that represents the tedious, but rewarding 24/7 nature of our process. We are always looking and open to receiving. On a weekly basis, we visit 2-3 antique markets and we're constantly in touch with other collectors/business-owners who have access to products we collect. We make sure other folks know our aesthetic, so they start to equate certain items with us. We've gone into folks' basements, attics and barn houses to sift through their belongings or even their parents/grandparents' belongings. We've picked in thirteen states and three other countries, bringing the items home to be cleaned, researched, photographed, priced and stored. Our greatest thrill is when we acquire an item, accompanied by a story about the owner, maker or function. It personalizes that item and humanizes the exchange. We really have fun with our process and it's different by the week.
What are some of your favorite collectibles you have found and even kept for yourself?
Some of our favorite findings in our time collecting are an 1800's fugitive slave notice we bought from a fellow collector who specializes in black americana. We've also found and kept a 1960's folk art collage barrel. It's incredible, actually. It's a simple 4ft tall shipping barrel, but the entire surface is covered with images of some of the most prolific black heroes including Dick Gregory, June Jordan, Nikki Giovanni, Jesse Jackson, Fannie Lou Hamer. Right now, this piece is in our living room and functioning as a plant stand. Jannah is fond of Muhammed Ali/Cassius Clay and Joe Louis memorabilia. Kiyanna loves 50's and 60's jet magazines and any first edition black feminist/black arts poetry. There are a few first edition Audre Lorde and Gwendolyn Brooks texts that are in my private collection. We love our 1973 Soul Cards and they've been a lot of our clients' first dip in the vintage pool. We have too many favorites to name. The cool thing about this work is that we see ourselves as the black vintage dealers we needed when we began collecting. You know what they say – "be who you needed." BLK MKT Vintage encourages us to embody that sentiment.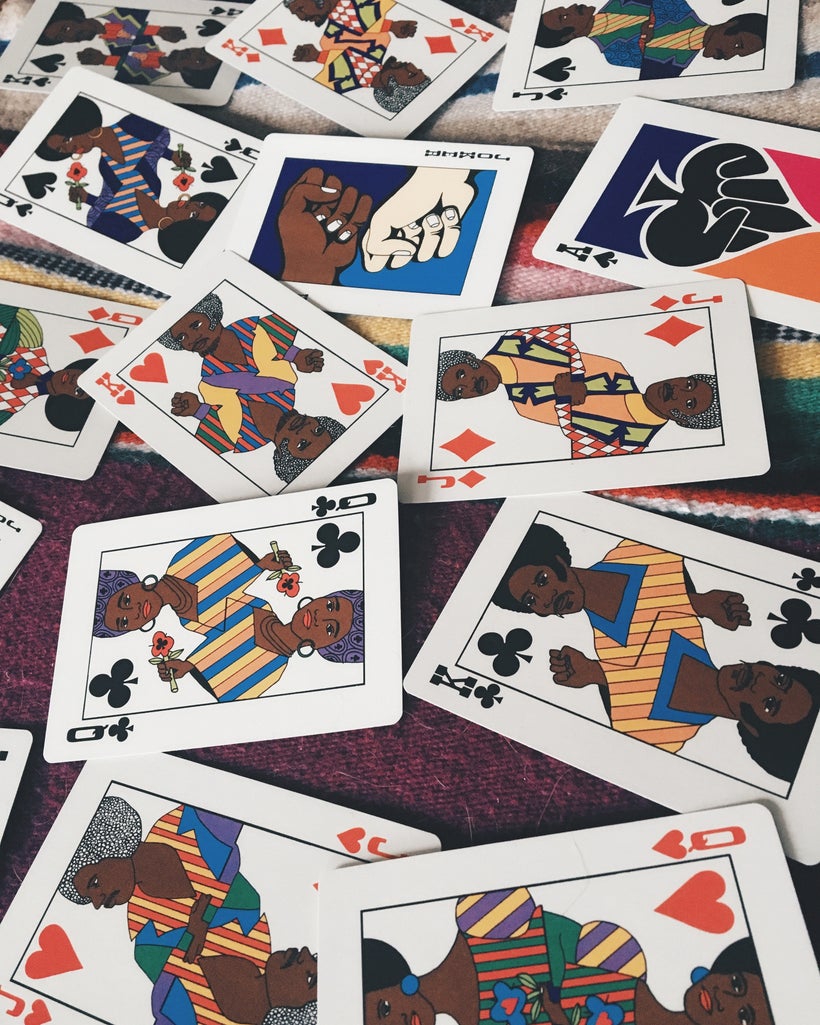 In the next five years, where do you see BLK MKT Vintage? What are some upcoming events?
In the next year, we're planning to open a brick & mortar shop that will also function as a community space in our hometown of Brooklyn, NY. Our collection of vintage findings deserve the space to be exhibited and experienced and we've been working hard to see that come to fruition in 2018. Think of the blackest antique/vintage shop you can imagine – that's what we want to create. We envision that we will continue to do pop-up shops and installations around the U.S. and globally. We've also seen firsthand that there's a market for space curation and staging, so we'd like to start moving into contracted staging work for residential, commercial, performance spaces and photoshoots. This fall, we're collaborating with the Schomburg Center for Research in Black Culture, as well as the Studio Museum in Harlem to provide NYC with some super dope black vintage finds! To learn more about those partnerships, join our Instagram community!
Calling all HuffPost superfans!
Sign up for membership to become a founding member and help shape HuffPost's next chapter
This post was published on the now-closed HuffPost Contributor platform. Contributors control their own work and posted freely to our site. If you need to flag this entry as abusive,
send us an email
.