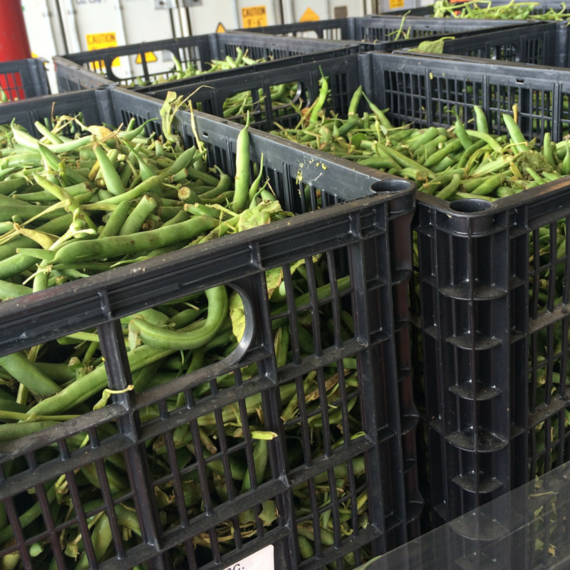 I know what you're thinking...it looks like perfectly delicious fresh produce. You're correct. But it is, indeed, garbage.
Around the world, billions of tons of perfectly edible foods are discarded, while millions of people go hungry. Even worse, growing, harvesting, processing, packaging, transporting, and warehousing the food that will inevitably end up in the trash wastes billions of gallons of water and immense quantities of fossil fuels while millions of people go thirsty and without the energy they need.

The Food and Agricultural Organization of the United Nations (FAO) estimates that over a third of all food in the world goes to waste. A little more than half of that waste is happening "upstream" in production, post-harvest handling and storage, according to a recent FAO study. Forty six percent of the waste is happening "downstream", during processing, distribution, and consumption.
While we all play a role in this massive amount of waste, we are not going to solve this problem through recycling and thoughtful purchasing alone. There are systemic challenges that literally regulate wastefulness, and that obligate supermarkets and farmers to toss perfectly good food in the garbage.
Across the United States, stringent aesthetic standards are placed on producers and growers. These standards are not grounded by food-safety precautions. They're focused on looks and perceived profitability. Take a look in your grocery store, for example, and notice that most likely, a zucchini is 6-8 inches long with no major curves or bumps. A 5-inch zucchini? Garbage. 10-incher? Garbage. Some feel that attractiveness regulations safeguard the "reputation" of local farmers by ensuring that everything sold appears to be of a high standard. Perfectly uniform produce is valued more than taste, healthfulness, and actual quality. The result is tons upon tons of perfectly good produce that can't be sold every single week.
In addition to aesthetic standards, labor disputes and inefficiencies in infrastructure can also lead to huge amounts of waste. In Washington, this past year, $100,000,000 of apples (yes, you read that right) were left to rot in the sun due to a port slowdown resulting from a union battle. Unfortunately, the apples got too ripe to even be used for sauce and juice.
"Sell by" dates can also lead to waste due to confusion about what the term even means. Often, food ends up in the trash long before it is actually not fit to eat.
Some farms reduce wastefulness through secondary markets. Florida's citrus is sorted, and the misshapen, off-sized, blemished, and immature fruit is diverted to juicers. Idaho sends its less attractive potatoes off to become hash browns, fries, and dehydrated potatoes. Around the world, governments, nonprofits, and concerned citizens are finding ways to reduce the waste, and leverage excess or "unsellable" food to feed those in need.
The most successful player in this field in the eastern United States is "Farm Share", a nonprofit based out of Miami, Florida. Farm Share was founded 24 years ago by Patricia Robbins, who dove into feeding Florida's hungry after spending decades leading her commercial seafood business. This year alone, Farm Share will distribute more than 30 million pounds of food to those in need. Every week, semi-trucks arrive to their warehouses from farms and distributors across the state. Each day, they have six tractor-trailers and 17-box trucks on the road, delivering thoughtfully packaged distributions to more than 1000 local food pantries, churches, and community-based organizations to get the food into the hands of those in need. Farm Share warehouses are filled with crates upon crates of ripe produce, as well rows upon rows of packaged and frozen goods to be distributed. Their warehouses completely turn over inventory every two weeks, with massive deliveries coming in and out on a daily basis. It's a feat of tremendous logistics and organization enabling more than two million Floridians to regularly access delicious produce and packaged foods that would have otherwise been discarded.
Look at these crates of produce. Does this look like garbage to you?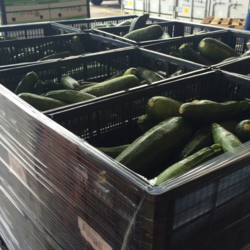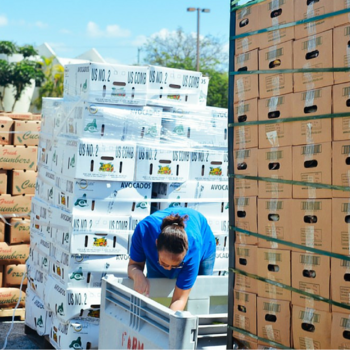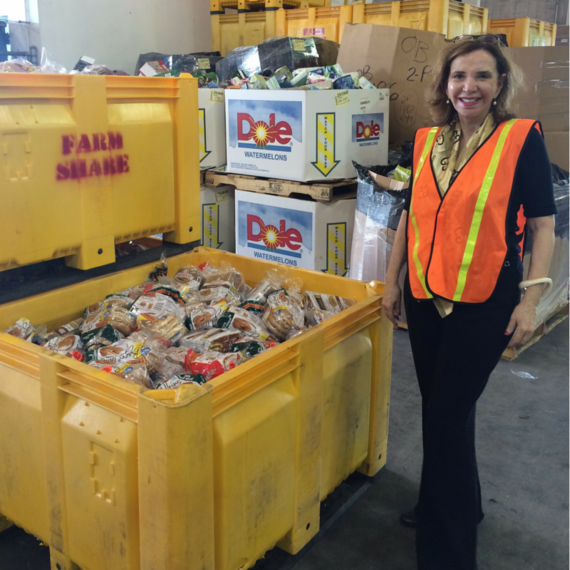 Patricia Robbins, standing by a bin of donated breads.

Farm Share is a model for the country of how to end hunger and reduce waste. As Patricia Robbins, President and CEO of Farm Share, put it , "Considering how much food our country produces, there is no excuse for anyone to be hungry." We have the resources we need to solve pervasive hunger. We just need to commit to taking the issue on.
If you'd like to make a donation to Farm Share, please click here.
REAL LIFE. REAL NEWS. REAL VOICES.
Help us tell more of the stories that matter from voices that too often remain unheard.