America's strength depends on workforce-ready, law abiding men and women who are able to defend our nation. Unfortunately, a new report shows the majority of America's young adults fail to meet at least one of these indicators. Across the nation, more than three-fourths of the states (37 states) earned a grade of C or worse based on the percentage of young adults who miss the mark. The new Citizen-Ready Index shows that, nationwide:
· 12 percent of adults aged 17-24 have been arrested at least once,
· Approximately 1 in 8 young adults aged 16 to 24 are neither employed nor in school;
· More than 70 percent of those between the ages of 17 and 24 cannot qualify for military service due to problems with obesity, education, drug abuse or crime.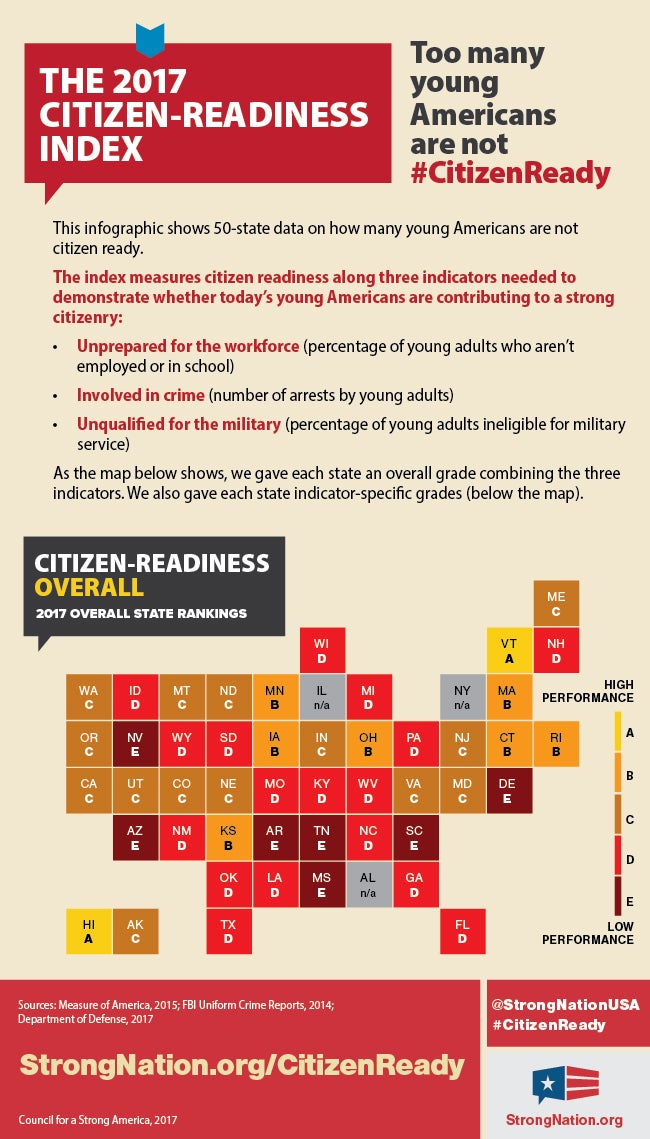 The 2017 Citizen-Readiness Index is produced annually by Council for a Strong America (CSA), a national, bipartisan, nonprofit uniting organizations comprised of five pillars of society that promote solutions to challenges that prevent Americans from being citizen-ready.
Mission: Readiness: more than 700 retired admirals and generals
Fight Crime: Invest in Kids: More than 5,000 police chiefs, sheriffs and prosecutors
ReadyNation: More than 2,000 CEOs and other business leaders
Shepherding the Next Generation: More than 800 faith leaders
Champions for America's Future: More than 400 top athletes and coaches
The 2017 Citizen-Readiness Index reveals how each of the 50 states ranks in the number of young adults who fail to meet the Citizen-Ready criteria (with Arkansas, Delaware, Mississippi, Nevada, South Carolina and Tennessee earning a grade of "E" based on collective indicators and Hawaii and Vermont earning "A"s).
"Yes, this report is full of bad news that the nation cannot ignore, but we don't have to take it lying down," said Lieutenant General Norman R. Seip, U.S. Air Force (Ret.), a member of Mission: Readiness, an organization of more than 700 retired admirals and generals. "Quality early education, strong families and good nutrition and physical activity in our nation's schools can put all of our young people on track to succeed in today's economy or the military if that's the path they choose."
General Seip released the report alongside fellow Mission: Readiness members Rear Admiral Robert Besal, U.S. Navy (Ret.) and Rear Admiral Eleanor V. Valentin, U.S. Navy (Ret.).
Representing more than 9,000 members of the five Council for a Strong America organizations, the retired military leaders recommended policy solutions to address our nation's short-falls in the Citizen-Readiness Index:
· Ensuring kids are ready-to-learn when they start school: CSA is calling on federal and state lawmakers to improve access to high-quality child care and preschool education by supporting Head Start and preschool development grants for states. Research shows the first five years of a child's life are the most important for brain development, and that all children need to develop pre-literacy and pre-math skills before they start kindergarten so they don't fall behind in later years.
"None of the problems highlighted in this Index happen overnight – each one can be traced back to years of academic struggles, sedentary lifestyles, or traumatic experiences in the early years of a kid's life," said Admiral Besal. "We want people to see the direct impact on national security when young people can't serve in the military, and on our economy when they're not fit for the workforce."
· Keeping kids healthy while they're in school: The Council urges schools to continue efforts to serve healthy meals and snacks, and to make physical activity a part of every school day.
"From its inception, Mission: Readiness has led the fight to ensure school meals and snacks are as healthy as those we hope kids are getting at home, and we have no intention of stopping now," said Admiral Valentin, who served in a variety of positions at Naval hospitals and medical clinics and was the 16th Director of the Medical Services Corps. "We need to double down on these efforts and ensure physical activity is part of every school day."
· Strengthening families and communities: Too many young parents are simply unprepared for the challenges of raising kids in safe, nurturing environments. That's why we need to support voluntary home visiting programs that connect trained mentors and nurses with young and expectant parents, who learn how to deal with stressful child-rearing situations and make their homes safe for kids. Extensive research shows these efforts improve life outcomes for parents and ensure kids are prepared to succeed in school and are less inclined to become involved in crime.
Congress can achieve this objective by reauthorizing the Maternal, Infant, and Early Childhood Home Visiting (MIECHV) program right now. Learn more at www.homevisitingcoalition.com
Popular in the Community