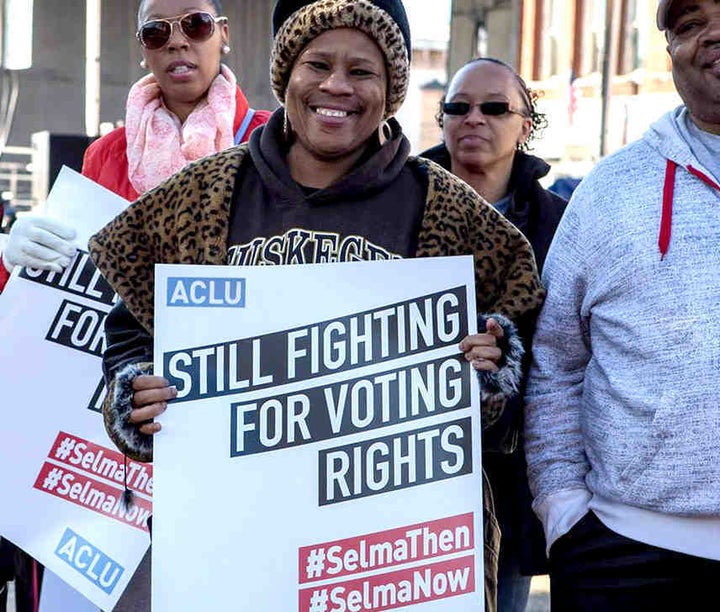 If Democrats want to win elections—which is how we'll be able to make positive changes and make America a more just place—we need to connect the dots. Two articles came out this week about black voters. One looked back to voter suppression in 2016, while the other was about black turnout in upcoming elections this fall. In order to achieve those electoral victories, we need to link these two subjects.
Mother Jones has a terrific piece of journalism by Ari Berman, who has been focused for some time on voter suppression, and who wrote a book on the struggle for voting rights since the passage of the Voting Rights Act. His article highlights the experience of Andrea Anthony, an African-American woman who should have been able to cast her vote last fall in Milwaukee, but was stymied by that state's draconian voter ID laws, which were passed by Republicans with the specific intent of suppressing the votes of poor and minority voters. A backer of the law, former state senator and now-Congressman Glenn Grothman, said openly that the law would help Republicans win elections: "and now we have photo ID, and I think photo ID is going to make a little bit of a difference as well."
After talking about Ms. Anthony's story, Berman examined the broader data her story represents and concluded that there was enough voter suppression in Wisconsin to throw the state from Hillary Clinton to Donald Trump. Yes, there were other factors, and without Comey it wouldn't have even been close enough to matter. But there was Comey, and it was close enough to matter. And voter suppression swung the state.
The data on Wisconsin is compelling, and I want to share here some national data compiled by Priorities USA (yes, they are a Democratic Super PAC, but numbers are numbers) also cited in Berman's article. Looking at the change in turnout from 2012 to 2016, states that did not change any voter ID laws saw an increase in turnout of 1.3 percent, while states that made voter ID laws more strict saw turnout drop by 1.7 percent. That is pretty compelling evidence suggesting the extent to which these laws had an effect on the election. Given what we know about the groups who are most likely to be prevented from voting by these laws, we also know that these laws cost Democrats significant numbers of votes.
From the same study, on black voters specifically:
Across the board, turnout decreased more between 2012 and 2016 in counties with higher population percentages of African Americans, but this drop-off in participation was amplified in states that changed voter-ID laws, and was most pronounced in states that changed voter ID laws to strict. In counties where African Americans make up less than 10% of the population AND there were no changes to voter ID laws, 2016 turnout was up +1.9% from 2012, but in similar <10% African American counties where ID laws changed to be strict, total turnout decreased by -0.7%. In counties where African Americans make up more than 40% of the population, however, 2016 turnout was down -2.2% from 2012 in states where ID laws did not change, but down -5 points in states where ID laws changed to be strict.
One last piece of data from the Berman article concerns media coverage, and you won't like it. A Media Matters study looked at stories about voting on all national news broadcasts, morning shows on national networks, and nighttime cable news shows that aired from July 2016 to June 2017. Guess what percentage of these segments discussed "the impact voter suppression had on the 2016 election"? If you said 8.9 percent you'd be right. How about the percentage that focused on "Trump's false claims of voter fraud and noncitizen voting"? That would be 70 pervent. As in seven-zero. Almost eight times as many.
This post's first paragraph also mentioned an article from this week about the upcoming fall elections. It featured Barack Obama's return to the hustings, as he spoke at rallies for Democratic gubernatorial candidates in New Jersey (Phil Murphy) and Virginia (Ralph Northam). The article's author noted Democratic concerns about black voter turnout, citing "stern warnings that African Americans may not come out in force on an Election Day that is just three weeks away."
The article also discussed the Alabama Senate race between Roy Moore (whose awfulness is beyond capacity to characterize in an adjective here) and Democrat Doug Jones—the man who finally brought to justice the Klansmen behind the terrorist bombing of the 16th Street Baptist Church in Birmingham that murdered four black girls in 1963. On that race, Birmingham's mayor-elect—a 36-year-old African American rising star named Randall Woodfin—commented: "There is not one person in Birmingham who disagrees we need Doug Jones. The issue is motivating them to come out and vote for him." Woodfin, who just defeated a long-serving incumbent and clearly has his fingers on the pulse of the city's voters, said that African-American voters are "looking for people to fight for their issues." Phillip E. Thompson is the president of the NAACP in Loudoun County, Virginia, and said this about the level of black voter engagement: "I'm just not getting the vibe on it. Not at all."
A statistical analysis done by the political scientists at the Washington Post's Monkey Cage found that if black turnout in 2016 had remained at 2012 levels, Hillary Clinton would have won those magic three states of Wisconsin, Pennsylvania, and Michigan, and Donald Trump would be out on the golf course—well, maybe a bit more often, and without the Secret Service. It should go without saying, but I'll say anyway that I'm not blaming black voters here. Voter suppression played a part in this, and ultimately, if we must distribute blame, it's up to candidates and campaigns to motivate and get voters to the polls. More important than issuing blame, however, is understanding what happened and doing something about it.
And that's where the connection between the two articles comes in. One thing Democratic candidates and leaders must do better is to emphasize the vital important of the issue of voting rights. They must consistently characterize it as a crisis that must be addressed right now. Democratic candidates must highlight the efforts already underway, and they must support those efforts in tangible ways. They must identify these outrageous Republican-sponsored measures to suppress the vote as a dagger aimed at our democracy, aimed at overturning the progress won by the blood, sweat, and even lives given by civil rights warriors, and which are aimed at taking us back to the days before the Voting Rights Act.
Fighting for voting rights and making that fight a core campaign issue serves two interconnected purposes. First, doing so will reconfirm for African-American voters that Democrats are the only party fighting for racial justice, fighting for their rights and for the equal rights of every American, while Republicans fight to do the opposite. Doing so will hopefully increase black turnout and black votes for Democrats—thus putting them in a position to win these fights. Second, separate from the campaign trail, making actual progress in overturning these laws will also mean more eligible voters will be able to vote, thus increasing votes for Democrats. Winning elections is ultimately the only way to make progress on voting rights, as doing so enables Democrats to both reshape the legislature that makes the law, and the judiciary that decides on their constitutionality.
My hope and wish is that a good number of voters of every race will recognize how unjust and undemocratic it is to suppress the vote, as well as to create electoral lines that favor one party over another—i.e., gerrymandering. That may well be a wish that goes unfulfilled. However, black voters above all know how precious voting rights are. Democrats across the board need to show that they do as well.
REAL LIFE. REAL NEWS. REAL VOICES.
Help us tell more of the stories that matter from voices that too often remain unheard.