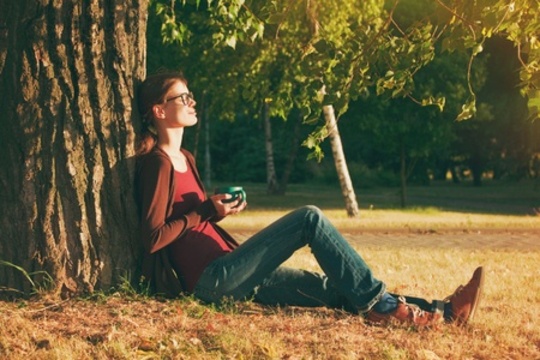 How often have you come to the end of the summer feeling disappointed?
I believe few of us escape regret after these months have flown by and we're yanked once more into the most demanding months of the year. But not this year ~ I promise. Are you with me?
So here we are again in the first days of this blessed season. This year I'm determined to make the most of it. Here are last summer's unkept promises, but this year these and more will happen because I'm going to stick my neck out and promise to give you a full report after it's over.
Sit in my favorite garden chair and read every day, even if only for a bit.
Take a whole day to go for a hike in the mountains.
Once a week make a big cup of coffee, go to the park, and gaze at the sky.
Invite more people to enjoy simple meals by our pool.
But it's not easy. Last Tuesday after a long weekend in Aspen to celebrate our 35th anniversary, I awoke filled with energy and happy to tackle my pile of tasks. Later feeling proud after a productive day, I found Tim swimming laps in the pool. I said, Well, somebody has the right idea ~ good for you! ~ but thought to myself, What's wrong with this picture?
Instead of integrating the relaxation, blessings and love of the weekend into my first day back (as he had done) I spent most of the day at my desk, yet again intent on getting as much done as possible. In spite of the fact that one of my three Best Year Yet Guidelines this year is Enjoy life.
Summer is the most enlivening time, isn't it? It's so natural to want to slow down, contemplate, meditate, read, walk ~ and enjoy ourselves.
As F. Scott Fitzgerald said in The Great Gatsby,
And so with the sunshine and the great bursts
of leaves growing on the trees, I had that familiar conviction
that life was beginning over again with the summer.
Let's make the most of this time of renewal as the benefits are many:
Greater sense of inner calm
Increased fitness as we go outside and move
More clarity as we expand our horizons in these warmer, longer days
Time to read, think, learn and inspire
Peace that comes from enjoying each moment
Make a list of your summer promises.
Choose someone you'll be accountable to.
Add one summer enjoyment action to your To Do List every day.
Above all I recommend that if you haven't ever made a Best Year Yet® plan (or not done so for a while) that you do so soon. In the process of making your one-page plan for the coming year, your true motivation for letting yourself enjoy your summer will become clear to you.
I'd love to hear about your experience of summer or your plans to make sure you enjoy summer this year! Either leave a comment by scrolling to the bottom of this page or write to me directly at jinny@bestyearyet.com.
Here are two steps toward having your best year yet:
Get my book Your Best Year Yet! ‐‐ to learn and apply proven concepts for achieving what matters most.
Join the Best Year Yet global community to create and follow-through on your plan and inspire others to do the same ‐ subscribe here.
Related