Complying with the tax code costs the United States a cool trillion dollars per year. That's the entire GDP of Mexico, wasted because of the sheer complexity of our tax code, which runs to 74,000 pages or so when taken with the IRS policies and parts of the CFR (Code of Federal Regulations) that bear directly on it.
As for those penalties that the IRS collects from us, largely for making honest mistakes and not rectifying them in time - they total up to the GDP of Estonia.
Think about that - about the shear human cost and waste - all the good not done for others, all the time not spent with families, all the industrial production foregone - because our politicians can't wrest themselves away from the special interests and campaign donors, or put the well-being of Americans before their re-election or their preferred political ideology.
Disgusted by this state of affairs, a few folks from an outfit called the Tax Revolution Institute are about to draw a little attention to the problem.
They won't be marching in the street or writing letters to politicians to explain the need to solve this problem, knowing full well that they are utterly incapable of working out how.
Rather, their protest will be altogether more sedentary and civilized.
They are just going to read it.
... But they are going to do so outside the IRS building in DC from dawn to dusk on Tax Day, April 18th, and they're going to livestream the whole event on their website at TaxRevolution.us. Now that, I'd like to see... but probably not for the full 14 hours...
It must be for real, because there's hastag:
They will have the hastag #ReadTheTaxCode and the entire tax code with them... along with, I hope, plenty of water.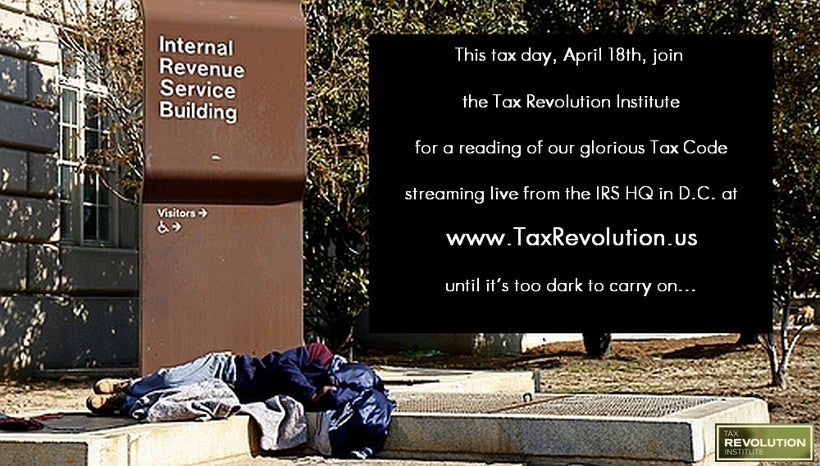 Calling all HuffPost superfans!
Sign up for membership to become a founding member and help shape HuffPost's next chapter
This post was published on the now-closed HuffPost Contributor platform. Contributors control their own work and posted freely to our site. If you need to flag this entry as abusive,
send us an email
.