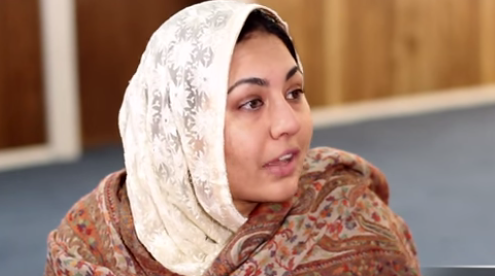 About a year ago, a friend of mine had recently converted to Islam and was to be married at the local Islamic Center. She asked me if I knew of any resources she could share with her non-Muslim friends and family on what to expect when visiting the Mosque. I pointed her to a few great resources I knew about and she proceeded to craft a pages long and cumbersome and intimidating email. She later found that not only was this information way too much, it scared some friends into attending for fear of messing up.
I'd heard this sentiment before and it got me thinking: why not use social media to address this problem by breaking down barriers between religious traditions and then create a safe and informative way to approach encountering interfaith?
We can all agree that the most meaningful way to break down barriers is to build bridges, but that can't happen only on a tablet screen. Sometimes, you just need to meet face-to-face. Studies show that people are curious and open to visiting and learning about other religions, yet are reluctant due to lack of knowledge of how to visit, and fears of inadvertently being disrespectful.
With anti-Muslim sentiment is at an all-time high in the US, we are seeing direct effects of this in Spokane, culminating in actions by religious communities such as our local Mosque using barbed wire to line its property. It is clear that education and meaningful experience with marginalized groups in Spokane is essential to address hatred, and build community.
So the Spokane Interfaith Council decided to do something about it. In conjunction with the Interfaith Youth Core and community partners, we are putting together a video series designed to help people learn and meet their neighbors. Not only is the first organized video project of its kind to be done in Spokane--it will be the first organized city-wide project anywhere.

Already, we've had hundreds of views online and community members join us for gatherings in the local Synagogue, Gurudwara and plan to see even more in the local Islamic Center next month.
It's been inspiring sharing the stories of our diverse communities, highlighting their contributions to Spokane. Sikhs have farmed in the area for a hundred years. Jewish pioneers helped start the founding of Spokane. Muslims have been integral professors and teachers at local universities. Buddhists helped build railroads and organize community projects. Sharing these stories is a great way to begin building meaningful bridges in our town and allows visitors to make new friends. Videos can be seen here
By offering an insightful and respectful experience to the viewer on how to visit houses of worship in Spokane, we can begin to create meaningful relationships between neighbors. This just isn't an imperative for people of faith, but for all Americans. If we don't actively try to meet ALL our neighbors, then we aren't building community and living up to our values.
Calling all HuffPost superfans!
Sign up for membership to become a founding member and help shape HuffPost's next chapter