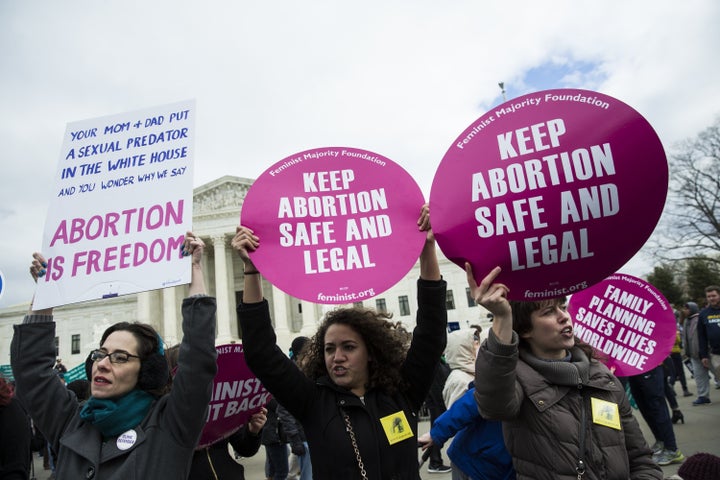 But according to Planned Parenthood NYC, despite the groups' good intentions, showing up to counter protest isn't actually helpful. 
Adrienne Verrilli, Associate Vice President of Communications at Planned Parenthood of New York City told The Huffington Post on Tuesday that too many cooks in the kitchen can be really detrimental to a patient's experience ― and the patient's experience is their ultimate priority.  
"Our goal is making sure our patients are comfortable," she said. "The quieter it is outside, and the less people are engaging with each other, the better it is for our patients." 
Verrilli said that she's expecting upwards of 250 anti-abortion protestors on Saturday. Fortunately, Planned Parenthood NYC has a good working relationship with their local law enforcement, who make sure the anti-abortion protestors stay across the street from the clinic and don't become aggressive or violent.
Planned Parenthood NYC also employs a volunteer clinic escort program, where volunteers wear bright pink vests, and stand outside the clinic to walk the patients in.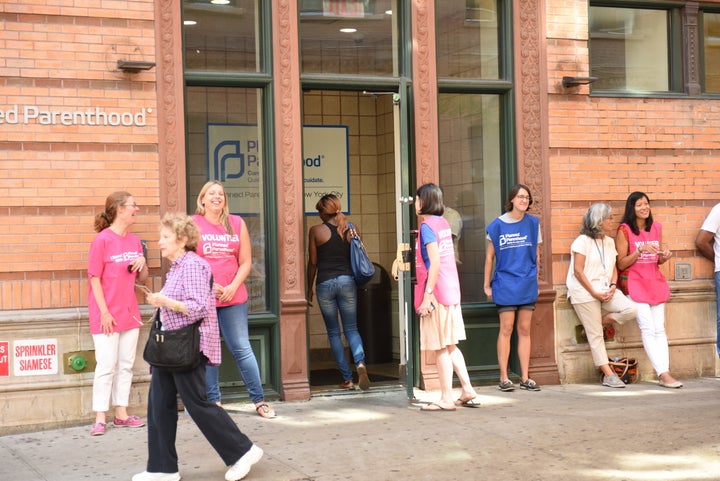 Counter-protestors wear no such uniform, and according to Verrilli, aren't easily differentiated from the anti-abortion protestors. When counter-protestors are present, patients don't see them as helpful, Verrilli said, "they just see chaos." 
For some clinics, though, counter-protestors can be beneficial. 
Calla Hales, the Administrator at A Preferred Women's Health Center in North Carolina, is no stranger to overwhelming anti-abortion protests. Seven days a week, longtime anti-abortion extremists like Flip Benham flock to her Charlotte-based clinic, set up speakers, and harass patients.
APWHC also has a volunteer clinic escort program, and, Hales told HuffPost on Tuesday, has a working relationship with the local Pro-Choice Charlotte group of counter-protestors. But that relationship functions because the counter-protestors respect the clinic's needs.
"Our regular counter-protestors aren't the groups of people that come out and yell," she said. "They're not trying to cause a problem." 
At APWHC, the level of anti-abortion protesting is indeed overwhelming ― on top of the anti-abortion protestors is the presence of mobile Crisis Pregnancy Centers, whose employees stand on the street and try to divert patients into their massive purple RVs before they can get to the clinic. Those mobile CPCs ultimately mislead women into thinking that they're "pro-choice" when in actuality they have a strong anti-abortion agenda. The pro-choice counter-protestors stand in front of those RVs with supportive signs that give patients directions and tell them to forge ahead. 
Like the clinic escorts, the pro-choice counter-protestors are there daily to support the clinic.
"It's a small group that shows up regularly with directional signs," Hales said.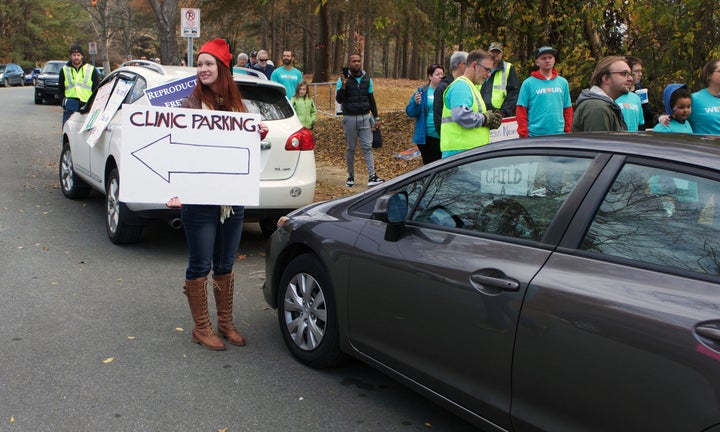 Hales reiterated that without respectful and clear communication between the protestors and the clinic, no one would really benefit. Hales has worked with the counter-protestors since July 2016. 
Though both clinics vary in their relationship to counter-protesting, they both emphasize the importance of dialogue between their clinics and pro-choice groups who wish to support them.
"We're so grateful and feel so loved," Verrilli told HuffPost about the influx of people who want to counter-protest on Saturday. Neither Planned Parenthood nor APWHC want to isolate themselves from their pro-choice supporters. Pro-choice infighting is certainly counterproductive when so much is at stake for abortion rights ― earlier this year, Paul Ryan announced plans to defund Planned Parenthood, and under the Trump administration, various states have already attempted to pass damaging anti-abortion laws. 
To that end, both Planned Parenthood and APWHC said they want to work with the pro-choice community to make sure everyone's voices are heard without it affecting patients' well-being. 
Verrilli said that there are myriad other ways to be involved in supporting abortion and clinics like Planned Parenthood. For example, rather than counter-protesting, one group has organized a pro-Planned Parenthood rally in Washington Square Park, and it's been approved by Planned Parenthood NYC. Verilli also encourages supporters to call and write to their local lawmakers. 
Ultimately, it would seem that the best way to support abortion rights is to listen to what each individual clinic wants and needs which, in this case, means not showing up to counter-protest unless you've been explicitly invited. 
"Our patients are coming for health care, they're not coming for a political statement," Verrilli said. 
Calling all HuffPost superfans!
Sign up for membership to become a founding member and help shape HuffPost's next chapter
BEFORE YOU GO
PHOTO GALLERY
Facts About Planned Parenthood