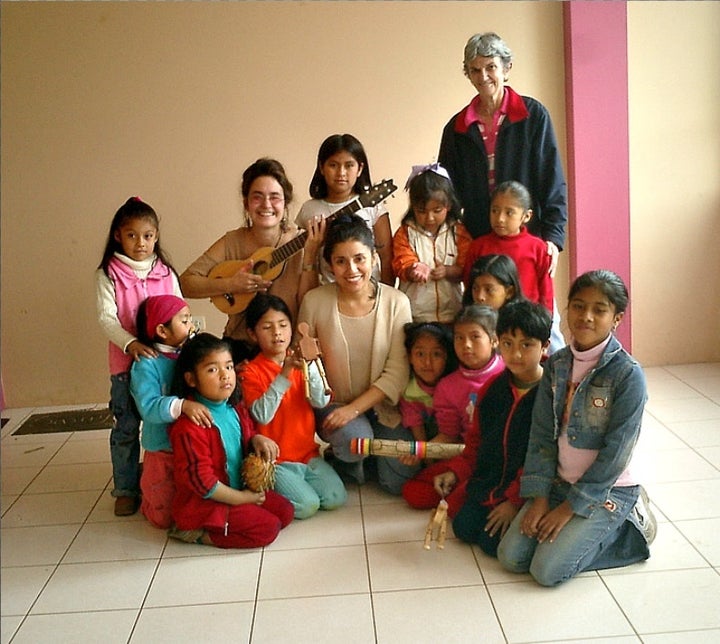 Music can uplift the soul. It can move people to tears, inspire one to dance, and transform the mood of a room. Music is powerful.
Music's influence reaches not only the ears, but also the minds of its listeners, young and old. Daria Marmaluk-Hajioannou, an award-winning world music performer, has developed a unique approach to open children's minds to global cultures. Daria teaches diversity and tolerance to kids through the universal language of music. She found that introducing children to world music provided them with an effective way to connect to other cultures.
Her background inspires this mission. Having spent her youth in Peru under a military dictatorship, she saw extreme violence and racial prejudice. She observed many kids who were ashamed to speak their own language because others treated them like they were less then human. Daria surmises, "Although music can't tackle all these huge issues, it can tell kids that their traditions and culture are part of a world of valid and beautiful cultures. When you're doing this though drumming, singing or music-making, it's easy and fun to explore another culture through music and instruments."
She starts her interactive shows and workshops with instruments from around the world. These instruments are easy to play, pique children's curiosities, and engages them through sight, sound, and touch. Some of these instruments include: Quijada de Burro (Afro-Peruvian instrument made from the jaw of a donkey), Shekere (African instrument made from a dried gourd strung with beads or seeds), and Chapchas (Andean instrument made from the toenails of goats).
These unique instruments provide opportunities for kids to interact. At Daria's concerts, children will swarm around the instruments to touch or play them. They'll ask, "Why do they use that?" or "What does that mean?" The experience offers a great place to begin meaningful conversations about cultures as well as encouraging respect instead of fear and ignorance.
Daria notes, "I tell kids about Singing Bowls from Tibet, Talking Drums from Africa, Bone Guiros from Mexico, and Middle Eastern drums. Not once has a child said, 'Ewww!' or 'Yuck!' about the cultures of origin. This really has confirmed the statement that I love: 'No child is born a racist.' When I see the wonder and excitement in their eyes, I know it's possible for them to take this feeling about musical instruments that are fun to play and translate it to cultures that they will experience as they go through their day in their own community."
Daria has traveled to over 18 countries to teach children about world cultures through music. When visiting a location, she works with the community and elders to ensure her performances also represent their culture. Her shows include favorite folk music songs from around the world such as "La Bamba" and "The Lion Sleeps Tonight." She sings in English but also in Spanish, Arabic, Hebrew, Zulu, German, Quechua Indian, and Oneida (Iroquois).
Schools represent one of the most popular venues for Daria's services. She also performs at fairs, festivals, museums, libraries, religious institutions, recreation centers, and parks. Daria recalls, "One of my favorite gigs of all time was playing for a Jewish/Hindu family day. A Philadelphia area synagogue wanted to get to know the local community better so they planned a picnic in cooperation with the local Hindu group. They wanted music that would appeal to children from both groups."
She continues, "I've played in art museums where my world music instruments have fit in with the cultural art work that they're exhibiting. I also performed at the University of Pennsylvania Museum of Anthropology and Archeology where they wanted to see how the cultures they represented make music in the present day. It was really fun to bring their exhibits alive in an authentic way."
The 2007 "Parent's Choice" winner has recorded and released 7 children's music CDs, 3 books and multiple "mini-courses" about music around the world. All of these show dignity and respect to people around the world. In addition to her CDs, Daria has a resource-rich children's music website as well as the Daria Music app. Both offer fun interactive activities, games, songs, and educational resources. For more information on Daria and how she teaches kids diversity and tolerance through music, please visit www.dariamusic.com.
Popular in the Community