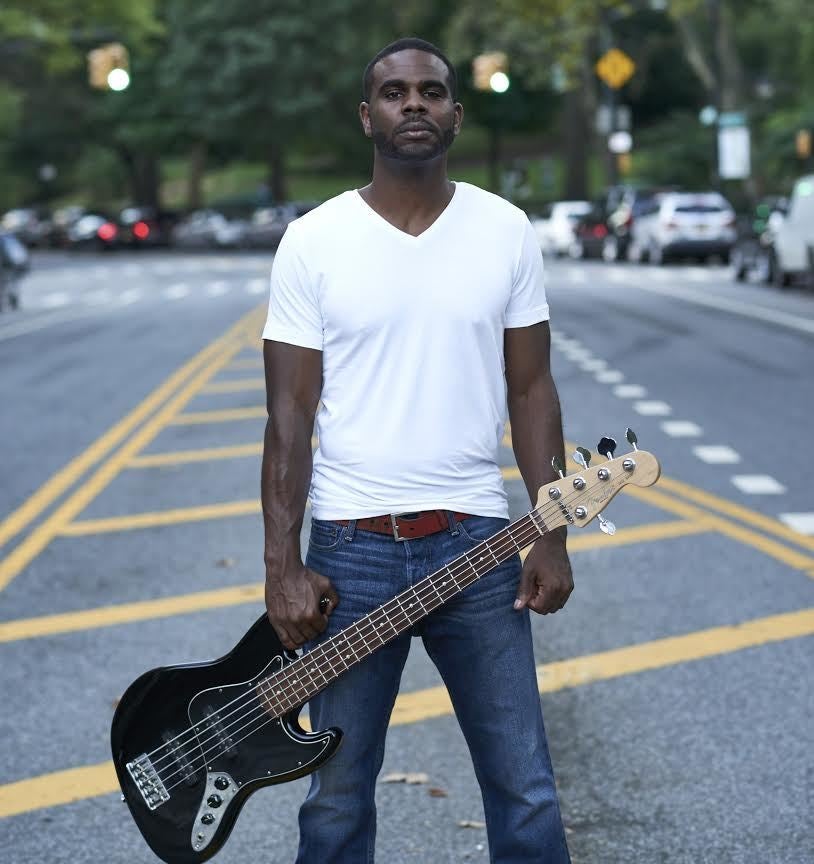 I have big dreams and big goals. For me, I have found that surrounding myself with like-minded people is essential to staying motivated, inspired and on track.  My circle is made up people who are winning at life, at work, in their communities and more. I am not worried or intimidated by the success of others because I find it encouraging. VFerg, an educator, artist, multi-instrumentalist, and producer who has placed songs on TV shows for major networks such as FX and TNT and jammed alongside the likes of Erykah Badu agrees. His new song, "Birds of a Feather" feat. Wes Vector, takes flight on a funky bassline and anthemic hook that asks the question, 'Who's your crew?'
His music hints at something much bigger, echoing the rumblings of a much larger and more significant movement. It's also spilling over into political debate too, forcing people to look at those they associate with a little closer.  
This week, VFerg is joining rapper, Dee-1 on his "SlingShot David Tour" in New York City, I wanted to find out how his crew helps him 'win'.
Q: Tell me about your background. I was born in Fayetteville NC, into a military family.  We also lived in Germany for six years and having only one radio station for American music forced me to develop a diverse musical palette.  Next stop was Georgia where I taught myself to play guitar and I got my start playing in Rock/Metal bands.  Later, I majored in Finance at Morehouse College.  While there, I was the intern of an intern at a major recording studio where I learned how to record and produce my own music. I worked on Wall Street post-graduation but at the same time, I also started to land high-profile network TV placements for music on FX and TNT shows like Blue Mountain State, Franklin & Bash, and more. My passion for creating led me to quit my corporate gig and pursue music while working as a teaching artist. Q: What is the message behind "Higher Level Music?" Higher Level Music is an attempt to bring back music with a message that appeals to everyone. I want to challenge people to use music in a responsible way.  Music can be used to push people to action or increase introspective thought while still being something funky you can dance and groove to. Words have power and can program the subconscious.  Why not choose higher level content? That's what higher level music is about. 
Q: What is the song, "Birds of a Feather" about? I heard the phrase 'Birds of a Feather' on Tim Ferriss's "The 4-Hour Workweek" podcast. He always says there's some gold in most cliches on a deeper level. I have a great deal of appreciation for who my crew is. Everyone's just working with a vibe of positivity around them. What those around you do and believe does rub off, so you want to make sure it's always love.
Q: You play the bass, guitar, and keys. Your music seems to border rock, hip-hop, and R&B. How do you describe your sound? Imagine if The Roots and N.E.R.D. were having a jam session on a rooftop in Harlem, it's that vibe.  Also, there's a sense of danger whether I'm playing live or in the studio. I can change up an entire track or live performance instantly based on my mood at the moment or the energy of the crowd. I love that. At least 30% of my performance will be verbally and/or musically freestyled. If you come to my show what you're going to see and experience is something I call "Creative Public Offering". I'll transform the room into a hyper creative environment of raw expression and energy. Q: You're an artist and educator who teaches middle school? Tell me more. I am a teacher of Social Justice at a charter school.  I am part of one of the newer models of education that is making students more aware of the social issues around them, in their communities and the world.  Music is a powerful tool against social injustice and I am fortunate to be in a position where I am able to help students develop their own forms of activism. 
Q: Dee-1 is a rapper/artist who has had tremendous success. You'll be joining him for the NYC date of his "SlingShot David Tour." How did that come about? Dee-1 is actually one of my best friends.We challenge each other in terms of personal and spiritual growth. I've known him since hurricane Katrina and we worked on a few music projects early in his career.  We've had many impromptu jam sessions but had not performed together on a big stage. He invited me to join him on part of the tour and it's going to be epic.  Dee-1 The SlingShot David Tour Featuring VFerg Thursday, September 22nd 8pm at S.O.B's And, be sure to check out the new single, "Birds of a Feather." Learn more about VFerg here or follow him on twitter.
Calling all HuffPost superfans!
Sign up for membership to become a founding member and help shape HuffPost's next chapter
This post was published on the now-closed HuffPost Contributor platform. Contributors control their own work and posted freely to our site. If you need to flag this entry as abusive,
send us an email
.