History buffs seeking outdoor adventure will believe they've struck gold when visiting the city of Alpena on Michigan's east coast. Alpena is rich with both -- many times in the same activity or attraction.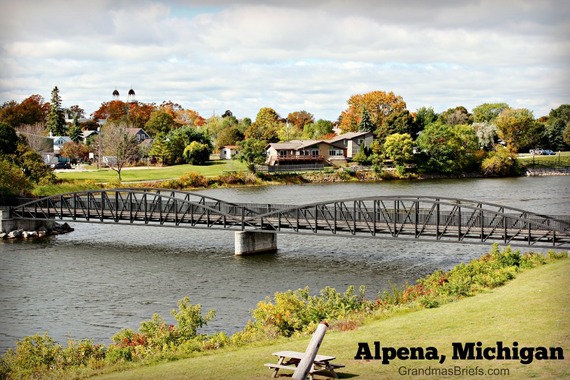 The perfect description for this quaint community on the edge of Lake Huron comes by way of Mary Beth Stutzman, longtime resident and CVB president. "Alpena is that place where history and heritage collide with relaxed outdoor adventure," Mary Beth says.
Such glowing words are to be expected from the gal charged with promoting her community, of course. But after spending several days in Alpena last month -- courtesy Pure Michigan and hosted by Mary Beth and her endlessly informative assistant, Jessica Smith -- I second Mary Beth's spot-on statement.
As Alpena is 66 percent water, with Lake Huron on the east border and myriad lakes and rivers throughout, water-based adventure and maritime history serve as the primary components of the collision of which Mary Beth speaks.
For starters, historic lighthouses -- one famously haunted -- dot the surrounding community, providing unrivaled experiences for those who enjoy history as well as adventure. The structures are majestic sites to behold from afar, of course.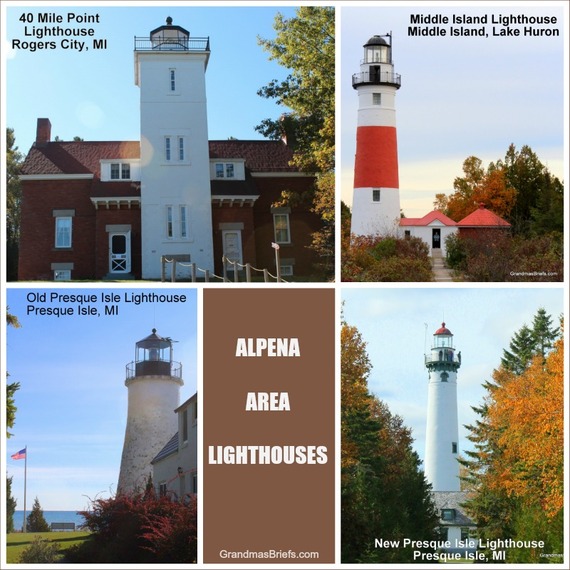 Additional treats lie inside, where the bulk of the history -- and aerobic opportunity -- await, particularly for folks willing to climb the sometimes hundreds of stairs up to the tower. And who wouldn't be willing when rewarded with awe-inspiring views?
How do lighthouses and outdoor recreation meld? Because you can hike, bike, and picnic on their impressive grounds, many with multiple outbuildings. Plus, you can't get outdoorsier than touring the towers by kayak. Kayaks can be rented from numerous shops in the Alpena area, all more than willing to provide maps of where to go and what you'll see.
A top spot for kayaking -- and biking and canoeing and hiking and birdwatching and fishing and snowshoeing and more -- is Island Park, sometimes called Sportsmen's Island. The 17-acre nature park in Thunder Bay in the center of the city is the former home of Alpena's last Native American tribal chief, Sah-gon-ah-ka-to. The park, surrounded by a 500-acre wildlife sanctuary, provides unmatched scenery and solitude throughout the year for outdoor adventure.
Avid bicyclists will appreciate not only the trails on historic Island Park, but along the Alpena Bi-Path, too. bikeThe paved path of more than 18 miles that offers access to all the waterfront parks throughout the city, wends through downtown, has an impressive stretch running along the the Thunder Bay River -- with unobstructed views of Lake Huron along the way. Bikes can be rented at the Great Lakes Maritime Heritage center, but runners, walkers (of the non Walking Dead sort), rollerbladers, and skateboarders are welcome on the path, too.
Speaking of the Great Lakes Maritime Heritage Center, it's the visitor center of the Thunder Bay National Marine Sanctuary and yet another Alpena destination that epitomizes the combination of history and outdoor adventure. The northeast coast area of Lake Huron has been dubbed "Shipwreck Alley" due to the numerous shipwrecks lying at the bottom of the waters there. Thunder Bay National Marine Sanctuary -- the nation's only freshwater Marine Sanctuary -- protects the collection of more than 200 ships, from freighters to schooners and many in between.
The 10,000-square-foot Great Lakes Maritime Heritage Center provides information and interpretive exhibits on -- as well as artifacts from -- those amazing vessels now perfectly preserved underwater.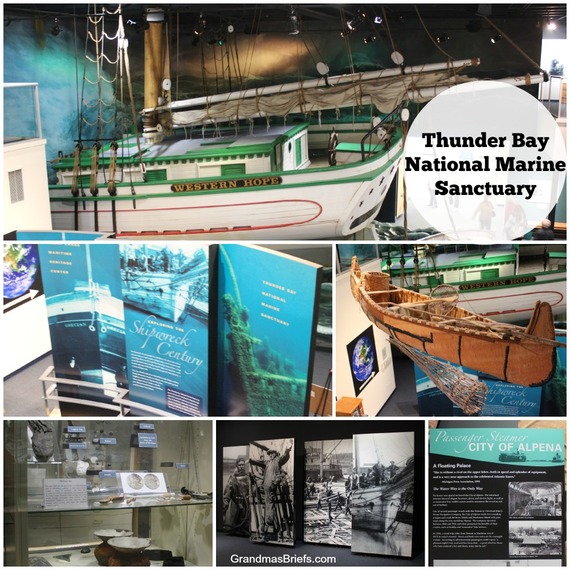 Many of those underwater ships can be viewed -- and extensive history of them learned -- by hopping aboard the glass-bottom Lady Michigan offered by Alpena Shipwreck Tours to experience Shipwreck Alley and the treasures beneath the surface. An even more up close and personal option is to scuba dive to the deeper ships or snorkel, kayak, paddleboard, or canoe around those in more shallow waters.
Historic treasures of a geologic sort can be found without getting wet at Rockport State Park Recreation Area. There, 400-million-year-old fossils from the Devonian Period stretch as far as the eye can see in the park's abandoned limestone quarry -- and visitors are invited to take home up to 25 pounds of the treasures.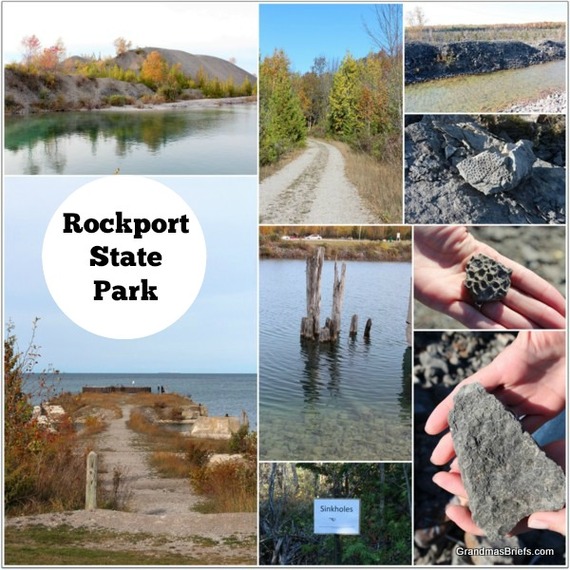 Rockport visitors are also invited to investigate -- from a safe distance -- the many geologic wonders known as sinkoles on the grounds; fish and launch kayaks from the deepwater port and pier; hike and bike the property's more than 4,000 acres; brave a peek at the bat hibernaculum where three species of bats hibernate; and spot planets, stars, meteors and more in the certified "Dark Lands" where light emissions provide unmatched darkness for celestial viewing.
Of course, all the adventure and exploration of historic Alpena works up an appetite. Not too surprisingly, even the dining options provide heaps of history on the side.
One of my favorites while in Alpena was the John A. Lau Saloon -- Alpena's oldest historical saloon. Not only did the delicious pub-style food hit the spot, the goosebump-inducing tales the current owner told me of resident ghost "Agnes" regularly visiting the saloon originally owned by her husband satisfied my appetite for Alpena's haunted history.
Alpena satisfies appetites of all sorts, especially hankerings for history and outdoor recreation. Details on Alpena's offerings for buffs of both (and more) can be found at VisitAlpena.com.
Related