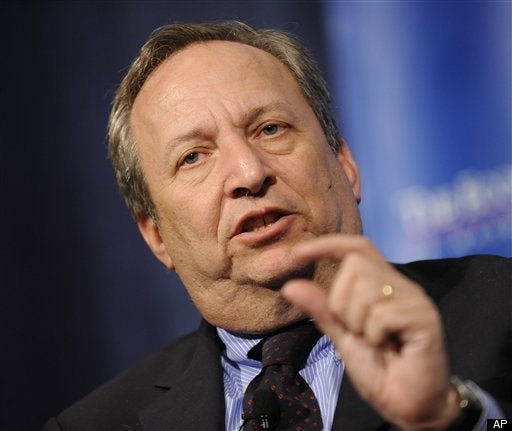 Enough already of that steady stream of pie-in-the-sky comments from the Administration's team of economic dreamers.
The latest came this past weekend when Lawrence Summers, the White House's chief economic adviser, emphatically declared in a TV interview -- which was conspicuously devoid of any ifs, ands or buts -- that the recession was over and spring would produce renewed job growth.
Granted, a recession, as we know it, is generally defined as two consecutive quarters of negative GDP growth. And since the past quarter showed 2.8% growth (which a number of economists expect to be revised downward), the use of the R word, as definitions go, is inappropriate.
But what is appropriate, some skeptics say, is the need to recognize what the gloomy facts of financial life are really telling us -- namely, that this economy, the soothing words of the so-called financial experts notwithstanding, is still in a state of deterioration and Summers is out of touch with the reality of what's going on with U.S. households.
The undeniable fact is that the economy remains in ill health -- as demonstrated by steadily rising evictions and foreclosures, hordes of tardy mortgage payments, credit card delinquencies galore, the inability to obtain credit and 23 consecutive months of job losses. And all this financial sickness, as we all know, is what recessions, not recoveries are all about.
There's a strong feeling in some quarters that Summers is wearing rose-colored glasses and could probably use the aid of a seeing-eye Lucky or Lucy when it comes to the art of practicing sound economic crystal-ball gazing. Indicative of this, Summers was part of the group that led the President last January to foolishly tell America that the unemployment rate (now 10%) would not top 8%.
In a biting commentary he wrote in reaction to Summers's TV comments that the economy was healthy, Peter Morici, professor of economics at the Robert H. Smith School of Business at the University of Maryland, took pot shots at the President's top economic adviser. Taking note of the fact that seven million American families are behind on their mortgages and at risk of foreclosure, further that 25 million Americans wanting full time work can't find it, Morici says he doubts many of them would share Summers's rosy view of the business climate.
"In Summers' America, the facts are only an inconvenience," he commented.
All together, GDP is up, Morici observes, but all the gains seem to be going to the bankers, while the rest of the economy appears to be shrinking and Americans keep losing their homes and jobs. Santa Summers's sleigh, he went on, seems not to stop for Americans who don't work at Goldman Sachs, where the average annual pay is $700,000.
On new job rehirings, Fred Dickson, a former Goldman Sachs strategist, reckons out-of-work Americans shouldn't hold their breath. The reason: Corporate America, he insists, will be reluctant to rehire until it gets a fix on the recovery in construction spending and a good handle on legislation such as health care reform and the energy reform bill. And none of this, he says, is likely to happen overnight.
Also taking issue with Summers's buoyancy on the economic and job fronts is Madeline Schnapp, director of economics at West Coast Liquidity tracker TrimTabs Investment Research.
Given the sting of an impending wave of resets on option ARMs loans, a lack of private sector growth to stimulate new job creations, continuing credit contraction, no immediate letup in foreclosure problems and the prospects of chronically high unemployment (with her projected jobless rate climbing to 11% by next summer), Schnapp figures the economy can't help but continue to sputter.
I happened to mention to my wife, Harriet, the sharp disagreement I found on the state of economic affairs between the President's economic advisers and some pretty savvy non-government economic trackers. She came up with what I thought was the best summation: "Now is the 'Summers' of discontent."
What do you think? E-mail me at Dandordan@aol.com
Popular in the Community