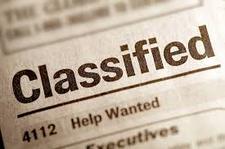 You may think I'm fancy, me with my Huff Post articles and all. But I promise you, Arianna has no idea who I am.
I have not arrived. But I'd like to, preferably before my carpal tunnel gets worse or too many potential readers leave the country, as they've threatened to if they don't like Election Day's results.
Dear Craigslist, ebay, jobs.com, and Jesus:
Please run the following classified ad as a public service to yours truly through the end of time, or until I get published:
WANTED: WCWSC (Writing Coach With Street Cred), a following, and flawless prose style. Must be highly skilled at craft as well as marketing to guide frustrated novelist/blogger/freelance writer, pulling her career out of publishing purgatory and at least to the pearly gates of, say, The New York Times Best Sellers List. Oxford comma affinity a must. I am for real; you must be as well. Should adore long walks, E.B. White, and Madeleine L'Engle but display proper disdain for living popular authors, especially "overnight" successes (you know who you are, Glennon Doyle Melton). Must also exhibit contempt for the word "platform" while nonetheless demonstrating how to achieve it. NO filters: Be ruthless with my words--tell me what works and what doesn't. Show me where I soar and where I fall down (lavish praise is acceptable). Magic wand a plus; Yoda-speak preferred but not required. Must be a fan of or at least understand me, my work, and my message--after you tell me what my message is. Non-smoking unless you want to teach me how to smoke. No unions, no games, no silly writing exercises. Qualified geniuses, fairy godmothers, and Elizabeth Gilbert only. Writing conference speakers and anyone who works on Scandal need not apply.
Calling all HuffPost superfans!
Sign up for membership to become a founding member and help shape HuffPost's next chapter