REVISITS PHRASES, PARABLES AND SAYINGS WANZ TWEETED WHILE TOURING ALL OVER THE WORLD WITH MACKLEMORE SINGING ON HIS MEGA-HIT "THRIFT SHOP."
BY GRAMMY AWARD WINNER MICHAEL "THE WANZ" WANSLEY
ARRIVES IN NOVEMBER FROM BOOKTROPE EDITIONS IN SEATTLE
"Courage is doing what you don't think you can. Faith is believing in what you can't fathom. Funny how the key to both is you."
SEATTLE - #THEBOOKOFWANZ, a poetic, inspirational book about the lessons he learned, written by Grammy Award Winner Michael Wansley, will be published by Booktrope Editions in November 2015 and now sold through Amazon Digital Services LLC as of July 9, 2016
In Michael "Wanz" Wansley's debut book, Wanz shares the lessons he learned that made him the resilient person he is today through a collection of phrases, parables, and sayings he tweeted while touring all over the world with Macklemore singing on his mega-hit "Thrift Shop." His moving message reaffirms that wisdom and strength come from constantly reinventing yourself and finding what you're made of through the courage to follow your dreams in #TheBookOfWanz.
"Wanz has long been a force in the Seattle music scene and in the world of the spiritually awakened. 'The Book of Wanz' collects his thoughts, and those of other thinkers, on living in the present, and letting go of the past. Pick up any page, and something in the book will make you think differently about how you can transform your life. It's as inspiring and as deep as Wanz's rich voice."
-- Charles R. Cross, New York Times best selling author
"Michael Wansley, aka The Wanz, shares advice and perspective in #TheBookOfWanz from his uniquely, singular life experiences. Some of his experiences are well-known, some are hard-earned, but all of his words come from the heart! Michael has an appreciation for what's important in life, and how to be true to ourselves so we can live our best lives."
-- Margo Myers, former News Anchor
It was a huge surprise to Michael that the director, Macklemore, and Ryan wanted to film him singing the hook of the song. This, by most accounts, made the song the classic "feel good" hip-hop song of 2013. On August 29, 2012, "Thrift Shop" debuted on YouTube where, to date, it has had over 790 million views, and went on to capture two Grammys.
For Michael, going from a "normal worker-bee" to star performer was "an experience," one that has had many twists and turns, ups and downs. One of Michael's touring partners encouraged him to tweet the phrases and analogies in this book to his growing fan base, so he did. That was how #TheBookOfWanz came to be. It is full of the observations and revelations of a man who waited almost forty years for his "big break" then got to share it with those he cared about... which was everybody!
Now that "Thrift Shop" has had its rise and fall, Michael, in addition to publishing his first book, has been writing more music and hopes to make his own successes with his own songs. Be on the lookout for the musical stylings of "The Wanz."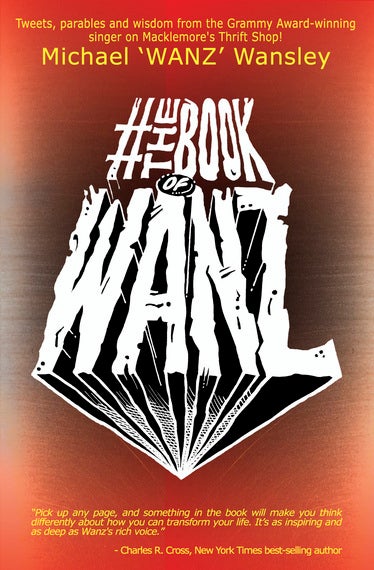 Calling all HuffPost superfans!
Sign up for membership to become a founding member and help shape HuffPost's next chapter
This post was published on the now-closed HuffPost Contributor platform. Contributors control their own work and posted freely to our site. If you need to flag this entry as abusive,
send us an email
.