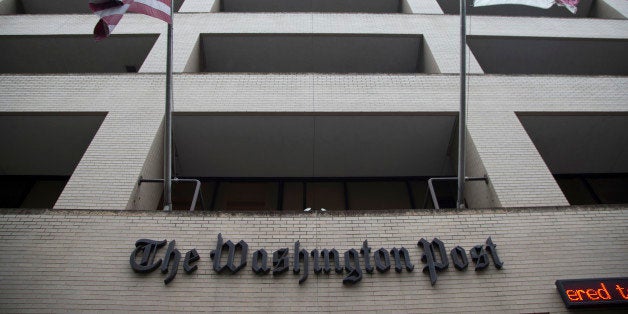 NEW YORK -- Steven Ginsberg, the senior politics editor for The Washington Post, said Wednesday his political staff "had a good election in 2012, but it's indisputable that we're in a better position for 2016."
Ginsberg was entitled to take a bit of victory lap after the Post announced it had poached top political reporter Dave Weigel from Bloomberg Politics, one of that site's marquee hires prior to launching last fall. Weigel's the latest addition to a political staff that has roughly doubled in size since 2012 and is considered a dominant media player this election cycle.

"We're in the position now where we go after the best political journalists in the country and Dave is one of those," Ginsberg told The Huffington Post. "Historically, the best political journalists have worked [at] The Washington Post and that's true again."

More than just an exclamation point to a months-long hiring spree, Weigel's move to the Post underscores the paper's revised attitude toward reporting as it has worked to reclaim its title as a leading source of political journalism. Weigel's first stint ended in 2010 after only three months, when emails he sent to now-defunct listserv JournoList, in which he made impolitic comments about some figures related to Republican politics and the conservative media, surfaced. He resigned, but the clear implication was that the paper didn't think he could be perceived as a fair chronicler of the beat he was covering.
Five years later, Weigel says he has matured as a reporter. That the Post is more than comfortable having him help craft its 2016 coverage suggests it has adjusted as well. Post editors described Weigel in a morning memo as bringing "his one-of-a-kind perspective and voice" to the campaign team. He'll also anchor a podcast.
It's a different type of campaign team from cycles past. But it puts the Post back in a familiar position, once again laying claim to housing some of the nation's top political reporting talent after years of concern about its future.
Since the days of Woodward and Bernstein, the paper has had standout political reporters -- like Dan Balz, who remains in top form after three decades. But Politico, launched in early 2007 by former Post stars John Harris and Jim VandeHei, knocked the paper off its perch during the epic 2008 election. The speedy upstart competed aggressively with the Post for political news just as the Post's newsroom was going through a period of contraction, with buyouts in the heat of the 2008 race and again the next year.

Ginsberg, a 21-year veteran of the Post, acknowledged "a dip" during that period. He noted, specifically, how the politics desk went through an "incredible transition" between the 2008 to 2012 elections, with just six reporters and editors remaining aboard from one team to the next.
He said the politics staff has been rebuilt in recent years through internal moves, such as bringing in reporters Phil Rucker, Roz Helderman and David Fahrenthold, along through hiring journalists such as Time's Karen Tumulty in 2010, and the Los Angeles Times' Tom Hamburger, in early 2012. Since the last presidential election, the Post has made a slew of new hires, including National Review's Robert Costa, the Los Angeles Times' Matea Gold and Politico's James Hohmann.

As it has staffed up, Politico has witnessed significant turnover, with several high-ranking editors departing this past year and three of its 2012 stars -- Jonathan Martin, Maggie Haberman and Alex Burns -- now working at The New York Times.

The Post's politics desk, and the paper more broadly, have benefited from resources provided by billionaire Amazon founder (and now-owner) Jeff Bezos. And the newsroom has been energized by executive editor Marty Baron, who joined from The Boston Globe in early 2013.

In an email to HuffPost, Weigel described the Baron-led Post as "just a fearsome, all-conquering machine -- in, you know, a friendly way!"

"I'm not just talking about scoops, but about this all-hands, insightful projects," he said. "Look at Ferguson, or Charleston, or Syria, or food stamps, or the strange/wonderful Romney comeback, and look at how the Post covered them. I was really awed by how they deployed people for those stories. From the outside, it was daunting. Did something interesting happen? I was sure I'd be reading the three-byline Post story within hours. I had a very good job, but this newsroom was incredible."

As for having reservations about rejoining a newsroom that was the site of a such a crushing professional moment, Weigel said he had none.

"The Post didn't owe me anything in 2010, and I'd screwed up," he said, adding that he was "more worried about finding a place in the sprawling Post Politics team." Post editors convinced him he would.
Popular in the Community