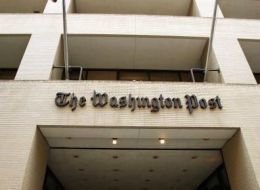 But now the Washington Post is on the case and they want you to know that both parties are equally guilty of the same thing, even if there's no evidence whatsoever of, you know, scandal or criticism or donor rebellion on one side. But, okay, here is a fact, from the headline: "Both national party committees spend big chunks on fancy meals, hotels, travel." I know! YOUR EYES HAVE BEEN OPENED.
A funny thing happens when you start to lay it all side-by-side, though.
Reporter R. Jeffrey Smith begins by saying: "Both the national Democratic and Republican party committees spend about two-thirds of the money they take in on the care and comfort of committee staffs and on efforts to raise more funds, with lavish spending on limousines, expensive hotels, meals and tips, an analysis of the latest financial disclosure data shows."
Break out your calculators!
The nonprofit Center for Responsive Politics, in an analysis done at the request of The Post, calculated, however, that administrative and fundraising expenses consumed about $60 million of Democratic revenue in this cycle through the end of February, or 59 percent of total revenue that exceeded $100 million. For Republicans, the amount exceeded $74 million, or 68 percent of $109 million in revenue.
But wait! What about this whole "both parties" spend "about two-thirds" of their money in this fashion? Only one seems to approach this level of spending. (Perhaps, "both parties spend well over half" might have been a better way to put this?)
But, look: I suppose this is a bit nitpicky. Let's press on. Oh! This is interesting:
Spending reports at the Federal Election Commission offer vivid illustrations of luxurious tastes. When RNC Chairman Michael S. Steele and colleagues took several dozen party donors on a retreat last August to Jackson Hole, Wyo., for example, golf and tennis fees were paid, whitewater rafting and trout fishing guides were contracted, and limo drivers and photographers were hired. Flowers worth about $1,300 decorated tables filled with food from three caterers.

Including rooms at the Four Seasons Resort, which promotes itself as offering "pampered adventures," the event appears to have soaked up more than $170,000 from party coffers, the data show.

The Democratic Party racked up a similar bill -- $176,000 -- to cover 14 months of catering at events at the Washington Hilton.
That's your meaty side-by-side comparison? Did no editor catch that this is comparing the money Michael Steele spent on a single event with the money the Democratic party racked up in fourteen months of expenditures?
Later, the article goes on at length about how the "two parties' monthly reports are supposed to delineate spending for items such as salaries, equipment, supplies, lodging, events, advertising, polling and political contributions, the explanations attached to many such items raise questions about accuracy." Three paragraphs of examples follow, which I will summarize in two lists:
RNC Examples:
--November event in Beverly Hills includes: $717 on limousines, $11,076 at Spago, $4,583 at the Beverly Wilshire, $4,266 at StubHub (listed as "lodging"), $923 at Little Door Restaurant (listed as office supplies)
--$496 spend at NYC clothier Henri Bendel (listed as "office supplies")
--$282 at "fly-fishing outfitter" in Florida (listed as "meals")
--$982 in wine from "a Vermont vineyard" (listed as "office supplies")
--$19,851 at Tiny Jewel Box (listed as "office supplies")
--miscellaneous amounts at "PetSmart and a men's clothier"
DNC Examples:
--$666 spent at Tiny Jewel Box (listed as "rental costs", DNC spokesperson Hari Sevugan offers that it was "miscoded on our FEC report as a rental. It was for thank-you gifts."
And that's it! Following this is a paragraph on how "other reported expenses lacked useful detail, with nothing but examples from the RNC. Later you learn that the DNC is spending about $90,000 less on car service over the past sixteen months. See, I thought that at some point, the article might get to the part where the reporter demonstrates the veracity of his thesis that there was some kind of similar tendency toward profligate spending. But that part of the article doesn't exist. You have to imagine it!
Finally, in the interests of defending both the RNC and the DNC, I have to ask, why is this paragraph in this article?
The two political committees are not typical nonprofit organizations, and such high spending for overhead is almost unheard of in the nonprofit world. A rule of thumb among nonprofits is that administrative and fundraising costs should consume no more than 20 to 25 percent of income.
Okay, so, neither the DNC or the RNC are "typical non-profits," BUT IF THEY WERE, they would spend money a lot differently! That's sort of like saying that the DNC and the RNC are "not typical arachnids," BUT IF THEY WERE, they could shoot silk from their asses!
Anyway, BOTH SIDES BAD, says the Washington Post, regardless of what their actual reporting tells them.
Popular in the Community